A chocolate shake that's good for you? Yes, please! This cacao banana shake is packed full of antioxidants and is so quick and easy to make. Simply place all the ingredients into a blender, blend on high, and voila! A delicious healthy chocolatey treat. I even enjoy it for breakfast some days. Oh yes, chocolate for breakfast!
Did you know antioxidant levels in bananas increase the riper and browner they become? I personally cannot stand the taste of even slightly overripe bananas, so this shake is a great way to use them up, while also ensuring I am getting the most nutrients and antioxidants from them. The overripe flavour of the banana becomes less potent when combined with the other ingredients and gives the shake a sweeter taste. Win-win!
I like to use frozen bananas in this recipe, as I find they produce a thicker consistency. If you haven't got any pre-frozen bananas on hand then fresh bananas are of course fine. The consistency may be a little runnier, however still very delicious.
Now, lets talk cacao! Cacao vs. cocoa, is there a difference? Yes, there most certainly is! Raw cacao is made by cold pressing unroasted cacao beans. This process keeps the living enzymes (the goodies) in the cacao while separating the powder from the cacao butter. Cacao is considered to be a rich source of antioxidants such as procyanidins and flavonoids, which may impart anti aging properties (hello!). Cocoa powder on the other hand, is raw cacao that has been roasted at very high temperatures. These high temperatures change the molecular structure of the cacao bean, lowering its overall nutritional value (not good). I also like to use almond milk in my cacao shake as research shows that dairy can inhibit the absorption of the antioxidants from raw cacao.
So in terms of health benefits, cacao… good. Cocoa… not so good.
Do you use cacao? What's your favorite cacao recipe?
Enjoy!

QUICK TIP: I like to chop up any overripe bananas I have lying around in the fruit bowl, place them into a container and then pop them in the freezer so I always have some readily frozen. It also saves those rapidly deteriorating bananas if you haven't had time to eat them.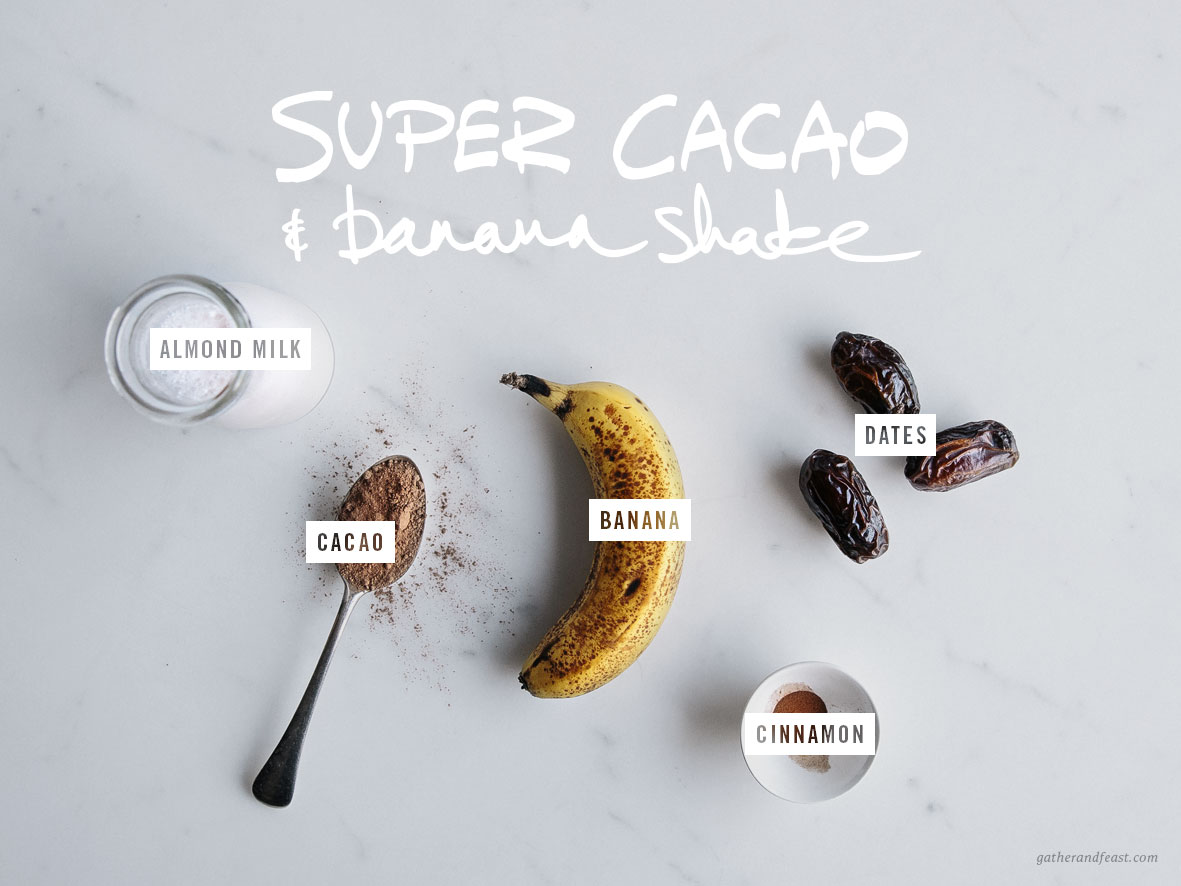 Ingredients

GF, VGN, RSF

10 mins

1
1 large frozen banana
1 cup of unsweetened almond milk
2 medjool dates, pitted
1 large tbs of cacao powder
A pinch of cinnamon

​The ingredients listed here are for 1 serve but doubling these ingredients will serve 2 large or 4 small drinks. 
Method
Add all ingredients into a blender and blend on high until smooth.
Pour into a large glass and enjoy that chocolatey healthy goodness! 
Free Resources
Click on the links below to print or save this recipe to your device.

Print friendly recipe PDF

Tablet friendly recipe PDF