"Morning, Noon & Night"
Visually beautiful and easy to follow "Morning, Noon & Night" is a collection of over 40 of my favorite recipes brought to life through stunning photography and packaged together in one easy downloadable eBook.
Be inspired by simple, original, super-tasty meals, healthy snack ideas and the odd sweet treat. Oh and it's FREE - my gift to you! Enjoy x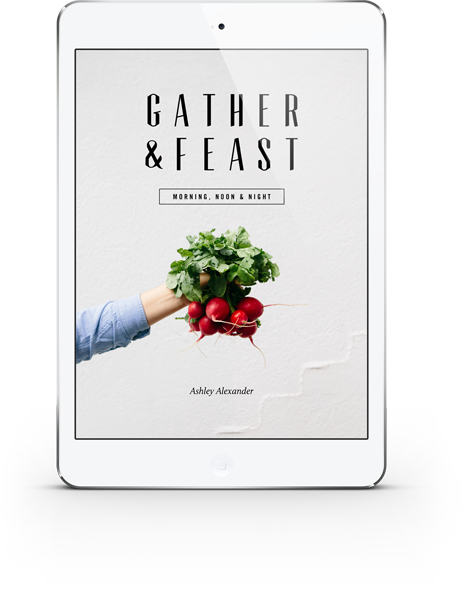 Resources
Get resourced! Here are some resources and other goodies to add some fun little touches to your next occasion or gathering, and they're all free! Happy downloading!
Link Love
Here is a growing list of links to helpful posts, beautiful products and sites I've discovered and love.
HOMEWARES


Country Road Tableware - I just love Country Road tableware for their simplicity and clean aesthetic design. Their products are beautiful, functional and great for everyday use. You will often see them featured in my photography.


Mud - My love affair with Mud began many years ago after receiving one of their hand made bowls as a gift. I've been slowly building my collection ever since. My favourite Mud hues are grey, charcoal, yellow and duck egg blue.


Uashmama - I discovered Uashmama a few years ago and fell in love with their range of products. Their paper bags, braces and aprons are all sewn in a cottage in Tuscany and feature a washable paper that looks and feels like leather.
FOR THE PANTRY


Loving Earth - My pantry is full of Loving Earth products - the coconut oil, coconut sugar, coconut flakes, cacao powder and goji berries just to name a few. They work with a range of small producer communities around the world to source only the best organic, healthy, sustainable and fair ingredients. Wonderful!
MUSIC PLAYLISTS


Music Playlists for Gatherings - Here's a growing list of curated playlists to compliment your next gathering or big event. Follow along on Spotify for current and future playlist creations.
BOOKS


Plenty More - by Yotam Ottolenghi is one of my favourite cook books, full of beautiful vegetarian recipes for just about every occasion, season, or diet.
View on Book Depository or Amazon.


The Kinfolk Table - I received The Kinfolk Table as a surprise gift from my husband (he knows I love everything Kinfolk). The book comprises of recipes from a wide-ranging circle of home cooks who are both reinventing and rediscovering the joy of casual entertaining.
View on Book Depository or Amazon.


Jerusalem: A Cookbook - is another favourite recipe book of mine by Yotam Ottolenghi and Sami Tamimi - chefs who grew up on opposite sides of the divided city. It explores the flavours of Jerusalem, gathering influences from the Christian, Muslim and Jewish cooks who live there.
View on Book Depository or Amazon.
PHOTOGRAPHY & DESIGN
My husband Mike works in film and design and over the last year has been teaching me all there is to know about photography (thanks love!). Here's a rundown on some of the cameras, lenses and software we use to create all you see on the site.
Canon EOS 6D Digital SLR Camera - I use this camera for the majority of my video and food photography. It's a great full frame camera and $1500 cheaper than its popular older brother the 5D Mark III. If you're after more of an entry level DSLR camera then check out the 70D or the 700D.
Canon EF 24-70mm f/2.8L II USM Lens - I love this lens for it's sharpness, high speed and optimum range. It's my go-to lens on shoots and when traveling. If you were to invest in one quality lens this would be my recommendation. I have also used and read some great reviews on the Tamron 24-70 f/2.8 which is $800 cheaper.
Canon EF 50mm f/1.8 II Lens - This was the first lens I ever purchased and perfect for anyone starting out in photography. It's sharp, great in low light and great value at $125.
Adobe Photoshop CC - I edit all my photos using Adobe Camera Raw and Adobe Photoshop CC.
VSCO FILM | ACR Photo Filter Presets - VSCO have some great products for creatives. I often use their film pack presets 01 and 02 for postprocessing my photos.
VSCO Cam for IOS & Android - My go-to photo postprocessing app on my smart phone.
Afterlight for IOS & Android - Another great photo postprocessing app.
For some beautifully well-made, curated free fonts, check out the Lost Type Co-Op and The League of Moveable Type.