This week's new recipe is a delicious 'not so sweet' banana, maple, and tahini loaf. The other week I put out a poll to see if you would rather a sweet or not so sweet banana loaf and the not so sweet was the clear winner.
It's sweetened, just a little, with maple syrup and medjool dates and is delicious warm spread with butter, a drizzle of honey or tahini, and a sprinkle of sea salt. Yum!
For this recipe you want to use the ripest bananas you can find, the darker the better.
Hope you enjoy and please let me know if you have any questions.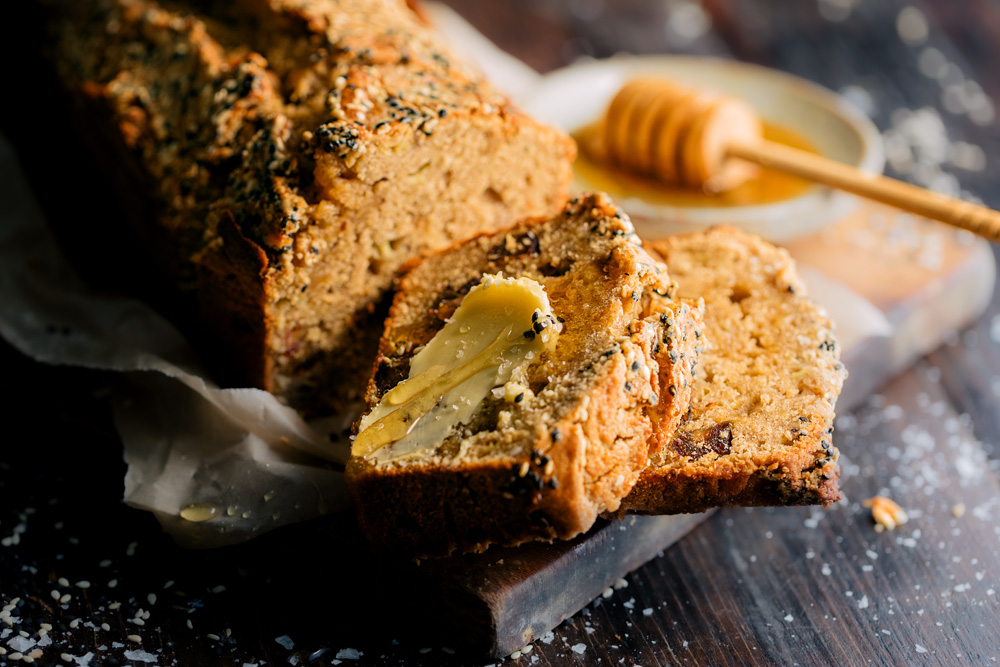 Ingredients

DF, RSF

Makes 1 loaf

1 hour (plus cooling time)
⅓ cup (90ml / 75g) extra virgin olive oil
⅓ cup (90ml / 100g) pure maple syrup (you could also use honey)
⅓ cup (90ml / 90g) hulled tahini (sesame seed paste)
1 tbs vanilla extract or paste
1 tsp ground cinnamon
½ tsp ground cardamom
½ tsp sea salt
2 eggs
3-4 large overripe bananas (350g / roughly 1¾ cups mashed)
8-10 medjool dates (140g / ½ cup firmly packed), pitted & roughly chopped
2 cups (270g) white spelt flour or plain all-purpose flour
1½ tsp baking powder
2 tsp apple cider vinegar or lemon juice
 
3 tbs pure maple syrup or honey
1 tbs tahini
1-2 tbs sesame seeds
Method
Preheat your oven to 180°C/350°F (fan forced oven).
In a large mixing bowl add the olive oil, maple syrup, tahini, vanilla, cinnamon, cardamom, salt, and eggs, and whisk together until smooth.
Add the mashed banana, dates, flour, baking powder, and vinegar, and fold together until just combined.
Pour the batter into a pre-lined loaf tin. I love to use a long loaf tin roughly 31 cm.
Next, pour over the 3 tbs maple, 1 tbs tahini, and sprinkle over 1-2 tbs sesame seeds.
Using a skewer or knife, gently swirl the toppings into the batter using figure 8 motions.
Bake at 180°C/350°F for 45 minutes.
Remove from the oven and allow to cool slightly before removing from the tin.
Enjoy it as is or warm spread with butter, a drizzle of honey or tahini, and a sprinkle of sea salt.