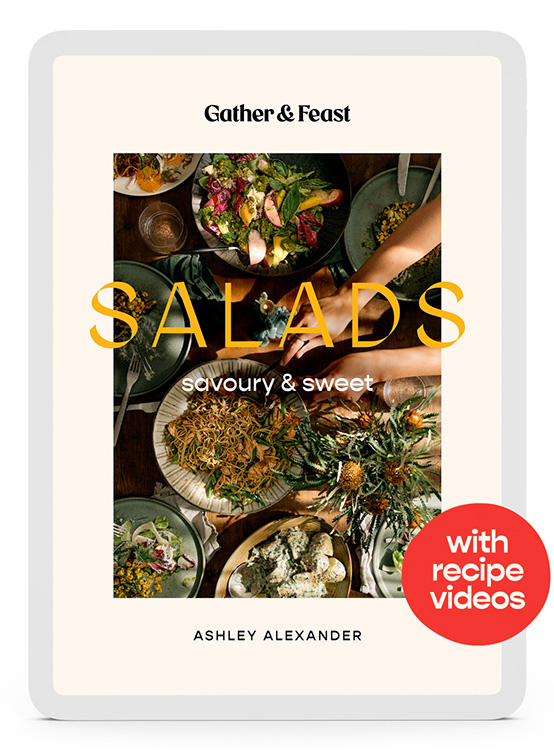 Elevate your salad game with these flavour-packed recipes to cook for yourself and others.

Made easy with
step-by-step videos

to guide you through each step and help aid in the food styling process.

Fresh, healthy, simple recipes
every night of the week!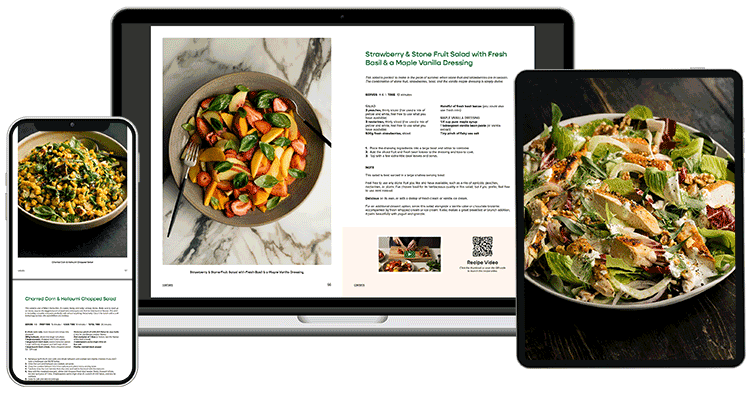 → 21 savoury and sweet SALAD recipes.
FEATURING: 'Charred Corn & Halloumi Chopped Salad'.
'Butter Lettuce, Avocado & Sesame Salad with Creamy Ginger Green Dressing'.
'Chicken & Roasted Walnut Salad with Creamy Tarragon Dressing'.
'Apple, Date & Roasted Almond Salad with Vanilla Lime Dressing'. Plus many more!
→ Step-by-step VIDEOS for each recipe, launched by tapping the thumbnail or scanning the QR code.
→ Download and save on any device.
→ Print-friendly recipe pages also included.
'SALADS' Recipe eBook
I'm more than excited for you to try this vibrant new collection of flavoursome SALADS that are a staple in our home.
Whether you're looking to add some variety to your lunch routine, searching for a healthy and fresh dinner option, or you've been asked to "bring a salad", you've come to the right place.
Inside you'll discover a wide variety of thoughtful salads designed for the home that can be elevated for gatherings BIG and small. Simple enough for every day, but beautiful enough for a meal with friends or family, or that special occasion x.
DOWNLOAD →
$23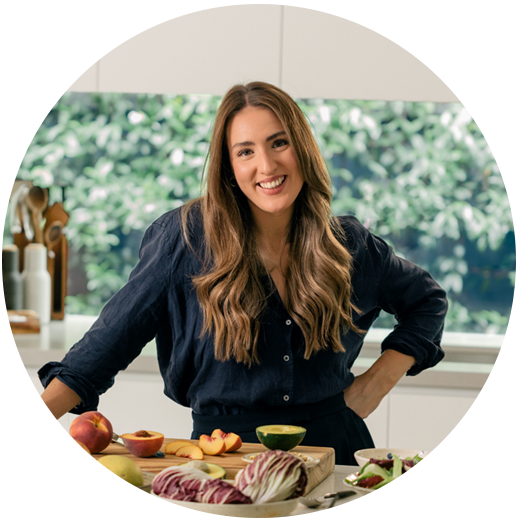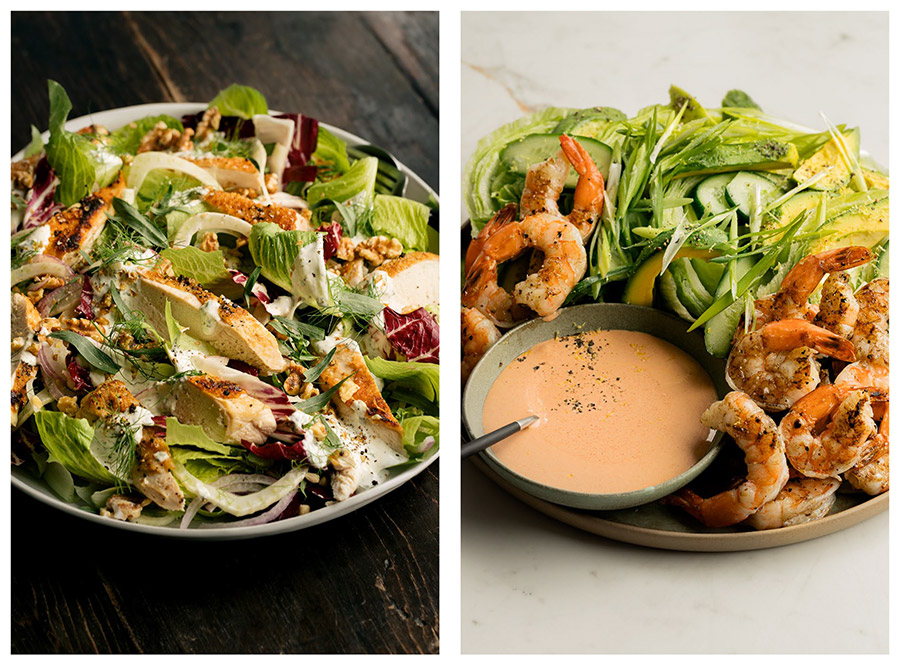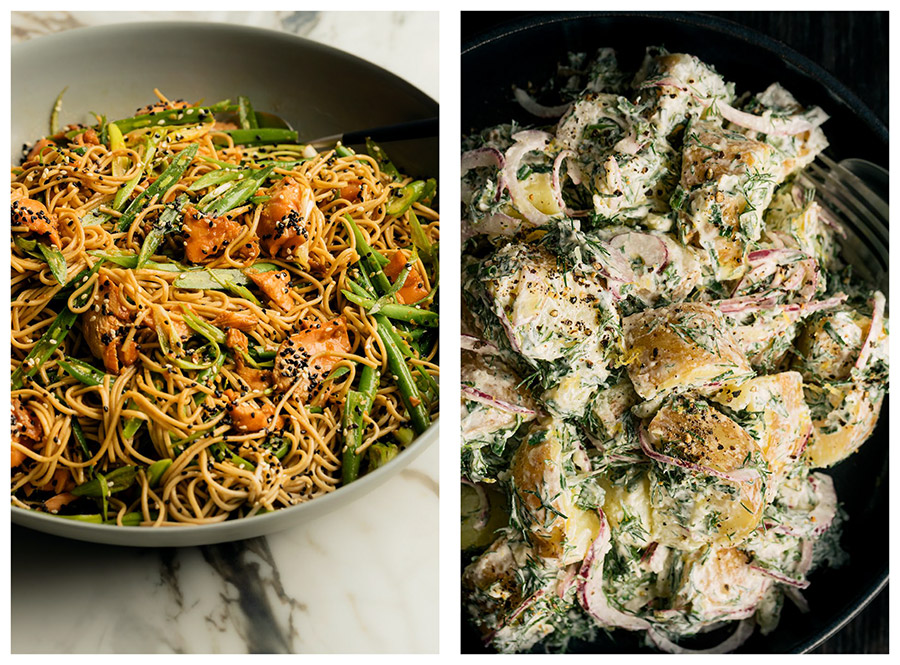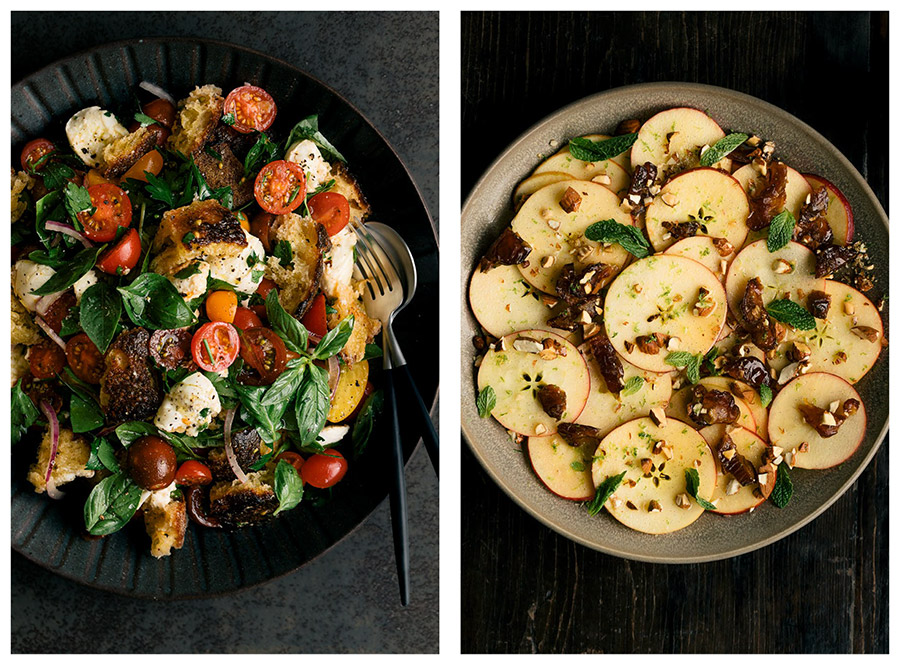 SALADS Essentials Pack
Giveaway
To celebrate the launch of SALADS, I'm excited to announce a special giveaway for anyone who purchases the book in its first 2 weeks of release!
We have 5 x SALADS Essentials Packs to giveaway, each pack featuring:
• Zester Microplane Premium (thanks to Chef's Hat)
• Herringbone Tea Towel in Tobacco (thanks to Aura Home)
• Heirloom Tea Towel in Tobacco (thanks to Aura Home)
• Monini Organic Premium Selection Extra Virgin Olive Oil (thanks to Monini)
• Escuminac Extra Rare Maple Syrup
• Maldon Sea Salt Flakes
• Aleppo Pepper Flakes
• Plus other gourmet pantry items included to help you create the delicious recipes found in SALADS.
 
Giveaway ends 12PM AEDT Wednesday 27th September 2023 and the winners will be drawn randomly and announced via email the following day. Giveaway is open to anyone worldwide, aged 18+, who purchases the SALADS recipe eBook before 12PM AEDT 27/09/23.