This weeks new recipe is a quick and easy creamy zucchini risoni (orzo) with lemon and fresh mozzarella. This pasta dish is beautifully creamy and lush while also fresh and zesty at the same time.
It is cooked very similarly to a risotto. The base ingredients are sautéed off, then the risoni added, the liquids, and finally, the butter and parmesan added to bring it all together and gloss it up.
Once the risoni is cooked it may seem too liquidy, but this is a perfect consistency because as the risoni cools it will firm up slightly. We want the end result to be a smooth and silky risoni rather than a gluggy one.
I also cooked this one LIVE on Instagram which you can follow along - I've embedded the video above.
You can also find this sweet potato and pumpkin risoni with crispy sage and walnuts recipe on the website that you may also be interested in.
I hope you enjoy this simple but delicious recipe and please let me know if you have any questions.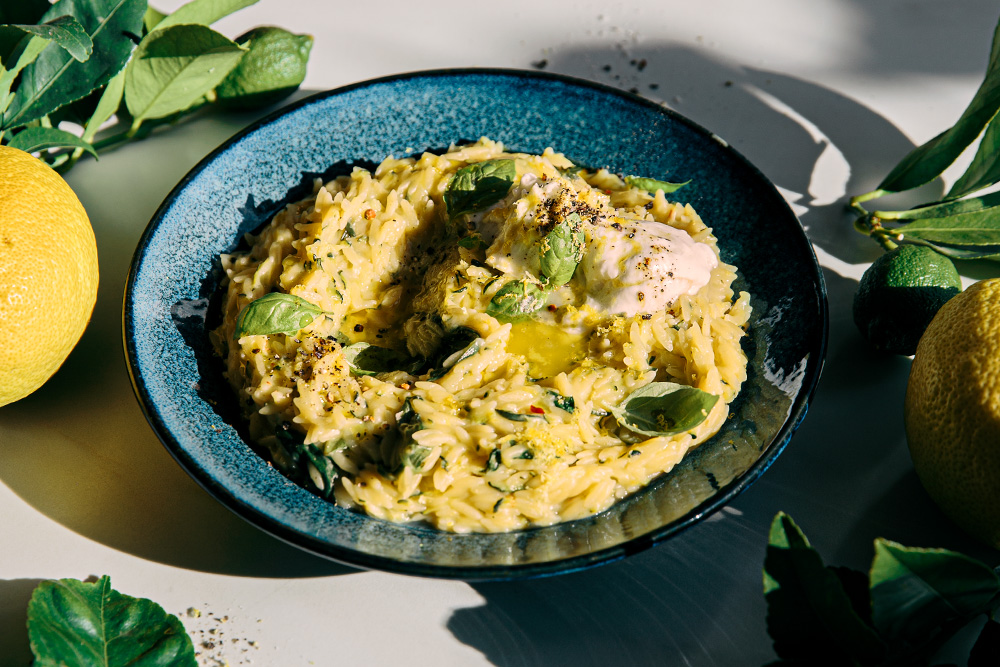 Ingredients

VEG

30 minutes (including prep & cook time)

5-6
Olive oil
Small knob of butter
½ tsp mild chili flakes
2 tbs fresh thyme leaves
3 fresh bay leaves
500g Barilla Risoni (Orzo)
2 cloves garlic, finely grated or crushed
¾ cup white wine or rosé
3 medium zucchini, grated
Zest of 2 lemons
500ml chicken or vegetable stock
1 cup boiling water
80g parmesan (roughly 1 cup), finely grated
40g (roughly 2 tbs) butter
1 bunch fresh basil, roughly chopped with a few leaves saved for garnish
125g fresh mozzarella - I like to use fresh buffalo mozzarella
Salt & black pepper to taste
Method
Place a large saucepan on medium heat.
Add a drizzle of olive oil, small knob of butter, chili flakes, thyme, and bay leaves.
Once the butter has melted add the risoni (orzo) and toast in the pan for 1-2 minutes.
Turn down the heat, add the garlic, and sauté for a minute or two.
Add the wine, zucchini, and lemon zest, and sauté for a minute or two allowing the alcohol to cook off.
Add the stock and water and stir well to combine.
Continually stir the risoni over low-medium heat until the risoni is cooked through and al dente (firm to bite).
Add the parmesan, butter, fresh basil, and stir to combine and until smooth and silky. The mixture will look quite 'loose' but as it cools it will firm up a little.
Taste for salt and pepper and add as required.
Tear the fresh mozzarella and stir it through just before serving, or serve with the fresh mozzarella on top.
Garnish with fresh basil leaves, extra lemon zest, and freshly cracked black pepper.
Serve and enjoy!