I have baked many brownies over the years, but for this week's new post I wanted to create a "healthy" brownie recipe that is still rich, decadent, fudgy, and tastes delicious! Well, guys, I think I've done it - and I've even used three different vegetables; sweet potato, zucchini, and beetroot. Now, you'll have to trust me on the veggies - they give the brownie a deliciously fudgy texture, and also, I just love to add in extra vegetables where I can.
I grate the veggies using a box grater as I personally like the texture of the grated veggies inside the brownie, but if you're after a smoother texture (or just want to hide the fact that there are veggies inside) simply use a finer grater or chop the grated veggies finer. I tested both versions and they worked perfectly!
I have also used a mix of raw cacao powder and a dark dutch processed cooking cocoa. The dark dutch processed cocoa is important to use as it adds the rich chocolate flavour that using only raw cacao powder won't give you.
I like to serve the brownies cold with a dusting of cocoa powder, but if you're feeling decadent the chocolate ganache is a delicious addition. 
You can store these brownies in an airtight container in the fridge for around a week. They will also freeze well.
Hope you all enjoy the recipe and please let me know if you have any questions.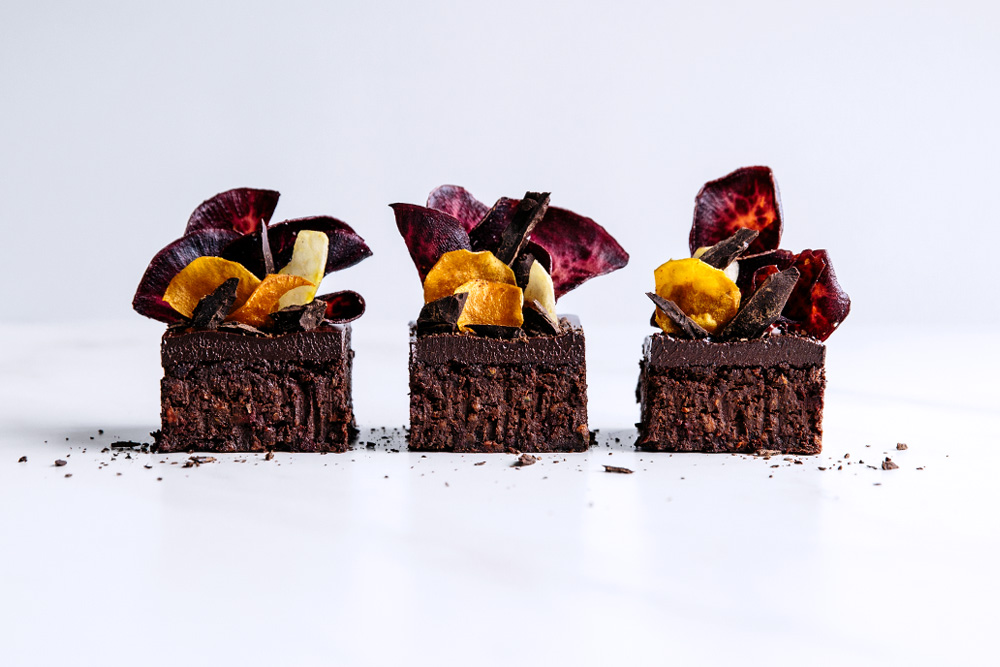 Ingredients

GF, PALEO, DF, RSF

1 hour

12-16
Brownie
130g coconut oil, softened or melted & cooled
2 cups coconut sugar -OR- 1½ cups if don't mind it less sweet
1 tbs vanilla paste or extract
2 large eggs
200g raw sweet potato, finely grated 
150g raw zucchini, finely grated
100g raw beetroot, finely grated
1 cup almond meal
¼ cup buckwheat flour
1 tsp baking powder
1 tsp flaked sea salt
1 cup raw cacao powder
½ cup dark & rich dutch processed cocoa powder 
¾ cup thick cultured coconut yoghurt -OR- thick greek yoghurt
Extra cocoa powder for dusting

Chocolate Ganache (optional)
200g dark chocolate, roughly chopped
¾ cup coconut cream
3 tbs coconut oil
1 tsp vanilla
Pinch sea salt
 
Toppings (optional)
Veggie chips
Cacao nibs
Freeze dried strawberries
Method
Brownie
Preheat your oven to 180C/350F.
Whisk the coconut oil and sugar until combined.
Add the eggs and vanilla and whisk for 2-3 minutes.
Add the grated veggies and fold through.
Next, add the dry ingredients and stir to combine.
Fold through the yoghurt.
Line a 20cm brownie pan with baking paper.
Pour the brownie mixture into the pan smoothing it out with a spatula or spoon.
Bake at 180C/350F for 30 minutes.
Remove from the oven and set aside to cool.
Once cool, remove the brownie from the pan, cut into pieces, and dust with cocoa powder and top with desired toppings -OR- top with the ganache and place in the fridge for about 30 minutes to set - then cut into pieces.
Store in an airtight container in the fridge. Enjoy! x

Chocolate Ganache (optional)
Place all ingredients into a medium sized saucepan and melt over low heat.​