This week's new recipe is a light, sweet and refreshing JAZZ Apple, date and roasted almond salad with sweet vanilla lime dressing. For this recipe, I've partnered with the guys from Montague to celebrate the first of the season JAZZ Apples. These apples are super crunchy and juicy and are perfect for this recipe. 
I like to slice the JAZZ Apples into rounds so you can see the star shape the core creates (as seen in the photos above). You could also roughly chop the apples into large or smaller chunks depending on the look you're after and how you'll be serving them. Sliced rounds look lovely when served as a dessert with natural yoghurt, fresh cream or ice-cream. Roughly chopped apples are great for BBQ's or to have on hand in the fridge for quick and easy breakfasts. Finely chopped apples are delicious served with hotcakes, granola or porridge, or as a salsa type condiment. So many options! 
Enjoy the recipe and please let me know if you have any questions.
Also, I'm going to be sharing this recipe on the 'TODAY' morning show here in Australia - Tuesday around 8 am. If you're watching be sure to look out for me! x

Props I used in this post:
JAZZ Apples: Montague @MontagueOfficial
Ingredients Bowls: Mud + Bridget Bodenham + Lemons Ceramics
Serving Plates: Bridget Bodenham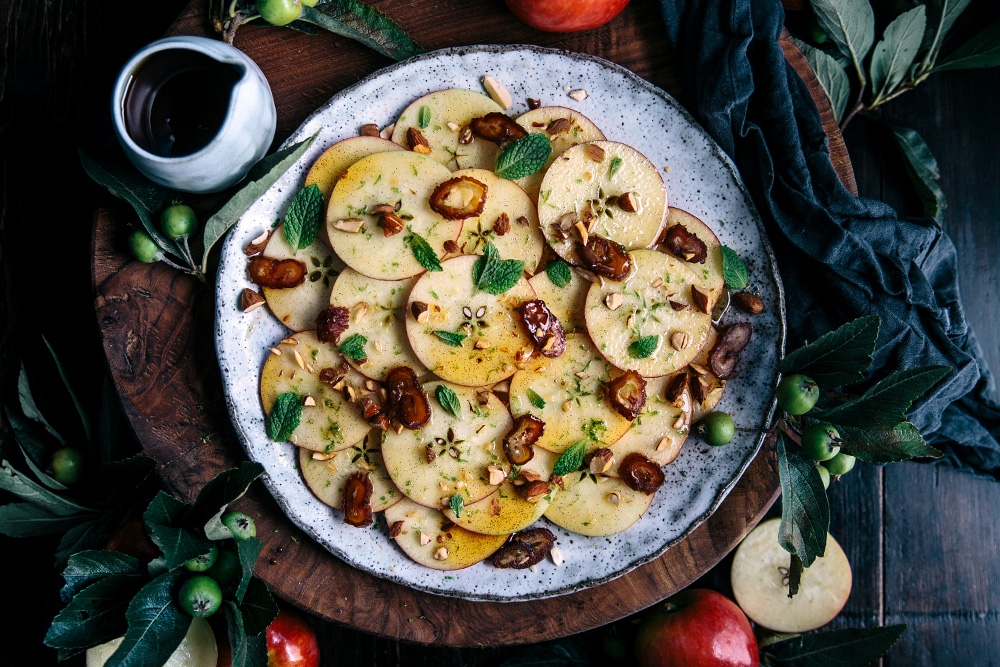 Ingredients

VGN, VEG, RSF, GF

10 minutes

4-6
Salad
6 JAZZ Apples
4-5 large Medjool dates
¼ cup roasted almonds, roughly chopped
1 fresh lime, zest & juice 
Fresh mint leaves for garnish

Dressing
¼ cup pure maple
1 tbs vanilla paste 
Juice of ½ lime
Tiny pinch of flaked sea salt
Method
Place the dressing ingredients into a small jar and shake to combine then set aside. 
Slice the JAZZ Apples into rounds ½ cm thick.
Arrange them on a plate or tray and squeeze ½ lime juice over the slices to stop them from browning. 
Next, pour half of the dressing over the JAZZ Apples and set aside. 
Remove the seeds from the middle of the dates and finely slice. I like to freeze my dates beforehand so they are easy to slice. They are also deliciously chewy when frozen! 
Place the dressed JAZZ Apples onto a serving plate then top with the sliced dates, chopped almonds, lime zest, and a few fresh mint leaves. 
Drizzle with the remaining dressing and serve. Enjoy!