My mum always used to bake a 'lemon delicious' pudding when we were kids and it was one of our favourites. It was sweet, tangy, soft and spongy, with crispy edges. A delicious low fuss dessert.
This week's new recipe is my take on one of our family favourites. It's extra tangy and you'll find that there's lots of that delicious creamy lemon curd at the bottom of the pudding. The best part if you ask me!
Hope you enjoy the recipe and let me know if you have any questions in the comments below.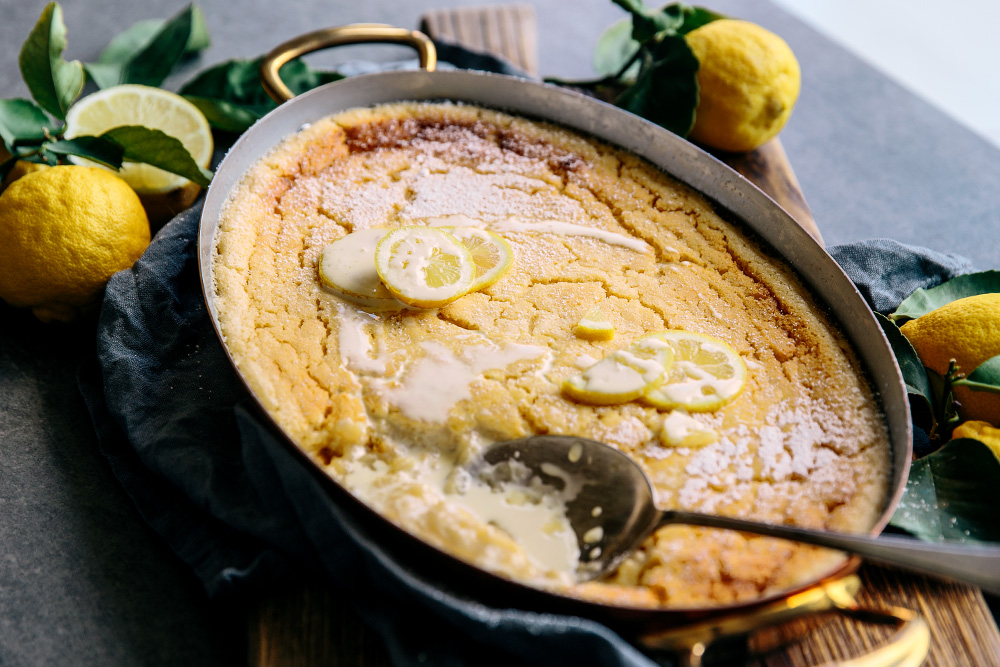 Ingredients

6

20 min prep time / 40 min cooking time
85g salted butter
1 ½ cups raw castor sugar or raw sugar
Zest of 2 lemons
1 tbs vanilla extract
3 eggs, separated
90g self-raising flour
2 cups full cream milk
Juice of 3 lemons (roughly 200ml)
Method
Preheat your oven to 170C / 340F (fan-forced oven).
In a stand mixer or using hand beaters, beat the butter and sugar until fluffy.
Add the egg yolks to the butter mixture one at a time, beating between each addition.
Add the lemon zest and vanilla, and beat until incorporated.
Using a spatula, fold in the flour, then the milk, then finally the lemon juice.
Beat the egg whites until stiff peaks form and fold into the mixture.
Pour the mixture into a lightly greased baking dish (I use a dish roughly 20cm by 30cm).
Place the baking dish into a larger tray* and slide into the oven.
Pour hot water into the tray until it rises about halfway up the baking dish.
Bake at 170C / 340F for 40 minutes.
Once cooked, remove from the oven and set aside to rest for 5 minutes before serving. Serve with fresh cream, yoghurt or ice cream.

*I find it easiest to use the full-width baking tray that is already in my oven (the one that comes with your oven) as it fits securely in the oven and is also big enough to hold a large baking dish. I place the dish into the tray in the oven and then pour the hot water into the baking tray.