I always seem to find a random jar of mixed nuts hiding away in my pantry. Most of the time they're left over from an old dessert board I've used for entertaining (along with some dried fruit and dark chocolate). Instead of wasting them, I'll usually try and add them into a new batch of granola or bake them into a healthy snack, like these peanut butter and dark chocolate granola bars.
In this recipe I've used a mix of almonds, macadamia, pecans and sunflower seeds, as these ingredients were already in my pantry, but feel free to use any mix you like. I usually like to roughly chop the nuts, but you could also leave the nuts whole for a chunkier texture (although with the larger nuts they are a little more likely to crumble apart).
As mentioned in the ingredients, if you are gluten intolerant (and can't have oats) or require a paleo version, simply replace the cup of oats with a mix of sunflower seeds and flaked coconut.
Enjoy the recipe!

Props I used in this post:
Ingredients Bowls: Mud + Marmoset Found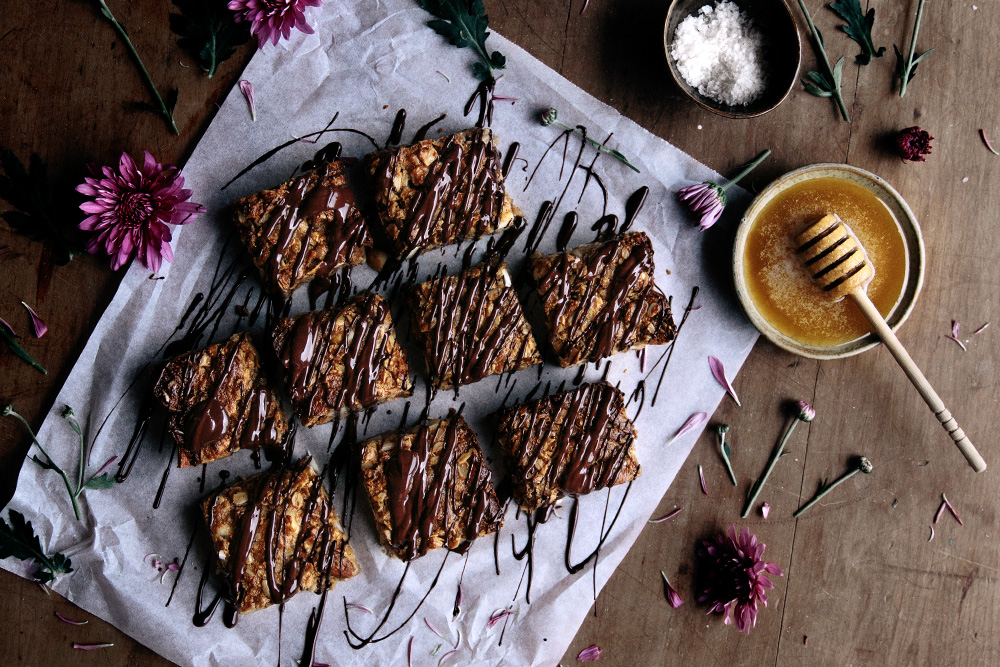 Ingredients

Dairy Free, RSF (GF, Paleo, Vegan Option)

45 mins (plus chilling time)

Makes 15-20 squares
1 cup rolled oats (for GF & paleo options, replace the cup of oats with a mix of sunflower seeds & flaked coconut)
2 cups mixed nuts & seeds, roughly chopped (I've used almonds, macadamias, pecans & sunflower seeds)
1 cup flaked coconut
¾ cup natural peanut butter (I use 'Pics Peanut Butter')
¼ cup coconut oil
¼ cup pure raw honey (or maple for vegan option)
½ cup pure maple syrup
½ tbs vanilla powder or extract
¼ ts flaked sea salt
100g dark chocolate, melted (for drizzling) 
Method
Pre-heat your oven to 170 degrees celsius.
Combine the peanut butter, coconut oil, honey, pure maple and vanilla in a large mixing bowl and stir until smooth. 
Add the oats, nuts and seeds, coconut and sea salt, and mix well.
Pour the mixture into a paper lined brownie pan (approx 19cm x 30cm) and place into the oven for 35 minutes.
Once cooked and golden brown, remove from the oven and set aside to cool. 
Now place the tin into the fridge to cool and set overnight (or into the freezer for a couple of hours).
Once set, cut the slice into bite sized pieces or larger bars (depending on your preference) and drizzle with dark chocolate.
Store in the fridge. Enjoy!
Free Resources
Click on the links below to print or save this recipe to your device.

Print friendly recipe PDF