Last week I had the privilege of traveling to Berlin with Miele where they launched a new and exciting innovation in cooking technology, the 'Dialog Oven'. The launch of this revolutionary new oven was held in the Bolle Meierei in Berlin, where it all began for Miele, a family owned and run company from the beginning (1899!) that began its journey with a butter churner.
The event took us on a journey from the very first butter churner, to dishwasher, to oven, to steam oven and now the new and exciting Dialog / M chef oven. We were treated to a delicious dinner showcasing this new technology; fish cooked to perfection through a block of ice (without it melting!), veal cooked in beeswax, salmon cooked and raw (at the same time!), and a roast complete with zucchini, cherry tomatoes and delicate enoki mushrooms, all cooked on the same tray and cooked to perfection. Amazing!
The dialog oven opens up exciting possibilities in the realm of cooking. To learn more about these new Miele ovens head on over to their website here.
To celebrate, I was inspired to create this new dessert recipe using my Miele steam oven, a deliciously dense Steamed Black Forest Mud Cake with Sour Cherries, Vanilla Mascarpone and Vanilla Cherry Jam (if you don't have a steam oven you can also use a conventional oven as I have included methods for both options below). This dessert recipe is my take on a black forest cake.
This recipe also makes a great brownie! Especially after it has been in the fridge overnight, so chocolatey and dense with pops of chewy sour cherries. Yum! Simply serve the cake without the mascarpone and jam and cut it into squares. 
I have also provided options for various dietary requirements so feel free to choose from the options provided in the ingredients list. 
Enjoy the recipe, and be sure to tag me if you post any photos of your new creations: @gatherandfeast


PS: During our few days in Berlin we also got a chance to explore the city and came across some great finds:
Eins 44
We found this gem down a long driveway behind a few parking lots. Produce driven, beautiful, delicious food. Be sure to check it out if you are in Berlin. We were lucky enough to dine there one of the 30 nights a year they dine outside, so beautiful.
Five Elephant Espresso
Get the espresso soft serve with freshly ground coffee beans.
Nano Kaffee 
Great coffee!
The Barn Coffee Roasters 
Coffee roasters and specialty coffee.
Companion Coffee & Voo Store
Great coffee and a beautiful store. 
Los Angeles Cold Press Juice
For your organic juice fix.
Soho House 
Beautiful restaurant, bar, cafe, store, and hotel.
Mustafas Kebap 
We were told these are the best Kebap in Germany. Filled with roast veg, salad and fresh herbs and mint. Delicious!
Props I used in this post:
Ingredients Bowls: Mud + Bridget Bodenham + Marmoset Found + Lemons Ceramics
Serving Plates: Bridget Bodenham +  Lemons Ceramics
Cake Stand: Country Road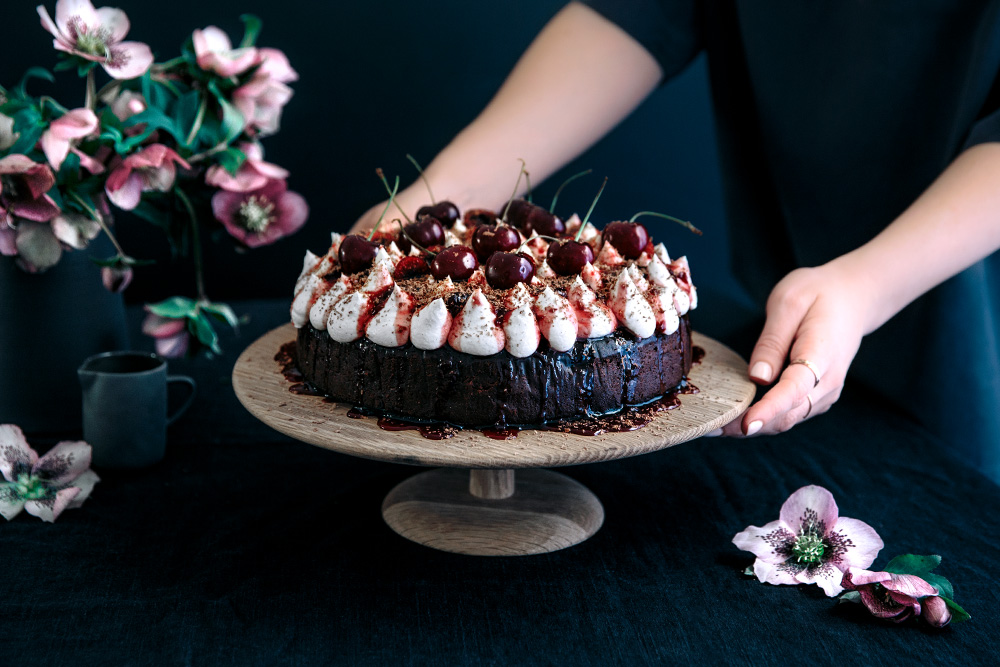 Ingredients

GF, VGN, VEG, RSF

2 hrs

12-16
Cake
180g good quality salted butter (or coconut oil for dairy free)
200g coconut sugar (or 180g brown sugar)
150g good quality dark chocolate, roughly chopped
100ml milk (or plant based milk of your choice; almond, coconut or oat)
1 tbs vanilla extract, powder or paste
1 tsp fleur de sel or flaked sea salt
2 eggs, lightly whisked
190gspelt flour (or 150g buckwheat flour for gluten free)
50g cacao powder
½ cup dried sour cherries

Vanilla Bean Mascarpone
500g mascarpone
100ml pure cream 
1 tbs vanilla paste, powder or extract​

Vanilla Cherry Jam
1 cup good quality cherry jam
1 tsp vanilla paste, powder or extract
2 tbs brandy (optional) or water​
Method
Cake
Add the butter, sugar, dark chocolate and vanilla into a medium saucepan and place onto medium heat until the butter has melted, then set aside to cool slightly.
Whisk the milk into the chocolate mixture, then whisk in the eggs.
Add the flour, cacao, fleur de sel and sour cherries and fold through.
Pour the mixture into a pre lined 20cm round baking tin.

If Baking In A Steam Oven
Set your steam oven to 100 degrees Celsius and time for 1.5 hours. 
After the cake mixture has been poured into the baking tin cover the cake with two large sheets of baking foil. Cross the foil over each other to ensure the tin is completely enclosed. 
Steam the cake for 1.5 hours at 100 degrees. 
Remove from the oven then carefully remove the foil and set aside to cool.

If Baking In A Conventional Oven
Preheat your oven to 120 degrees Celsius.
Place a large baking tray into the bottom of the oven and fill with boiling water. I use the large grill tray in my oven and slide it into the bottom shelf then fill it to the top with hot water. It's easiest to fill the tray with the boiling water while the tray is already in the oven. 
Bake the cake for 1.5 hours uncovered.
Remove from the oven and set aside to cool.

Vanilla Bean Mascarpone
Fold the mascarpone, cream, and vanilla together and set aside.

Vanilla Cherry Jam
Mix the cherry jam, vanilla and brandy (or water) together until well combined then set aside.

To Assemble
Once the cake has cooled place onto a cake plate or stand. 
Pipe or spread and swirl the mascarpone onto the cake, then drizzle with the cherry jam mixture, top with fresh cherries, and freshly shaved chocolate. 
You could also bake this cake in a square tin, then cut it into square pieces and serve as brownies without the mascarpone and cherry jam. Enjoy!