Honey and thyme, a sweet and earthy flavour match made in heaven! This combo may sound a little strange for crepes, but trust me, it is delicious! This recipe is the perfect treat for almost anytime of the day... a cozy saturday morning breakfast or a delicious dessert with vanilla ice-cream.
I used a good quality butter while cooking my crepes because I love the combination of the butter with the honey and thyme. If you are after a dairy free option feel free to use coconut oil instead. You could also substitute the buckwheat flour for spelt flour if you are not a fan of buckwheat or would rather it not be gluten free. If you do swap the flour, you won't need to add the 1 cup of water (as per the ingredients) as normal flour isn't as dense as buckwheat flour.
Enjoy!

PS: I just signed up to Snapchat and Periscope. Come and find me at 'gatherandfeast' and we can have some video fun! ☺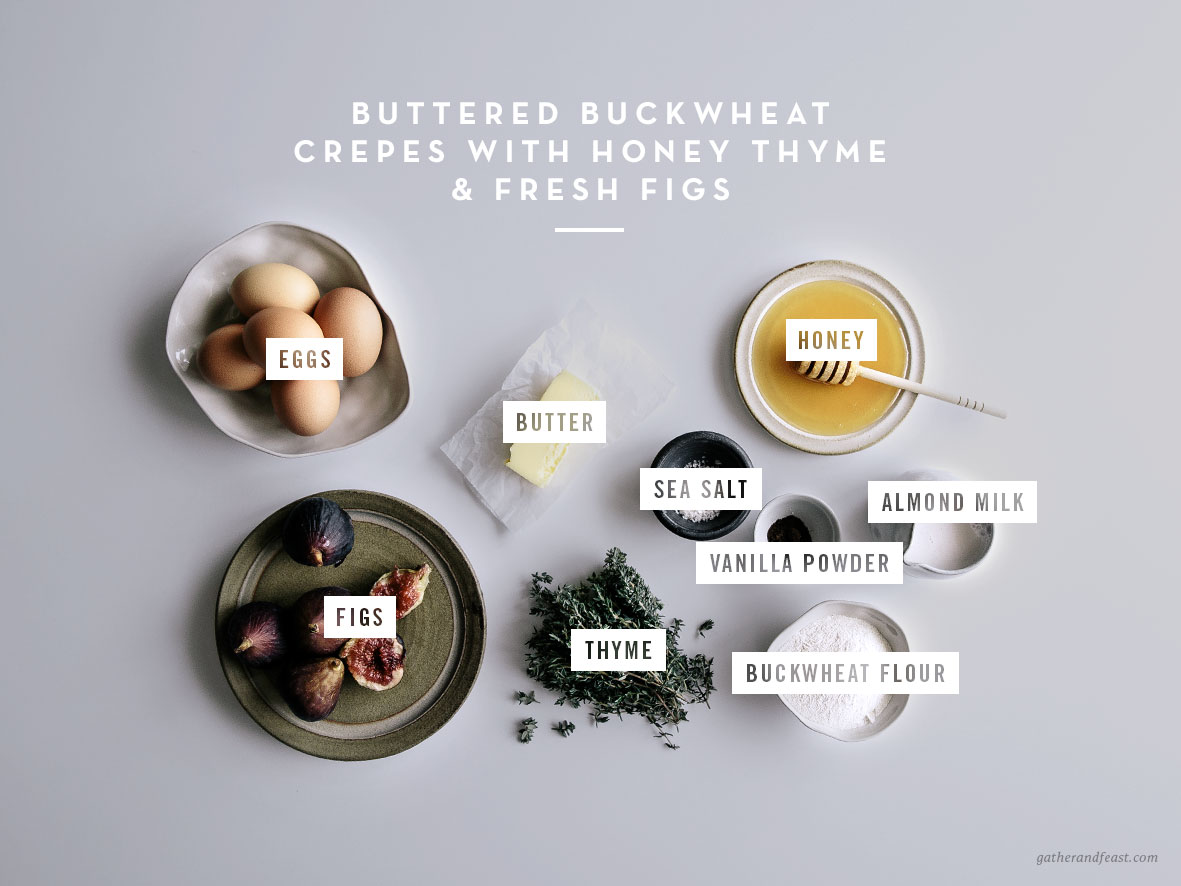 Ingredients

GF, VEG

45 mins

12
2 cups light buckwheat flour 
3 cups almond milk 
1 cup water 
2 eggs 
½ tsp vanilla powder or vanilla extract 
Butter (I like to use quality organic cultured butter. You could also use coconut oil as a dairy free option) 
½ cup honey or maple syrup 
Small bunch thyme 
Fresh figs 
Sea salt for sprinkling
Method
In a large mixing bowl, whisk together the almond milk, eggs, water and vanilla.
Add the buckwheat flour and whisk until the mixture is smooth (the mixture will be quite runny, this is good).
Place a large pan on high heat.
Once the pan is hot, add a small tsp of butter or coconut oil and swirl it around the pan to ensure the base of the pan is coated. 
Add about ¼ cup of the crepe mixture to the pan and swirl it around creating an even circle.
Once bubbles begin to form on the surface of the crepe, flip the crepe over with a spatula and cook the other side.
After a few seconds remove the crepe from the pan and repeat with the remaining mixture.
Once all of the crepes are cooked, add an extra dob of butter or coconut oil to top of the crepes, followed by a drizzle of honey, thyme leaves and a sprinkling of sea salt and freshly torn figs.
Free Resources
Click on the links below to print or save this recipe to your device.

Print friendly recipe PDF

Tablet friendly recipe PDF