Here's another winning cake recipe, a delicious lemon and blackberry cake with vanilla and juniper frosting. It's a simple recipe with a beautiful result.
The crushed juniper berries give a tangy complex flavour to the frosting, in the best possible way. It almost has gin and tonic vibes. If you don't have access to juniper berries (located in the spice section of your grocer) simply leave them out. The frosting will still taste just as good with the lemon and blackberry.
I was actually invited by the team at Carter Grange Homes to cook this recipe (+ others) in their beautiful Brighton East Show Home here in Melbourne using my favourite Miele appliances. We shot and filmed this one and also a coconut and ginger steamed chicken with fresh herb and noodle salad which you can check out here.
Hope you enjoy the recipe. Please let me know if you have any questions and let me know if you make it @gatherandfeast.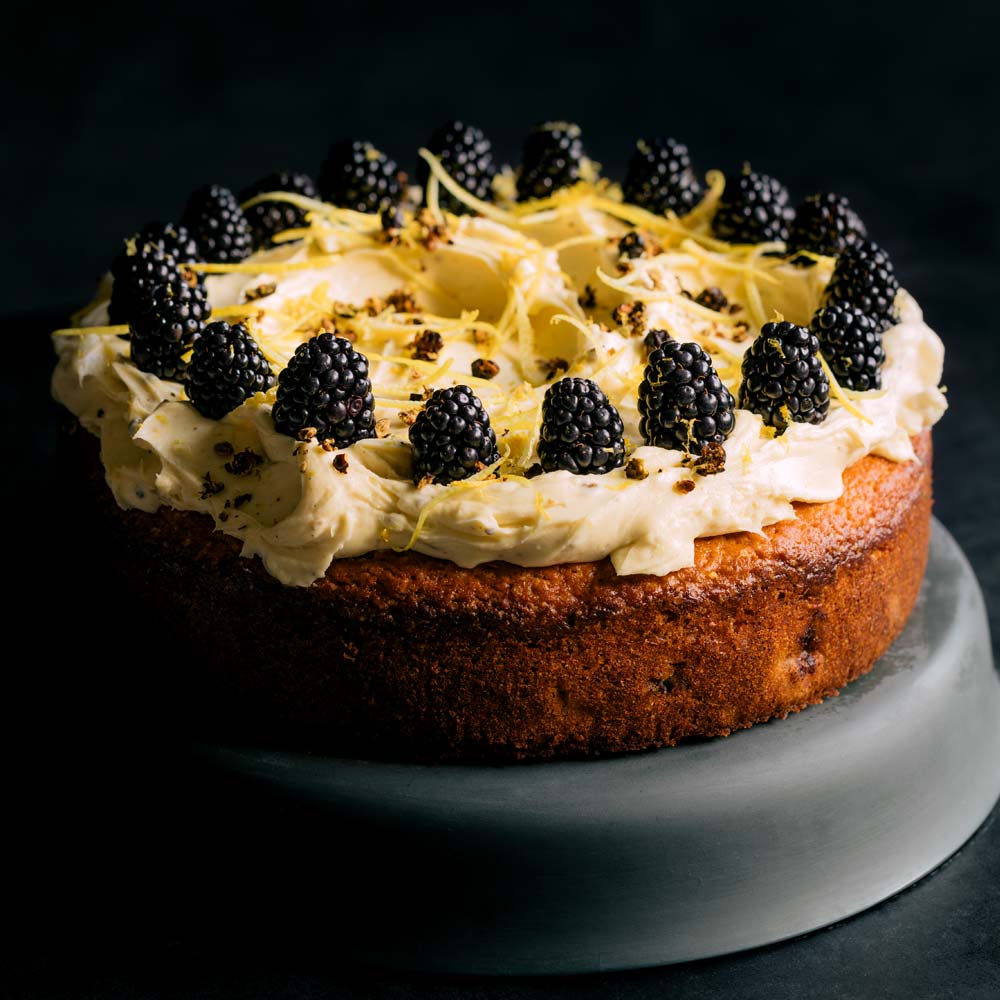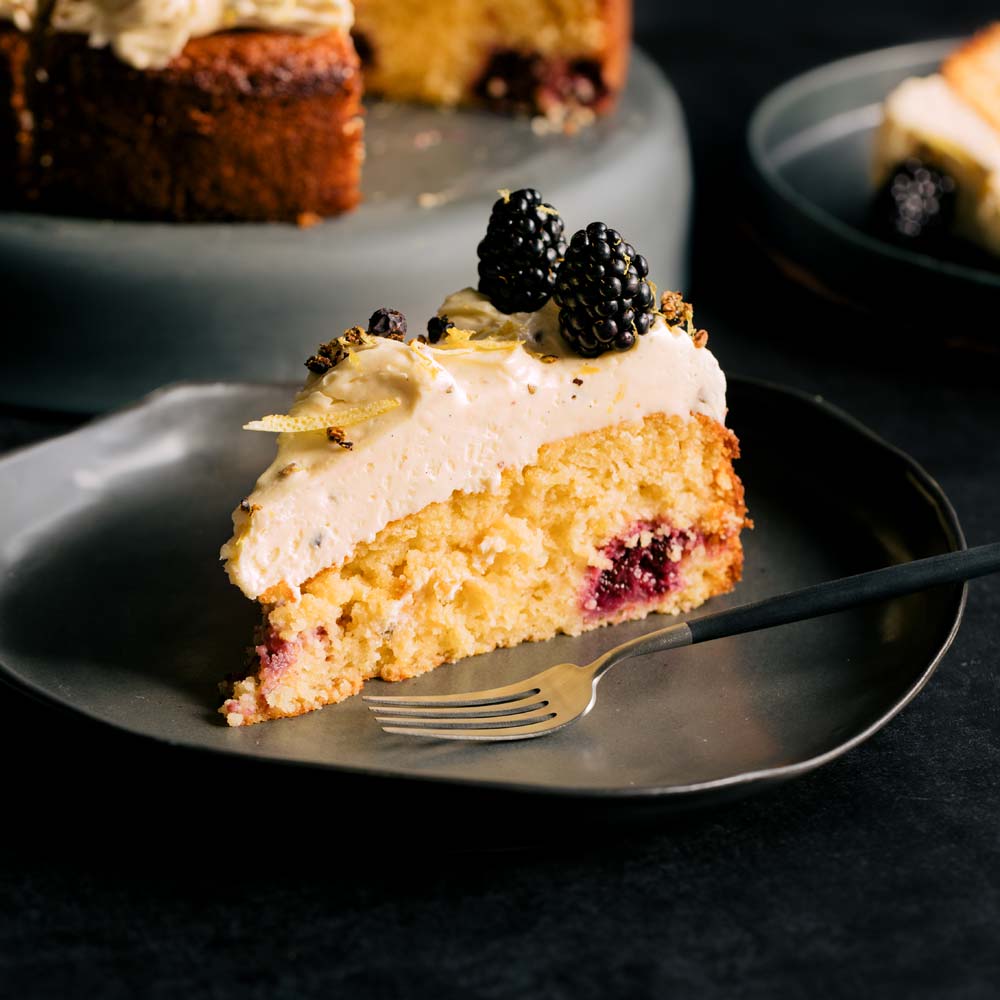 Ingredients

25 minutes preparation time + 50 minutes cooking time

12
Cake
1 cup (190g) extra virgin olive oil
1 1⁄4 cups (240g) raw castor sugar or castor sugar
1 tablespoon (10g) vanilla paste or extract
Zest of 2 lemons
3 eggs
2 cups (240g) plain/all-purpose flour
1⁄2 cup (60g) almond meal
1 teaspoon baking powder
1⁄2 teaspoon bi-carb soda
1⁄2 teaspoon sea salt
1 cup (215g) thick natural unsweetened Greek yoghurt Juice of 2 lemons, about 1⁄2 cup juice
1 cup (125g) fresh or frozen blackberries

Frosting
500g cream cheese
3⁄4 cup (90g) icing sugar
2 tablespoons (20g) vanilla bean paste
1 teaspoon juniper berries, crushed in a mortar and pestle or spice grinder

Toppings
Zest of 1 lemon
1 teaspoon juniper berries, crushed in a mortar and pestle or spice grinder
Fresh blackberries, optional
Method
Cake
Preheat your oven to 180°C/350°F (fan-forced).
In a large mixing bowl combine the olive oil, sugar, vanilla, and lemon zest, and whisk well until combined.
Add the eggs and whisk until combined and smooth.
Fold in the flour, almond meal, baking powder, bi-carb soda, and sea salt.
Gently stir through the yoghurt and lemon juice until smooth.
Now gently fold through the blackberries.
Pour mixture into a pre-lined 23cm/9inch round cake tin.
Bake for 50 minutes, until a skewer comes out clean.
Remove from the oven and set aside to cool completely.

Frosting
Beat the cream cheese until smooth.
Add the vanilla and icing sugar and beat until super smooth.
Add the ground juniper berries and beat until incorporated.
Set aside until ready to use.

To Assemble
Place the completely cooled cake onto a serving plate.
Top with the frosting and smooth it out with the back of a spoon.
Top the cake with fresh blackberries, lemon zest, and crushed juniper berries.