Well this week was my birthday! Yay! I had a wonderful long weekend (thank you 'Australia Day') celebrating, including a birthday brunch at one of my favs 'Top Paddock', dinners at 'Chin Chin' and 'Mamasita' and a lovely afternoon picnic with friends in the Royal Botanic Gardens. I also created this delicious fudgy chocolate and beetroot cake with a cacao fudge frosting to celebrate. It was a big weekend! ☺
To say I'm happy with how this new recipe turned out would be an understatement. I am really happy with how it turned out! Especially the frosting, with its star ingredient, avocado! Yes avocado! The avocados give the frosting the perfect smooth and creamy texture and also helps it hold its shape. It's also ridiculously easy to make!
Now the trick to perfecting this frosting is using avocados that are just ripe, but not overripe as we don't want any stringy bits in there that can sometimes be found in really ripe avocadoes. The 'reed' type of avocado (if you can get your hands on them) are the creamiest of avocados, so make sure you look out for them. Also allow yourself ample blending time to give the frosting that amazingly smooth texture.
If you have any questions please let me know in the comments below, I'd love to hear from you! I've already started to think of all the other avocado frosting flavours I could create, so watch this space! ☺
Enjoy!

PS: Also if you're on SNAPCHAT join me for a bit of fun and a behind the scenes look at Gather & Feast... my user name is: gatherandfeast
Props I used in this post:
Serving Plates: Country Road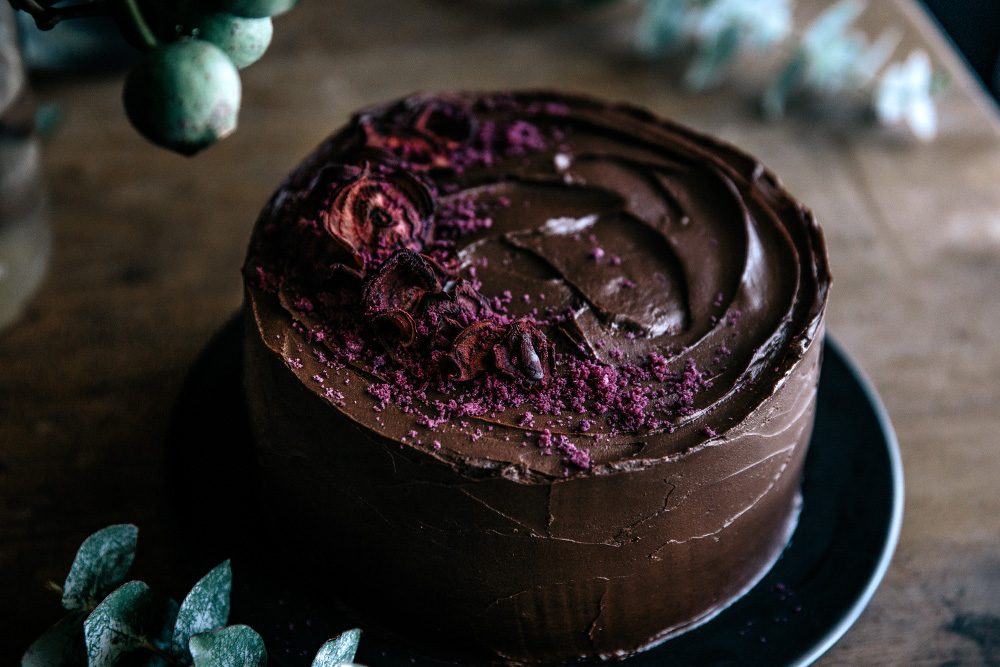 Ingredients

GF, RSF, Dairy Free

2-3 hours

12-15
Cake
300g good quality dark chocolate (use a 'raw chocolate' for a refined sugar free cake)
80g coconut oil
3 eggs or 3 'chia seed eggs' for a completely vegan cake (blend 3 tbs chia seeds with 6 tbs water (or 9 tbs of water if it seems a little dry) and leave to sit for a couple of minutes)
280g coconut sugar
1 tbs vanilla bean powder (or extract)
½ cup pure maple syrup
¾ cup buckwheat flour
1½ cups almond meal
½ tsp bi carb soda
½ tsp baking powder
 ¼ cup cacao powder
400g raw beetroot, peeled, finely grated & squeezed of excess liquid
¾ cup almond milk
½ tsp sea salt

Chocolate Fudge Frosting
2 large or 3 medium 'just ripe' avocados (about 2 cups). 'Reed' are the best type of avocado for this as they are the creamiest. If you can't get hold of 'reeds', use avocados that are a little under ripe rather than over ripe.
⅓ cup coconut oil
⅓ cup pure maple syrup
2 tbs rice malt syrup
3 tbs cacao powder
½ tsp vanilla powder
¼ tsp sea salt
200g dark chocolate, melted and slightly cooled (I used a mix of 'raw cacao' and '80%' Pana Chocolate)
Method
Cake
Pre-heat your oven to 180 degrees celsius.
Grease and paper line two 20cm sponge tins. 
Melt chocolate and coconut oil in a large heatproof bowl over a pan of simmering water. Once melted, set aside to cool slightly.
In a large mixing bowl whisk the eggs, coconut sugar, vanilla powder and maple until thick and light (about 5 minutes).
Fold in the buckwheat flour, almond meal, cacao powder, bi-carb, baking powder and sea salt.
Next fold in the grated beetroot, almond milk and melted chocolate, and mix gently until just combined.
Pour the mixture into the prepared tins and bake for about 1 hour.
Once the cakes are cooked remove from the oven and set aside to cool.​

*If you are planning on frosting the cakes relatively quickly, place them into the freezer for about an hour or until completely cool.
Frosting
In a food processor add the avocado and blend until super smooth (this will take 2-3 minutes). Taking the time on this step will ensure the frosting is silky smooth, which is exactly what we want. 
Next add the coconut oil, rice malt syrup, maple, cacao powder, vanilla powder, sea salt, and blend until smooth (1-2 minutes).
Finally add the melted chocolate and blend until smooth (a further 1-2 minutes).
Place the mixture into the fridge for an hour or two to firm up before frosting the cakes. ​

To Assemble the Cake
Ensure the cakes are completely cold before frosting (this will prevent any melted frosting disasters). 
Place the first cake layer onto your serving plate then scoop a couple of large spoonfuls of frosting onto the cake and smooth with the back of a spoon or a frosting spatular. 
Place the second cake on top then add more frosting to the top of the second layer and around the sides of the now 2 layered cake.
Smooth the frosting around the cake with a tall frosting spatular until smooth.
Decorate with dried beets, pretty flowers and foliage or some flaked chocolate. Enjoy!
Free Resources
Click on the links below to print or save this recipe to your device.

Print friendly recipe PDF