With The World's 50 Best Restaurant Awards being held in my hometown of Melbourne this week (which I was lucky enough to attend!), and so many world class chefs showcasing in town, I was inspired to create a little something adventurous this week. After a little experimentation, I came up with this new chocolate semifreddo with chili, strawberry, olive oil and rose recipe that I'm super excited to share with you all!
This dessert has a weird and wonderful combination of flavours that just seem to work together. It's also quite simple to prepare and can be easily adjusted to suit your tastes.
A little while ago a friend of mine introduced me to vanilla ice-cream with a drizzle of good quality extra-virgin olive oil and a pinch of flaked sea salt. It tasted amazing, so I thought I'd work it into this dessert. The drizzle of extra virgin olive oil gives the recipe a grassy, earthy taste (in a good way), and mixed with the sea salt makes the recipe pop! Although, when I say little drizzle, I really do mean a little drizzle. The flavour could be overpowering (and taste weird) if drowned in olive oil.
If chili in strawberry isn't your thing (as you'll see in the method), simply leave out the chili when baking the strawberries for the puree. Although I do recommend even just adding a tiny pinch, as the spice mixed with the fresh strawberries and rich chocolate tastes amazing! You could also top the semifreddo with classic flavours like strawberries, raspberries and dark chocolate, but if you're feeling adventurous, give all the crazy flavours a go! ☺
This sweet treat also makes the perfect dessert for any Easter celebrations you might have on in the next few weeks. ☺
Enjoy the recipe and if you have any questions, please let me know in the comments below.

Props I used in this post:
Ingredients Bowls: Mud + Bridget Bodenham
Serving Plates: Bridget Bodenham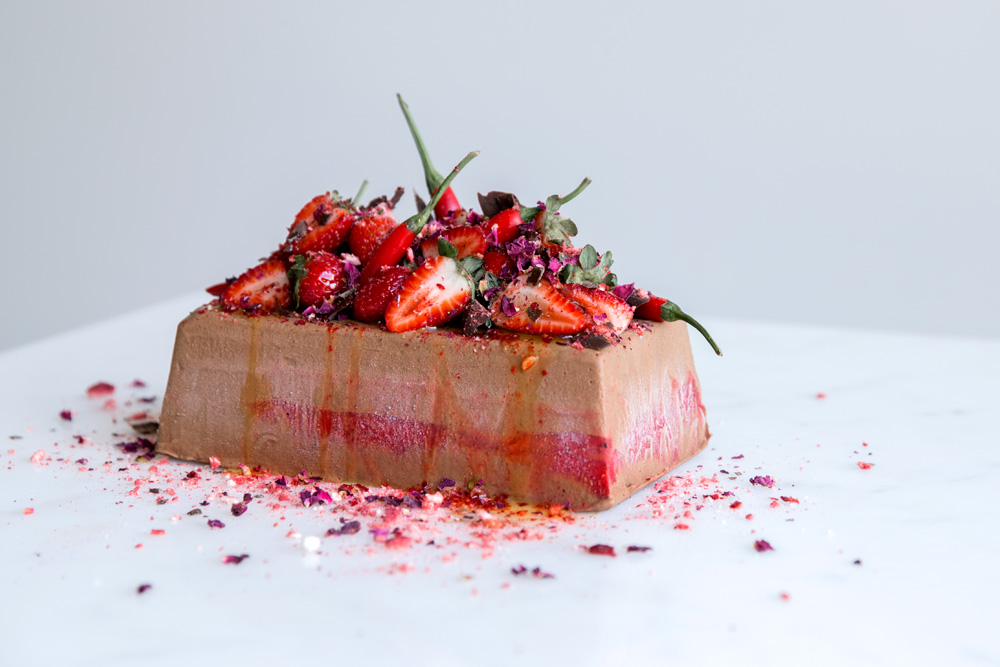 Ingredients

VGN, RSF

1 hour (plus soaking & freezing time)

8-10
Chocolate Semifreddo
½ cup raw unsalted cashews, soaked overnight in filtered water (or if you don't have time, soak in boiling water for about an hour)
⅔ cup water 
600ml coconut milk
1 cup coconut sugar
½ cup pure maple syrup
50g cacao butter, melted
¼ cup coconut oil, melted 
1 cup cacao powder
1 tsp vanilla powder, paste or extract
Pinch flaked sea salt​

Roasted Strawberry Chili Puree
400g fresh strawberries, roughly chopped
1 tsp vanilla powder, paste or extract
¼ cup pure maple
Pinch chili flakes​

Fresh Vanilla Strawberries
100g fresh strawberries, thinly sliced
½ tsp vanilla powder, paste or extract
3 tbs pure maple​

For Serving
Strawberries
Chili's
Dark chocolate, roughly chopped
Dried rose petals
Freeze dried strawberries
Good quality extra virgin olive oil
Sea salt​
Method
Roasted Strawberry Chili Puree
Place the strawberries onto a paper lined baking tray with the vanilla, maple and chili. 
Bake in the oven at 180 degrees celsius (356 fahrenheit) for 30 minutes.
Remove from the oven and set aside to cool.
Once cool, blend in a food processor or blender until smooth.
Set aside.

Chocolate Semifreddo
Drain the soaked cashews, then transfer to a blender or food processor with ⅔ cup water and blend until very smooth. 
Add the coconut sugar, melted cacao butter, melted coconut oil, cacao powder, vanilla and sea salt to the cashew mixture and blend until smooth.
Add the coconut milk to the mixture and blend until smooth.
Pour the mixture into an ice-cream maker and churn until thick (according to the ice-cream maker instructions). If you don't have an ice-cream churner, whisk or whip the mixture in a mix master until the mixture is light and fluffy or frothy.
Scoop or pour half of the cacao mixture into a rectangular baking tin. 
Then scoop ¾ of the strawberry chili puree on top.
Finally, scoop or pour over the remaining cacao mixture and smooth over with the back of a spoon.
Place into the freezer to set for 4-6 hours or overnight. 

To Serve
Turn the semifreddo out onto a serving plate, top with fresh strawberries, vanilla strawberries, chili's, dark chocolate, crushed freeze dried strawberries, rose petals, drizzle with olive oil and sprinkle with a little flaked sea salt. Enjoy!