This week's new recipe is this delicious coconut French toast with fresh strawberries and pure maple syrup.
I also made this recipe LIVE on Instagram over the weekend and have added the video below if you wanted to follow along. I usually stream a LIVE recipe each week so be sure to look out for those over on my channel @gatherandfeast. I'd LOVE to have you join me + cook along!
Feel free to top the French toast with any fruit you have on hand. Bananas, berries or poached stone fruit would also taste delicious. I've used coconut milk but feel free to use any milk you have. I've also used coconut oil for frying but feel free to use butter.
This recipe serves 2-4 depending on how hungry you are, but feel free to double the quantities if needed.
I hope you enjoy the recipe! And please let me know if you have any questions.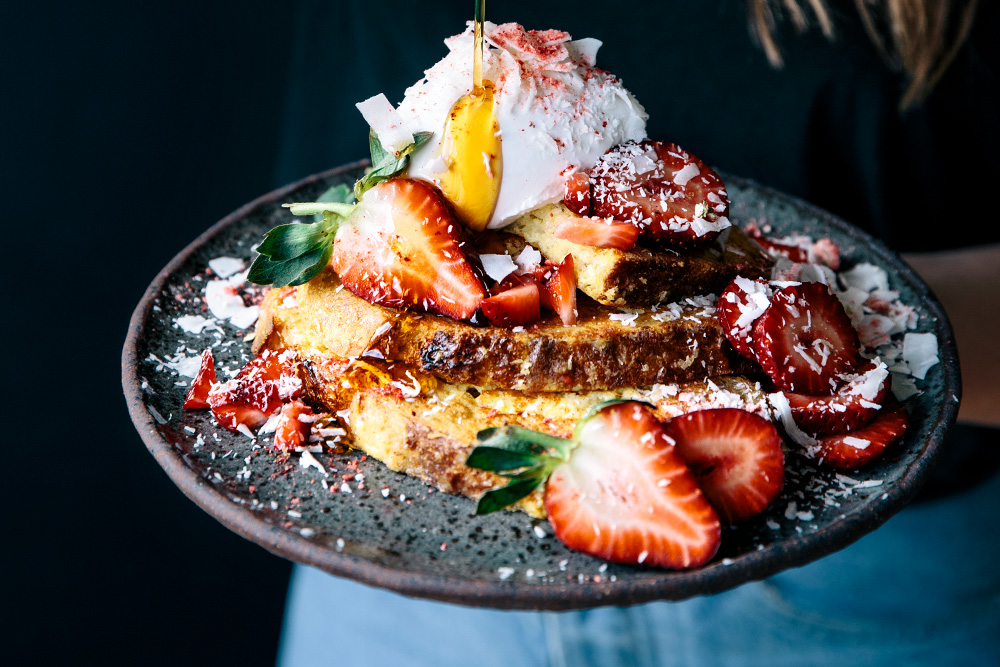 Ingredients

DF, RSF

15 minutes

2-4
Toast
2 eggs
½ cup coconut (from a can or drinking coconut milk) --OR-- dairy milk
3 tbs desiccated coconut
½ tsp vanilla
4 large slices sourdough bread --OR-- thick bread of your choice
Coconut oil or butter for frying

Garnish
Pure maple syrup
Coconut yoghurt --OR-- yoghurt of your choice
Fresh strawberries
Flaked or shredded coconut (optional)
Method
Whisk the eggs, milk, desiccated coconut, and vanilla together in a bowl.
Add the bread slices and soak for 1-2 minutes ensuring the bread is completely coated and soaked in the mixture.
Add a teaspoon of coconut oil or butter to a frying pan on medium heat then add the soaked slices and cook for roughly 2 minutes on each side or until golden.
Serve with yoghurt, pure maple syrup, fresh strawberries, and coconut flakes (optional). Enjoy! x