This week's new recipe is a delicious lemon raspberry cake with zesty cream cheese frosting. You'll find it has the perfect sweet and tangy balance and the crumb tastes deliciously moist due to the added olive oil and yoghurt.

I topped the cake with a lush cream cheese frosting (which tastes SO good) but the cake is also just as delicious without the frosting as more of a tea cake or served with fresh cream on the side.

The other great thing about this cake recipe is that it all comes together very quickly in one bowl, which is always a win.

I hope you enjoy the recipe and please let me know if you have any questions.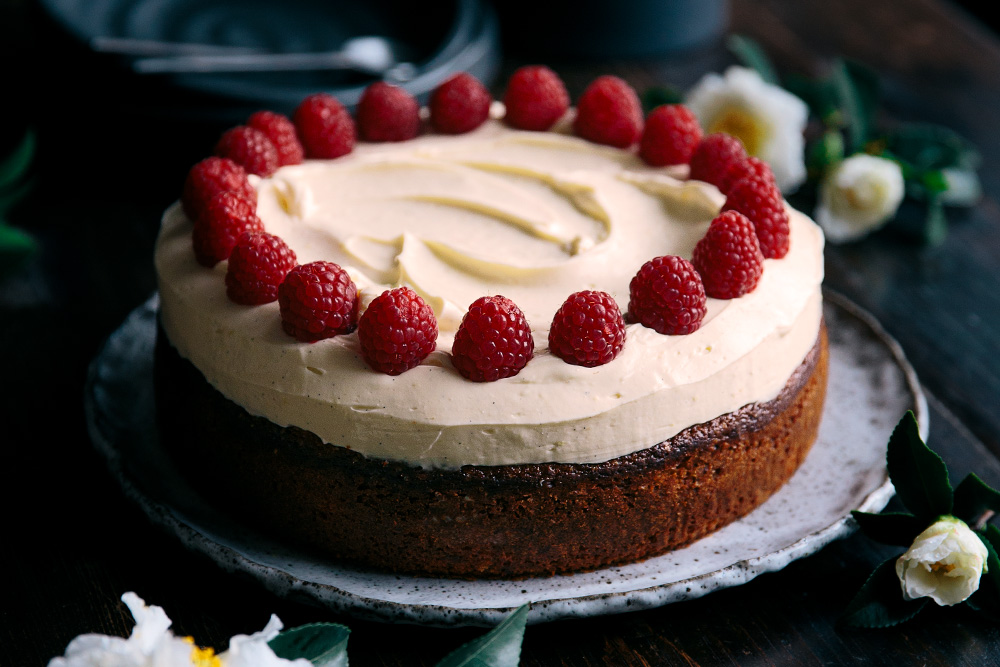 Ingredients

90 minutes (plus cooling time)

12-16
Cake
1 cup extra virgin olive oil​
1¼ cups raw castor sugar​ or castor sugar
1 tbs vanilla paste or extract​
Zest of 2 lemons​
3 eggs
2 cups plain flour
½ cup almond meal
1 tsp of baking powder
½ tsp bi-carb soda
½ tsp sea salt
1 cup thick natural greek yoghurt
Juice of 2 lemons (about ½ cup juice)
125g fresh raspberries (or blackberries)

Zesty Cream Cheese Frosting
750g cream cheese
¾ cup icing sugar
1 tbs vanilla bean paste
2 tbs lemon juice
Zest of 1 lemon (or 2, for extra 'zestiness')

To Assemble
125g fresh raspberries or blackberries to decorate (optional)
Method
Cake
Preheat your oven to 180C/350F (fan-forced).
In a large mixing bowl combine the olive oil, sugar, lemon zest, and vanilla, and whisk well until combined.
Add the eggs and whisk until combined and smooth.
Fold in the flour, almond meal, baking powder, bi-carb soda, and sea salt.
Gently stir through the yoghurt and lemon juice until smooth.
Then gently fold through the raspberries.
Pour mixture into a pre-lined 23cm / 9inch round cake tin.
Bake for 1hr, until a skewer, comes out clean.
Remove from the oven and set aside to cool completely.

Zesty Cream Cheese Frosting
Beat the cream cheese until smooth.
Add the vanilla and lemon juice and beat until smooth.
Add the icing sugar and lemon zest and beat until super smooth.
Set aside until ready to use.
​
To Assemble
Place the completely cooled cake onto a serving plate.
Top with the frosting and smooth it out with the back of a spoon. 
Top the cake with fresh raspberries. Serve and enjoy!