The perfect sweet, salty, rich cacao flavoured shortbread with chunks of creamy milk chocolate and pops of fresh minty candy cane. You're going to love these! They're so easy to make and perfect for the festive season fast approaching.
For this recipe, I teamed up with the guys from Westgold. I've loved using their high-quality butter in my cooking and baking recently. It has a rich and creamy flavour and is made with milk from grass-fed cows, farmed on the West Coast of New Zealand's, South Island. Be sure to look out for them when shopping at Woolworths in Australia.
If you're not wanting to bake the cookie dough straight away you can store it rolled in cling wrap for a few days in the fridge. When you're ready to bake simply allow the dough to rest on the bench for roughly 30 minutes before slicing and baking.
Store the baked cookies in an airtight container in the pantry.
As always, please let me know if you make the recipe @gatherandfeast, and feel free to ask any questions. Enjoy!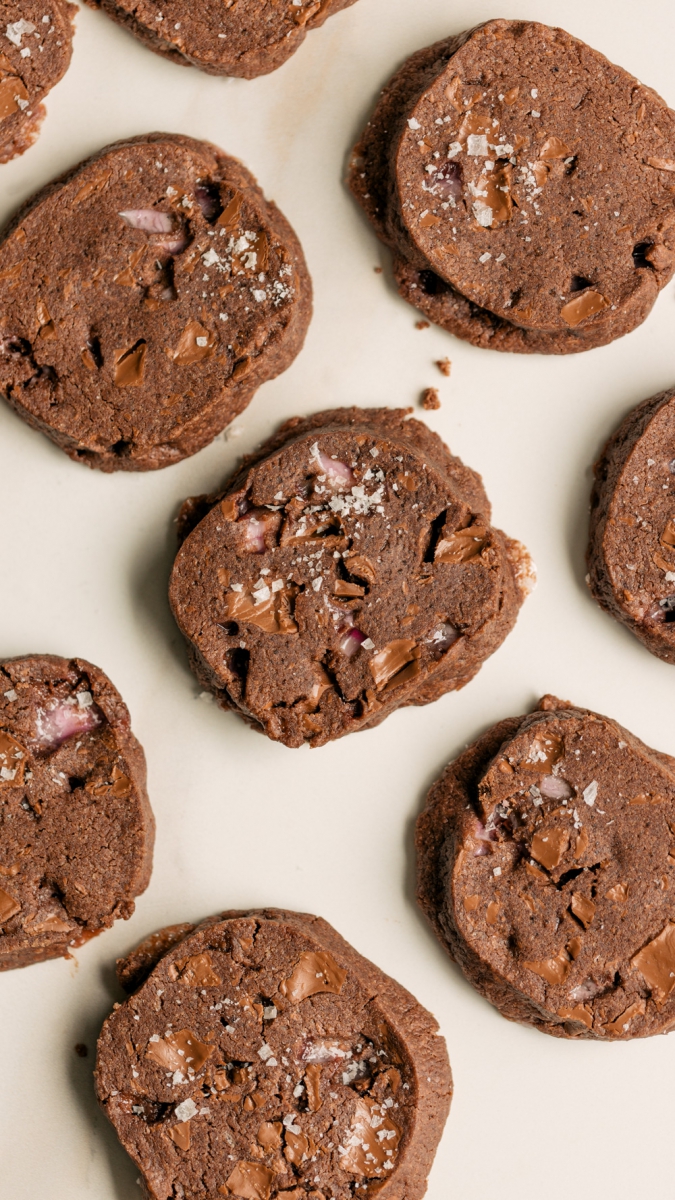 Ingredients

Egg-free, Vegetarian

30 minutes + 1-2 hours resting time

Makes 14-16 cookies
230g Westgold salted butter (or butter of choice)
1/2 cup raw castor sugar
1 tsp vanilla
1 1/2 cups plain/all-purpose flour
1/2 cup white rice flour
2 tbs dark dutch processed cocoa
150g good quality milk chocolate, roughly chopped
1/4 cup finely chopped peppermint candy canes
1 tsp flakey sea salt
Method
Cream the butter, sugar, and vanilla until light and fluffy.
Fold in the flour, rice flour, cocoa, and salt.
Next fold in the chocolate chunks and finely chopped candy cane.
Roll into a thick log and cover with cling wrap, sealing tightly.
Pop into the fridge for 1-2 hours and until the dough is firm.
Preheat your oven to 180°C/350°F.
Once the dough has rested, slice the dough into roughly 2cm slices.
Arrange the slices onto 2 paper-lined baking trays.
Bake at 180°C/350°F for 12 minutes.
Remove from the oven, sprinkle with sea salt flakes, then allow to cool for 30 minutes.
Transfer the shortbreads to a wire baking rack to cool for a further hour before eating.
Store in an airtight container in the pantry.