This week's new recipe is a greens-loaded toastie with fresh basil and feta - the toasted sandwich you never knew you needed. It's full of garlicky, zesty chopped greens, and delicious feta and provolone cheese. The perfect weekend lunch or easy dinner that you're definitely going to want to try.
Use some thick sourdough bread for the best results, and if you're making this for more the one just increase the amounts based on the number of sandwiches you'll be making.
If you happen to have any leftover filling it would also taste delicious baked in a ramekin with an egg "greens baked eggs" or tossed through some freshly cooked pasta.
Enjoy the recipe and feel free to ask any questions.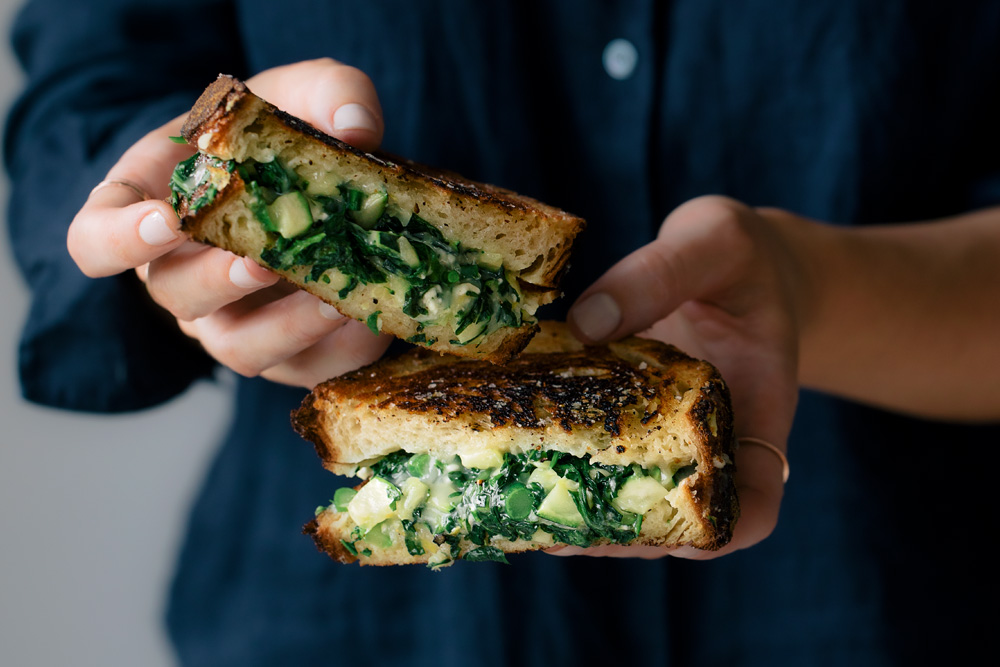 Ingredients

VEG

15 minutes

1
3 stalks broccolini, finely chopped
¼ zucchini, finely chopped
Small handful fresh rocket/arugula, finely chopped
A few fresh basil leaves, roughly chopped
Zest of ½ lemon
1 small garlic clove, finely grated or crushed
Roughly 20g of feta cheese, crumbled
A small handful of grated provolone or another mellow melty cheese
Salt and freshly cracked black pepper to taste
2 slices sourdough bread
Butter for spreading
Method
Place a fry pan on medium heat and add a little olive oil.
Now add the broccolini, zucchini, rocket, and basil.
Next, add the garlic and lemon zest.
Sauté on medium heat until vibrant green (roughly 2-3 minutes).
Remove from the pan and add the feta and provolone.
Butter two slices of sourdough bread then flip the bread so the butter is on the outside.
Add a little shredded provolone then the green mixture to one slice of bread then top with the other slice.
Place the fry pan on medium heat and add the sandwich to the pan.
Cook for roughly 3 minutes on each side.
Sprinkle with salt and freshly cracked black pepper.