It's become a regular treat after a night out in the city for Mike and I to call past one of our favourite gelateria's for a late night frozen treat. The gelateria we love to visit has a list of varied and sometimes quite unexpected and unusual flavours. One of my favourite flavours is pistachio, cardamom and turmeric. It is SO delicious! When creating this shortbread series, I immediately thought of this flavour combination. With the addition of orange zest for a little zing, and white chocolate for a smooth creamy surprise, these Orange, Cardamom, Pistachio & White Chocolate shortbreads are a flavour delight! I'm sure my fav gelateria would be proud. ☺
The smell of butter, chocolate and spices used to always fill my house in the lead up to Christmas. Since I can remember mum has always baked shortbread to give away as gifts and to add to her infamous Christmas platter. Piled high with baby fruit mince pies, gingerbread, macarons, nougat, florentines, and her delicious shortbread stars, mums Christmas platter is a family highlight and a sweet-treat for the senses.
Cooking and baking have always played a big part in the fun and excitement leading up to Christmas day. Do you have any family Christmas cooking traditions or a favourite shortbread recipe? Let me know in the comments below, I'd love to hear from you!

PS: Make sure you check out my other shortbread recipes Spiced Chocolate and Vanilla & Rose from this Christmas baking series.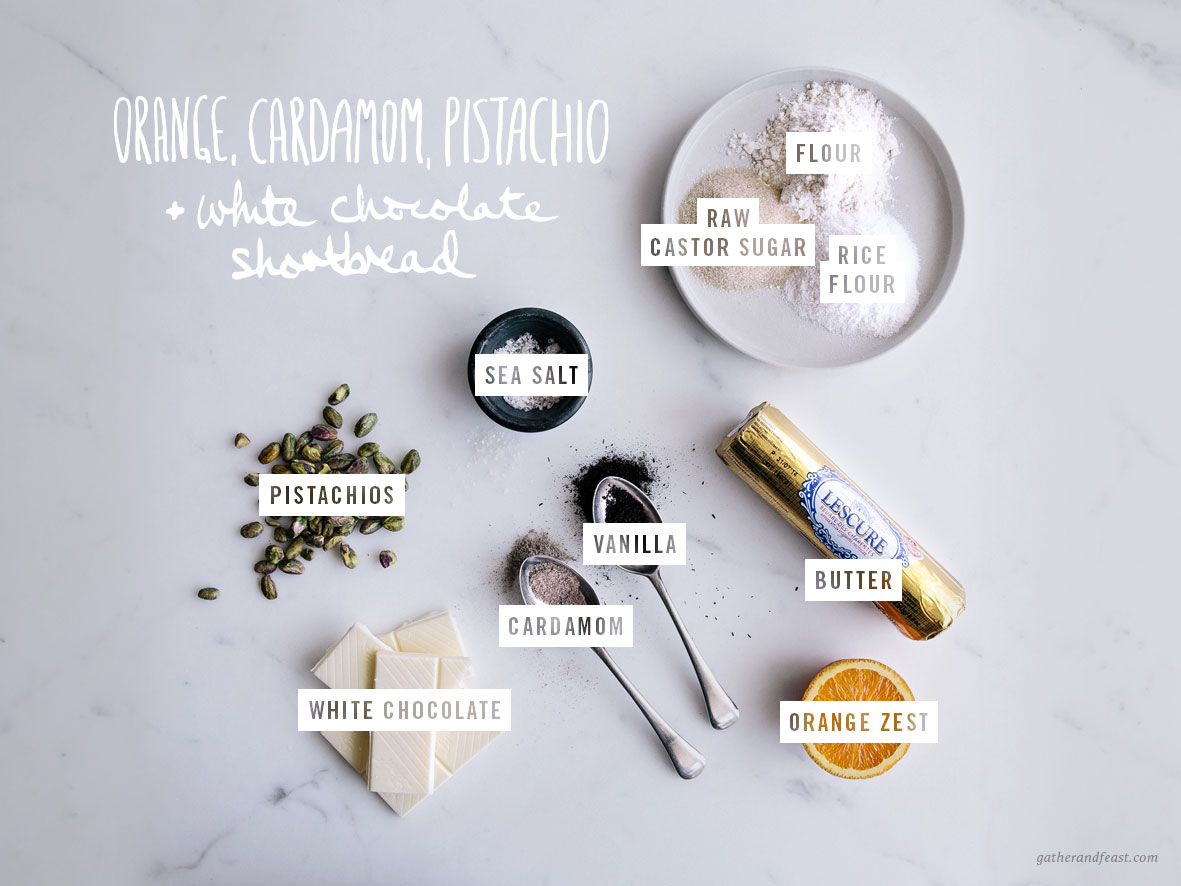 Ingredients

VEG

25 mins

22 cookies
1½ cups flour (I used TIPO 00 flour)
½ cup rice flour
½ cup raw castor sugar
225g salted butter
1 tsp vanilla bean powder or paste
Zest of 2 oranges
1 tsp ground cardamom
¼ tsp sea salt
⅓ cup pistachios, roughly chopped
100g good quality white chocolate, roughly chopped
Method
Pre-heat your oven to 180 degrees celcius.
Line two large baking trays with baking paper and set aside.
Cream the butter and sugar together in a large bowl until light and fluffy.
Add the flour, rice flour, vanilla, salt, orange zest, cardamom, pistachios and white chocolate to the creamed butter and sugar.
Fold the ingredients together until just combined.
If you are baking the shortbread straight away*, take the dough from the bowl and place onto a lightly floured surface.
Using a rolling pin, roll the dough out until it's about 1cm thick, then cut the dough into 6cm rounds using a cookie cutter.
Place the shortbread rounds onto the pre-lined baking trays.
Place into the oven and bake at 180 celsius for 10mins until pale golden.
Remove the trays from the oven and leave the shortbreads to sit for about 5 minutes before placing on a wire rack to cool. Enjoy!

* If you like, you can keep the dough in the fridge for a few days until you are ready to bake. Remember to allow the dough to come to room temperature before rolling and baking. 
Free Resources
Click on the links below to print or save this recipe to your device.

Print friendly recipe PDF

Tablet friendly recipe PDF