This week's new recipe are these super cute and delicious vegan loaf cakes, full of some of my favourite flavours; fresh pear, strawberries and vanilla. 
It's the perfect recipe for those overripe pears you might have lying around that you don't know what to do with. The pureed pears form the perfect base, and mixed with the pure maple syrup provide the natural sweetness for these little vegan cakes.
I love baking with strawberries and have used them in today's recipe. If you don't have any on hand you could also use frozen raspberries. For those of you after a sweeter tasting cake, try adding some roughly chopped dark chocolate to the mixture. Yum! 
I have also used whole spelt flour because I love cooking with it. If you are gluten intolerant, a light buckwheat flour will work just as well, but may result in a slightly nuttier flavour.
As always if you have any questions or just want to say hello, let me know in the comments below. I'd love to hear from you!
Enjoy friends!

Props I used in this post:
Serving Plates: Bridget Bodenham
Ingredients Bowl: Marmoset Found
Napkin: MUJI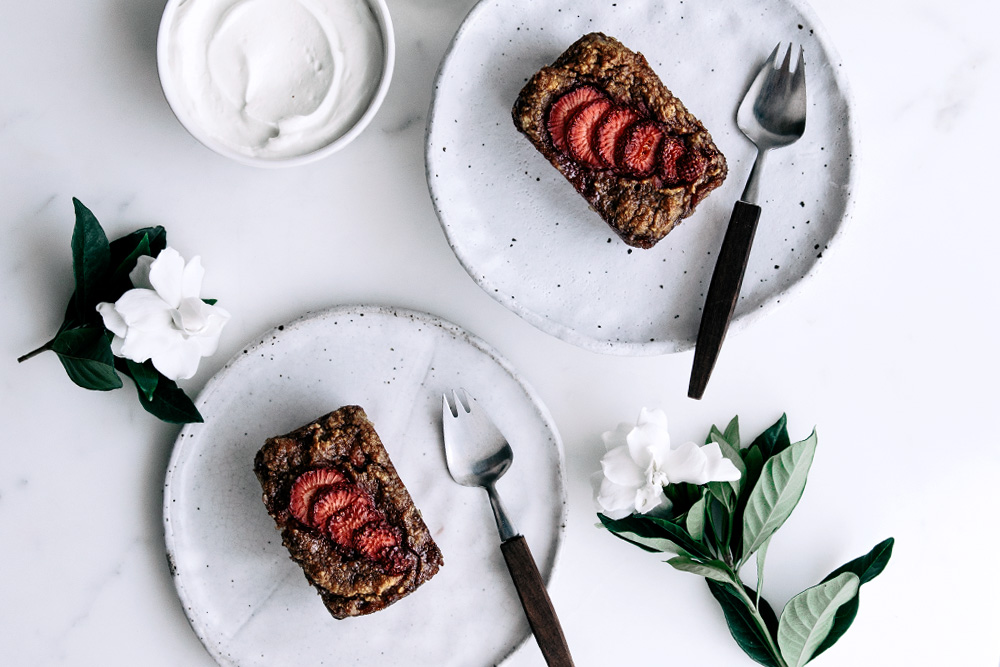 Ingredients

RSF, VGN

1 hr

8-12
3 ripe 'Williams' pears, blended (should make about 2 cups of puree)
½ cup pure maple syrup
⅓ cup coconut oil
2 cups whole spelt flour (or light buckwheat flour for a GF alternative)
1½ cups whole almond meal
1 tbs vanilla powder or extract
½ tsp baking powder
½ tsp fleur de sel (flaked sea salt)
250g (1 punnet) strawberries, finely chopped
8 extra strawberries, sliced for the top of the cakes
8 tbs coconut sugar, for sprinkling
Method
Pre-heat your oven to 180 degrees celcius.
Roughly chop the pears and blend with the maple syrup in a blender until smooth. Then pour into a large mixing bowl.
Add the coconut oil, spelt flour, almond meal, vanilla, baking powder, fleur de sel and mix well.
Next fold through the finely chopped strawberries.
Lightly grease an 8 hole mini loaf pan (or a 12 hole muffin pan).
Scoop the mixture evenly into the pan.
Place the sliced strawberries on top of each little loaf and sprinkle generously with coconut sugar.
Bake for 35 minutes. 
Once cooked, remove from the oven and allow to cool slightly.
Serve warm with coconut yoghurt or natural yoghurt and a little extra pure maple syrup. Enjoy!
Free Resources
Click on the links below to print or save this recipe to your device.

Print friendly recipe PDF