It's nearly CHRISTMAS again… and this year (after the popularity of last years super cute tags), I thought I'd create a NEW batch of free printable Christmas gift tags and place cards that you can use on your gifts and table setting.
This year's design is quite simple. It's a little more sleek and structured than last years and is the perfect contrast to the natural table setting I have styled using stoneware, neutral linen and dark greenery.
For this year's Christmas table setting I have used my new favourite stoneware plates from Aura Home, pudding and cherry dishes by Bridget Bodenham, a natural linen table cloth from West Elm, home-made silver birch candle holders with tall white candles, some lush dark green foliage (a beautiful gift from my Auntie), and my new Christmas place cards (download link at the bottom of post). Simple, effective and beautiful.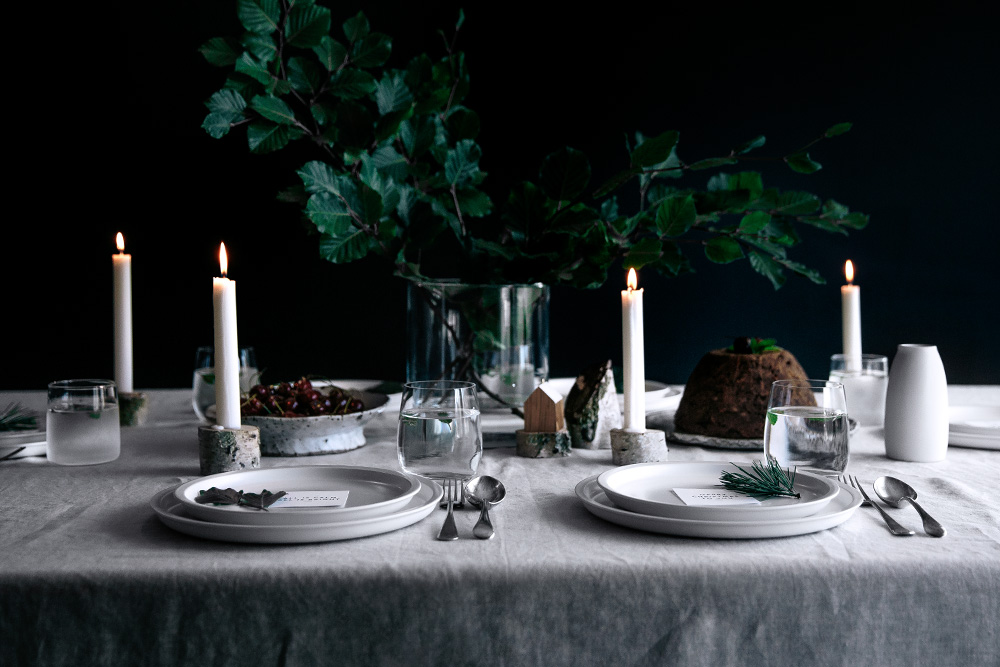 On Christmas eve last year my husband Mike put together these simple Silver Birch candle holders that you can see featured in the table setting photos above. To create your own simply cut a Silver Birch branch (we were lucky enough to have a few old branches lying around) into 5-8 cm high rounds, then using a spade drill bit create a candle sized hole (roughly 1½ cm wide and deep) in the centre of the branch, then place the end of the candle into the hole. Easy! A beautiful natural candle holder. These would also make the perfect gift for your guests to take home.
Table and gift decorations don't need to be overly expensive. Sometimes it just takes a little resourcefulness and know-how to create that fabulous look on a budget.
Also if you haven't already, make sure you check out my other Christmas posts, especially my Christmas Music Playlist, my delicious Quick & Healthy Christmas Pudding (featured in today's post), and last years Free Christmas Gift Tags.
Enjoy the free tags and if I don't speak to you before, have the most wonderful and blessed Christmas, gathering, celebrating and feasting with your loved ones! Enjoy this treasured time.
PS: Be sure to tag me on social media if you upload any photos. I'd love to see your beautiful creations!  @gatherandfeast  #gatherandfeast

Recipe featured in this post:
Quick & Healthy Christmas Pudding
Props I used in this post:
Dinnerware: Aura Home
Pudding & Cherry Dishes: Bridget Bodenham
Pouring Jug: Country Road
Linen Cloth: West Elm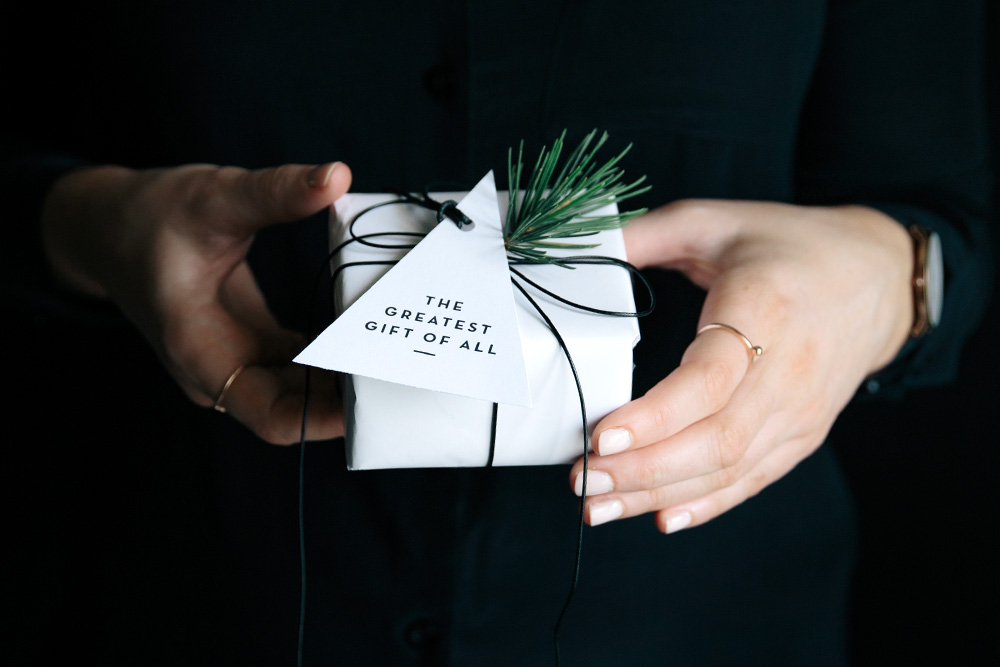 FREEBIES PACK  (link at end of post)
12 designs across 2 x PDF printables
​

WHAT YOU'LL NEED
Printable download
White card in stock of choice (preferably between 200 - 300gsm)
Computer & printer
PDF viewer (e.g. Adobe Reader)
Hole punch & twine
​

THE STEPS
Print out the gift tags / place cards on A4 or US letter paper. (I like to use a thicker matte paper stock between 200 - 300gsm, fed through the rear tray of my printer) Make sure in your printer setup that your print quality is set to 'high'.
Using scissors, a blade or guillotine, cut around the dotted line on the outer edges. (I like to use a guillotine to ensure my lines are straight)
Punch a hole in the top of the tag, add twine, write a special note on the back and attach it to your wrapped gift. ☺
UPDATE: I've just posted a NEW batch of gift tags and place cards which you can download for free over here.
Free Printable Christmas Gift Tags & Place Cards
*Please note: Some mobile browsers do not support ZIP file downloads. Try using Safari or a desktop computer. File size: 414KB

Download