This week's new recipe is a delicious savoury thyme, sage and parmesan French toast. And it might just be a new favourite, served with a fresh crisp green salad - the perfect lunch or lazy dinner. The thyme, sage, and parmesan make the perfect savoury team!
For this recipe, I teamed up with the guys from Westgold. Their rich and creamy butter works perfectly in this French toast recipe. I've been using their high-quality butter in my cooking and baking for the past few months and have been loving it. It's made with milk from grass-fed cows and using a traditional churning process. Be sure to look out for them when shopping at Woolworths in Australia.
As always, please let me know if you make the recipe @gatherandfeast and feel free to ask any questions.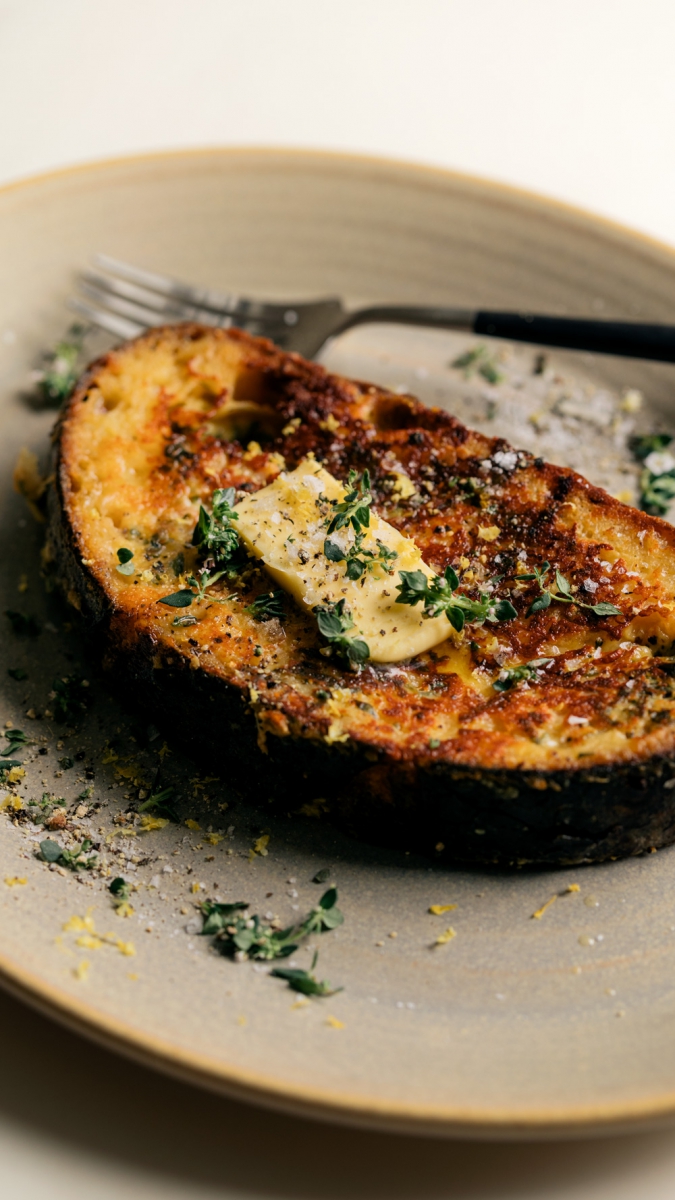 Ingredients

Vegetarian

15 minutes

2
2 slices of thick sourdough bread
1 egg
1/2 cup full cream milk (I've used Westgold UHT milk)
1 tablespoon fresh thyme leaves
1 tablespoon fresh sage leaves, finely chopped
Zest of 1 lemon 
1/4 cup fresh parmesan, finely grated
Flakey sea salt
Freshly cracked black pepper
Westgold salted butter, to fry and serve (or butter of choice)
Fresh green salad, to serve 
Method
Whisk the egg and milk together in a wide shallow bowl.
Add the fresh thyme and finely chopped sage leaves along with the lemon zest and finely grated parmesan.
Now add a small pinch of sea salt and freshly cracked black pepper and whisk to combine.
Coat and soak both sides of the bread in the mixture.
Using a fork or spoon scoop up any remaining herb mixture and press it into the bread.
Next, place a frying pan onto medium heat and add a knob of salted butter.
Now add the coated bread slices to the frying pan and top with any remaining herb mixture.
Grate over a small amount of parmesan and black pepper.
After a few minutes flip and cook the bread on the other side and until both sides are cooked through and golden.
Serve topped with a knob of salted butter, lemon zest, fresh thyme leaves, a sprinkling of sea salt, and freshly cracked black pepper. Enjoy!