This week's new recipe are these Seedy Buckwheat Flatbreads with Herby Philly Cream Cheese & Fresh Tomato. I also shot a step-by-step recipe VIDEO for these that you can find on my Instagram STORIES (which I'll also archive here very shortly).
These flatbreads are super delicious, easy to make, and also gluten-free (if that's your thing). The nutty flavour of the buckwheat flour complements the zesty herby cream cheese perfectly!
If you don't have time to create the flatbreads you could simply toast your fav store-bought flatbreads and top with the herby cream cheese + toppings for a similar result.
The herby cream cheese also keeps well in the fridge for up to a week in an airtight container or jar.
Enjoy the recipe and please let me know if you have any questions in the comment section below.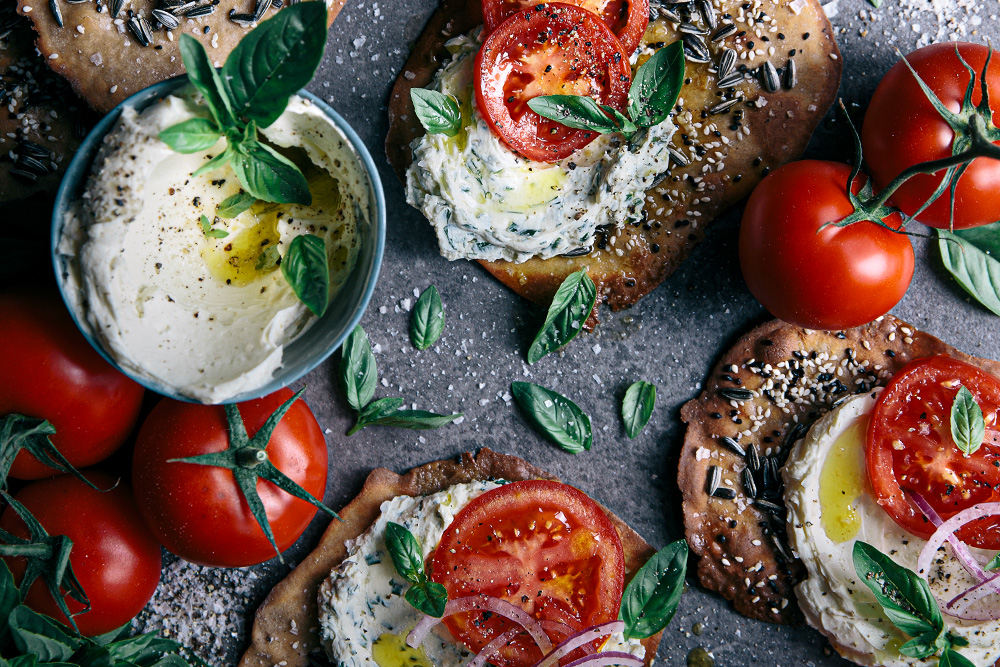 Ingredients

GF

8

30 minutes
Flatbreads
2 cups light buckwheat flour
1 tsp baking powder
1½ cups thick natural Greek yoghurt
1 tbs water
2 tbs olive oil
⅓ cup mixed seeds (I've used, sesame seeds, black sesame seeds, & sunflower seeds)

Herby Cream Cheese
500g Philadelphia Cream Cheese
1 tbs fresh dill, finely chopped
3 tbs fresh basil, finely chopped
3 tbs fresh chives, finely chopped
1 small garlic clove, finely grated or crushed
Zest & juice of 1 lemon
2 tbs extra virgin olive oil
Salt & black pepper to taste

Toppings
Fresh tomatoes, sliced
Fresh basil leaves
Red onion, finely sliced 
Flaked sea salt
Extra virgin olive oil
Method
Flatbreads
Mix the buckwheat flour, baking powder, yogurt, water, and olive oil in a large bowl until well combined.
Knead until a soft dough forms. 
Divide the dough into 8 portions and form into balls.
Roll the dough balls into rounds and then flatten to about ½ cm thick (I like to roll them between 2 pieces of baking paper as the dough is quite sticky).
Place the rolled out dough onto a paper-lined baking tray, then sprinkle with seeds, flaked sea salt and drizzle with a little olive oil.
Cook the flatbreads for about 15­ minutes at 200 degrees Celsius / 390 Fahrenheit until crisp and golden brown. 
Remove from the oven and set aside to cool.
Serve the flatbreads with the herby cream cheese and toppings. Enjoy!

Herby Cream Cheese
In a medium-sized mixing bowl, combine the cream cheese, herbs, garlic, olive oil, lemon zest, and juice, and mix well until smooth. 
Add salt and black pepper to taste and set aside.

Note: Store any leftover herby cream cheese in the fridge for up to a week in an airtight container or jar.