This week's new recipe is a unique twist on a traditional smoked salmon and cream cheese bagel. I've added sautéed kale to the mix, creating a perfect blend of flavours and textures that can only be described as a love child of Eggs Florentine and a smoked salmon bagel.
The smoky salmon makes the perfect match with the seasoned kale, which is cooked to a beautifully vibrant green hue. Served on a toasted bagel and topped with a generous dollop of cream cheese, this dish is rounded out with salty pops of capers. Not only is it delicious, but it's also a nutritious option for breakfast or lunch.
This recipe is also simple to prepare and can be customised to your preference. Substitute flaked hot smoked salmon or trout for a different flavour profile. Fresh dill and thinly sliced red onion can also be added in place of the chives.
Let me know if you try this recipe @gatherandfeast and please reach out if you have any questions. Enjoy!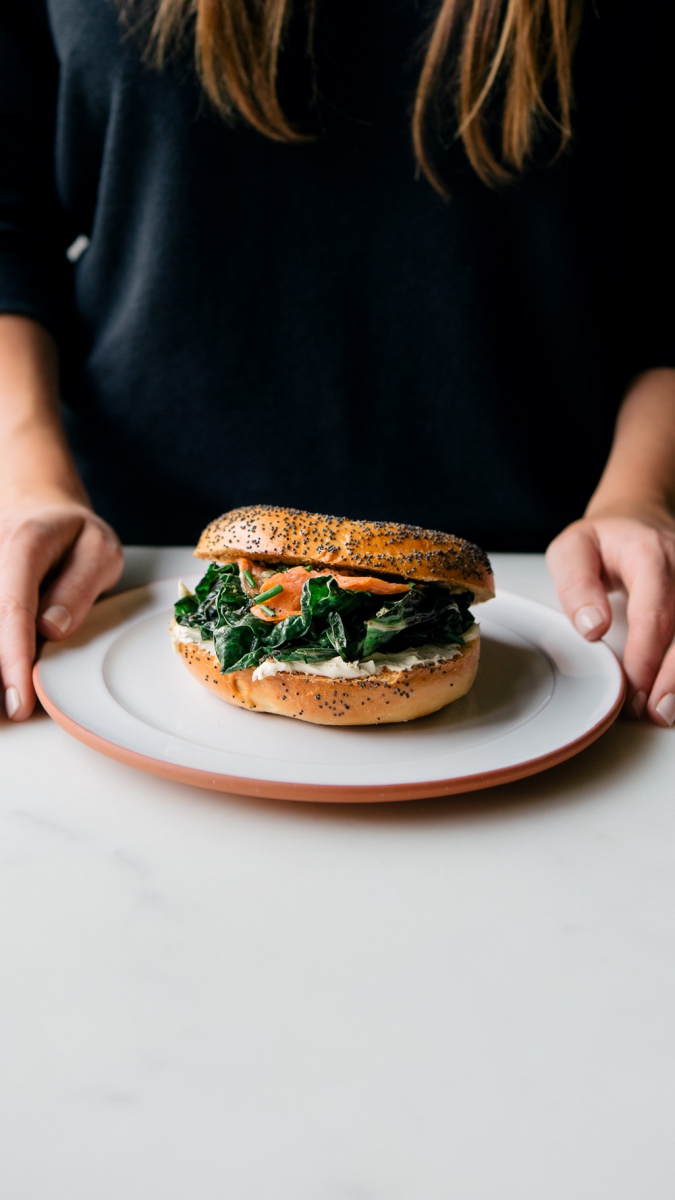 Ingredients

25 minutes

4
2 bagels, sliced in half 
50g good quality cream cheese
50g smoked salmon or trout slices (hot smoked salmon or trout fillet would also be delicious) 
2 cups Tuscan kale/cavelo nero, stems removed and leaves roughly torn
2 teaspoons baby capers
2 tablespoons finely chopped fresh chives
Extra virgin olive oil
Sea salt
Freshly cracked black pepper
Method
Place the torn kale leaves into a frypan with a glug of olive oil and a generous pinch of salt.
Sauté on medium heat until they are bright green and slightly wilted.
Meanwhile, toast the bagels and then spread generously with cream cheese.
Place a few slices of smoked salmon or trout over the cream cheese.
Top with the sautéed kale, sprinkle with baby capers, chives, a sprinkling of salt, and lots of freshly cracked black pepper.
Place the bagel top on top and enjoy.