This week's new recipe is a delicious spaghetti with smokey broccoli, pork, and fennel. It's a flavour-packed simple pasta dish that is super quick to throw together.
This recipe can also be made vegetarian by using mushrooms and walnuts instead of the pork mince. Simply finely chop the mushrooms and walnuts and add them as you would the mince, cooking until golden.
I love this recipe with spaghetti but rigatoni or fusilli would also work well.
Hope you enjoy! And please let me know if you have any questions. ☺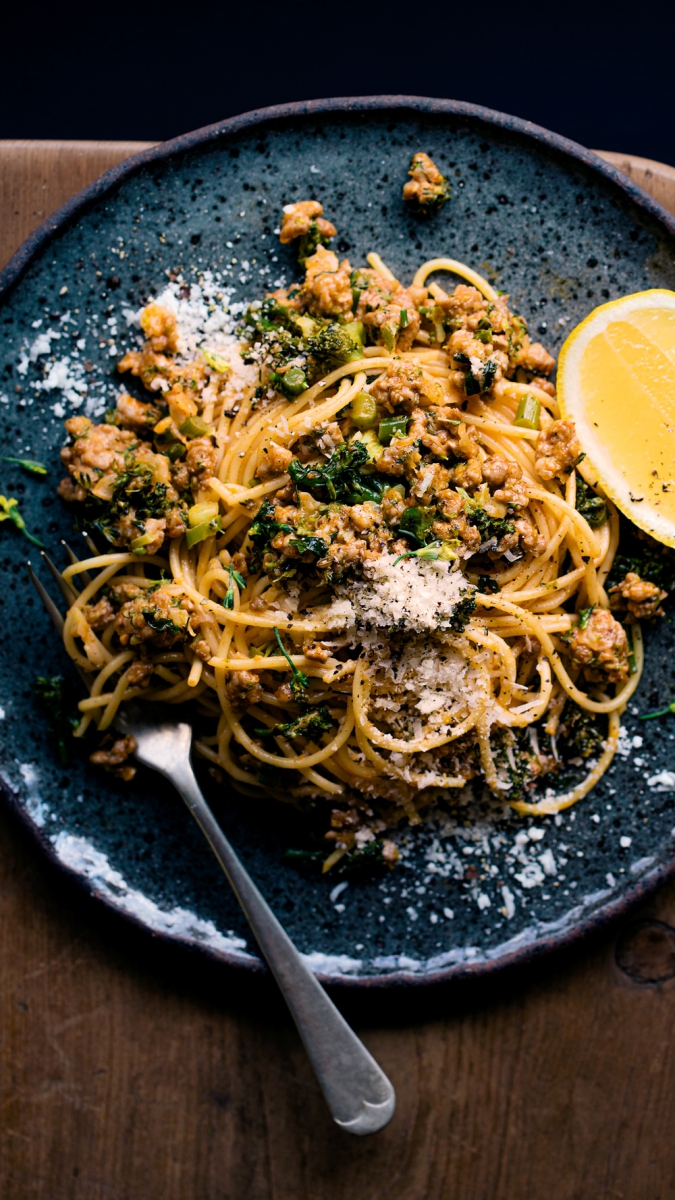 Ingredients

VEG options

30 minutes (includes prep & cook time)

5-6
2 tsp whole fennel seeds
1 tsp whole coriander seeds
Olive oil
1 medium-sized bulb fresh fennel, finely chopped
½ tsp mild chili flakes (or to your taste)
2 tsp smokey paprika
5 medium-sized cloves garlic, finely grated or crushed
500g free-range pork mince OR for a vegetarian version 400g Portobello mushrooms & 200g walnuts, finely chopped
2 large heads of broccoli OR 4 bunches broccolini, finely chopped
50g butter
80g parmesan, finely grated
Generous squeeze of lemon juice
500g Barilla Spaghetti No.5
Method
In a large dry saucepan add the whole fennel seeds and whole coriander seeds and toast until lightly golden and fragrant.
Remove from the pan and grind coarsely using a mortar and pestle or spice grinder.
In the same saucepan add a generous glug of olive oil, the fresh chopped fennel, chili flakes, and a pinch of salt, and sauté until the fennel is soft.
Add the smokey paprika and garlic to the sautéd fennel and stir to combine.
Add the pork mince (or mushrooms and walnuts if using) and the ground spices and cook on medium heat until the pork is cooked through and slightly browned.
Add the broccoli and sauté until the broccoli is bright vibrant green.
Add the butter, parmesan, and a squeeze of lemon, and stir until the butter has melted.
Remove from the heat immediately.
Taste for salt and pepper.
Cook the pasta in a large pot of salted boiling water for 7 minutes.
Reserve about a cup of the pasta water and set aside.
Drain the pasta and add directly to the pork and broccoli mixture then stir to combine.
Add about a ¼ cup of the reserved pasta water to loosen and emulsify the sauce. Add more if needed.
Serve with extra grated parmesan, a drizzle of olive oil, and a generous amount of freshly cracked black pepper. Enjoy!