While wandering through my favourite little gourmet grocer the other week, I came across the sweetest spring vegetables; baby carrots, little pink and white radishes and the cutest zucchini flowers. I immediately began to think about what I could create with this beautiful fresh produce. The result was this delicious spring grazing board with fresh crudites.
A few days earlier I also created a Kale and Sunflower Seed spread to use on salad sandwiches and to pour over our steamed vegetables for dinner. It also worked as the perfect centerpiece for my spring grazing board.

To create this delicious sharing board I used:
Kale and Sunflower Seed Dip served with fresh crudites. I used baby carrots, radishes, sugar snap peas, cucumber, asparagus and spring onions.
Fresh ricotta served with a slice of honeycomb, drizzled with extra virgin olive oil and sprinkled with sea salt flakes. SO good!! Perfect served on a dense oat cracker (my personal favourite).
Pickled vegetables. I used pickled cauliflower, pickled radishes and a spiced beetroot relish.
Goats cheese rolled in ash.
A selection of crackers. I used some walnut oaten biscuits, rye sourdough crispbread and some charcoal lavosh.

What are your favourite grazing board creations?

Props I used in this post:
Bowls: Marmoset Found  |  Mud  |  Shiko Ceramics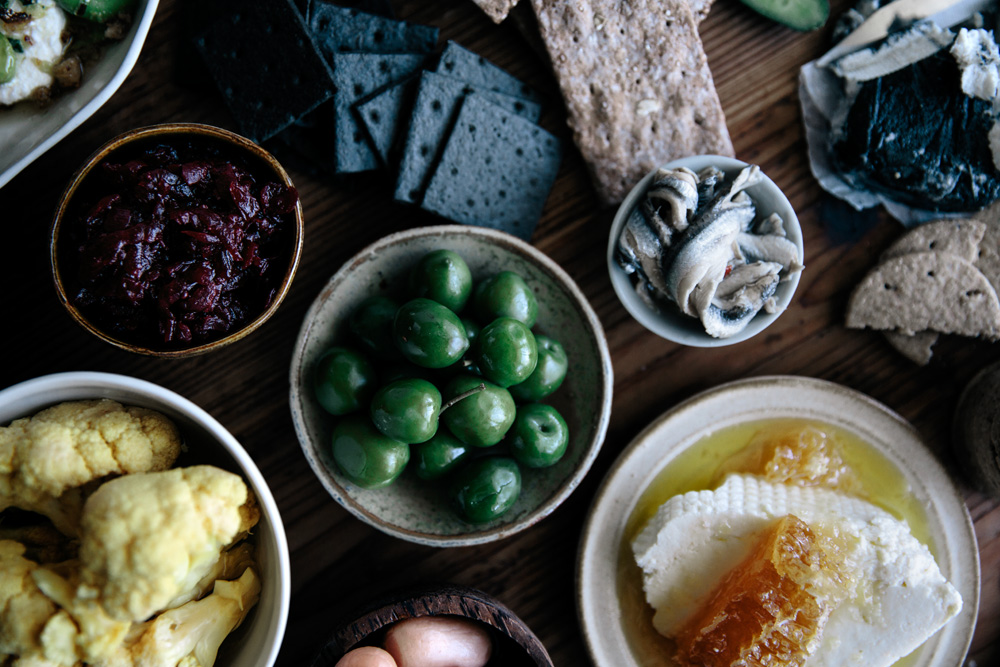 Ingredients

RSF

20 mins

20
Spring Grazing Board
Kale & sunflower seed dip with crudites
Fresh ricotta with honeycomb, olive oil & sea salt
Pickled vegetables
Goats cheese with ash
A selection of crackers. I have used oat & hazelnut english biscuits (perfect with the ricotta & honey), rye crackers and charcoal lavosh

Kale & Sunflower Seed Dip
½ bunch curly kale
1 cup sunflower seeds
Juice and zest of 1 lemon
⅓ cup olive oil
1 cup water
1 tsp flaked sea salt
Method
Spring Grazing Board
Arrange the bits and pieces into small dishes and then place them onto a large serving board.

Kale & Sunflower Seed Dip
Add all the ingredients into a food processor or blender (I used my NutriBullet) and blend until smooth but still thick.
​Serve as a dip for fresh vegetables, as a salad dressing or pour over freshly steamed vegetables.
Free Resources
Click on the links below to print or save this recipe to your device.

Print friendly recipe PDF

Tablet friendly recipe PDF