I LOVE coconut chia pudding, it's creaminess, it's texture. I find it's the perfect sweet option for breakfast as it's protein packed and keeps me going until lunchtime. I love to serve it with pure maple and fresh fruit.
I took some inspiration from one of my favourite cafes in Melbourne, 'Kettle Black'. If you live in Melbourne or plan on travelling here, it's a must visit. Stunning interiors, wonderful staff and divine food. My favourite item on their menu is their coconut chia pudding. They also serve theirs with maple, fresh fruits and beautiful edible flowers.
Chia pudding is so versatile, the topping options are endless. You could serve it with maple syrup and your favourite fresh fruits (as the recipe suggests), or try something a little different; fresh strawberries and raspberries with a little maple that can then be layered within the chia pudding (so yum). You could also add a tablespoon or two of cacao powder to the chia mixture before placing it in the fridge to set overnight, and then serve it with grilled banana and cacao nibs.
What are some of your favourite chia pudding flavours and toppings?
Enjoy!


Props I used in this post:
Serving Bowl: Country Road
Ingredient Bowls & Jugs: Marmoset Found | Mud | Country Road | Shiko | Bridget Bodenham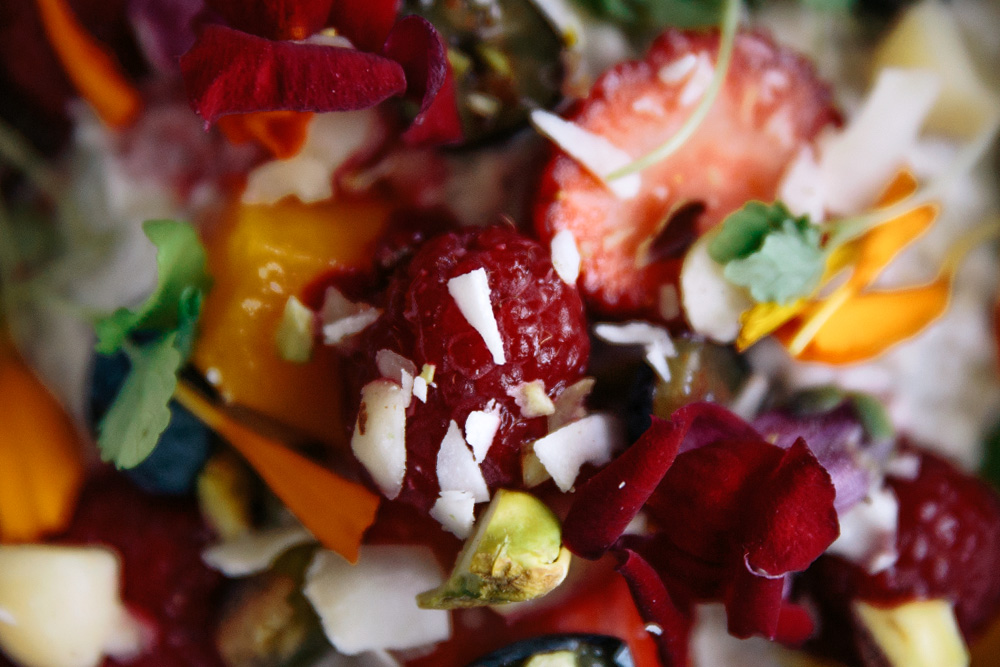 Ingredients

GF, RSF, VGN

15 mins (plus setting time overnight)

4
Chia Pudding
4 tbs Chia Seeds
2 cups coconut yoghurt (I use 'Coyo')
½ cup purified water
¼ cup pure maple syrup
1 tsp vanilla powder

Toppings
Pure maple syrup
Mango
Raspberries
Blueberries
Macadamias
Pistachios
Coconut
Fresh lemon balm leaves
​Edible flowers (very optional)
Method
Mix the chia seeds, water, coconut yoghurt, maple and vanilla in a small mixing bowl.
Cover the bowl and place it in the fridge to set overnight.
​When you are ready to serve, scoop the chia pudding into a serving bowl and top with maple, and your choice of fresh fruit, nuts, seeds, coconut, lemon balm or mint. Enjoy!