This weeks recipe is a deliciously warming vegan spiced chocolate and orange self saucing pudding. I'm SUPER happy with how this recipe turned out! It's vegan, refined sugar free, has gluten free potential, and is quick and easy to make. Mike has given this healthy version the big tick of approval, and said he would even eat this pudding over a normal chocolate cake! Winning!
As you'll see in the recipe, I've added in a little cinnamon and fresh orange zest for some added flavour, and also to reduce the richness of the cacao. If you don't have cacao, feel free to use cocoa. You may just need to add a little extra as the cocoa is not as rich as the cacao.
Enjoy the recipe and let me know in the comments below if you have any questions.
PS: I just signed up to Snapchat and Periscope. Come and find me at 'gatherandfeast' and we can have some video fun! ☺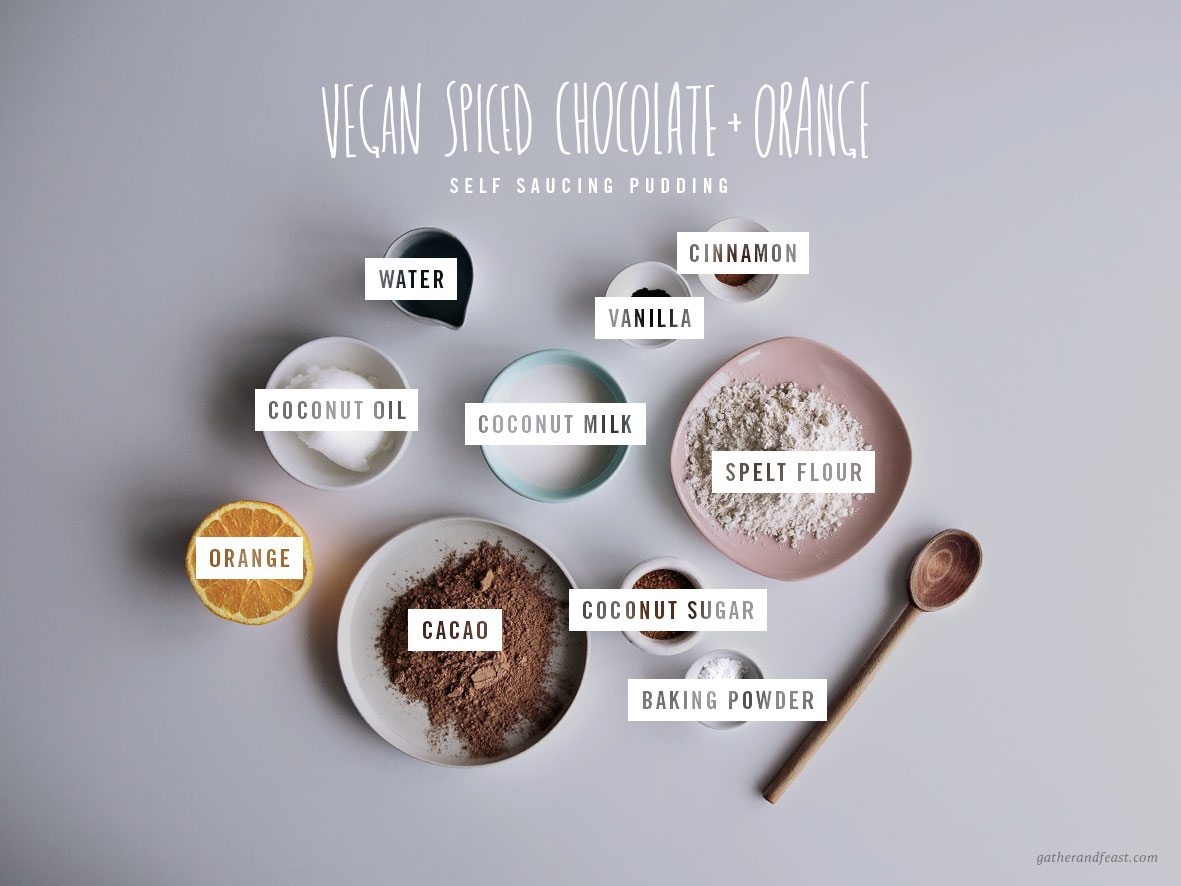 Ingredients

VEG, RSF, GF

1 hr

8
90g coconut oil 
¾ cup coconut milk 
Zest of 1 orange 
1½ cups spelt flour (or gluten free flour for GF)
1 tsp baking powder (I use 'Bob's Red Mill' gluten free baking powder) 
⅓ cup cacao powder 
¾ cup coconut sugar 
1 tsp vanilla powder (or extract) 
1 tsp cinnamon
 
2 tbs cacao powder 
1 cup coconut sugar 
Juice of ½ orange 
3 tbs coconut milk 
1 cup boiling water
Method
Pre-heat the oven to 180 degrees celcius.
Melt the coconut oil and coconut milk in a small saucepan over low heat.
Next add the coconut sugar, vanilla and orange zest and pour into a medium sized mixing bowl.
Sift in the flour, cacao, baking powder, and cinnamon, and stir to combine.
Spread the mixture evenly into a baking dish (roughly 6-8 cup capacity).
Next combine the coconut sugar, cacao, orange juice, coconut milk and boiling water, and stir until the coconut sugar has dissolved.
Carefully pour the hot liquid over the pudding batter. I like to pour the liquid over the back of a spoon so it spreads evenly and doesn't create a big hole in the centre of the pudding.
Bake the pudding for 45 minutes.
Remove the pudding from the oven and let it rest for 10 minutes before serving.
Dust the pudding with extra cacao and serve warm with coconut yogurt, ice-cream, or natural yogurt. YUM!
Free Resources
Click on the links below to print or save this recipe to your device.

Print friendly recipe PDF

Tablet friendly recipe PDF