Hi friends! Well we just ticked over 10k followers on Instagram last week, very exciting! Also Pinterest has grown like crazy. I would have never imagined all the love and support I have received since launching the site 9 months ago, so thank you all! I do hope you have been loving the recipes and resources on the site so far. I'm super pumped for the exciting things ahead for G&F and I can't wait to journey it with you all.
In other exciting news, Mike and I have been busy planning and designing the build of our new home. This house has been a long time coming and just the other week we finally signed a contract! Woo!! The build should commence in the next few weeks and our builder Darren hopes to have us in by Christmas (all things going to plan). And with a brand new home comes a brand new kitchen!! ☺ Can you tell I am just a little excited?! There has been a lot of thoughtful planning that has gone into this new house, especially into the kitchen design. It's what I'm looking forward to the most... a beautiful new space to cook, create and entertain. Early next year I hope to use this new space to film step-by-step teaching videos to accompany all the new recipes on the site (very exciting, and a little daunting at the same time). I'll be sure to keep you all up to date on the build progress and post a few photo updates now and then.
Anyway, on to this weeks delicious vegetarian, mexican recipe... Zucchini and Tomato Salsa served with Guacamole and Tortilla Chips.
Now we all know I love sharing meals while enjoying great company, and this recipe is a great sharing dish… the perfect addition to your next Mexican Fiesta… or dinner party, lunch, etc.
We had this the other night as our main meal (while testing), but this dish would work better served as a starter to share or as a side.
Talk soon!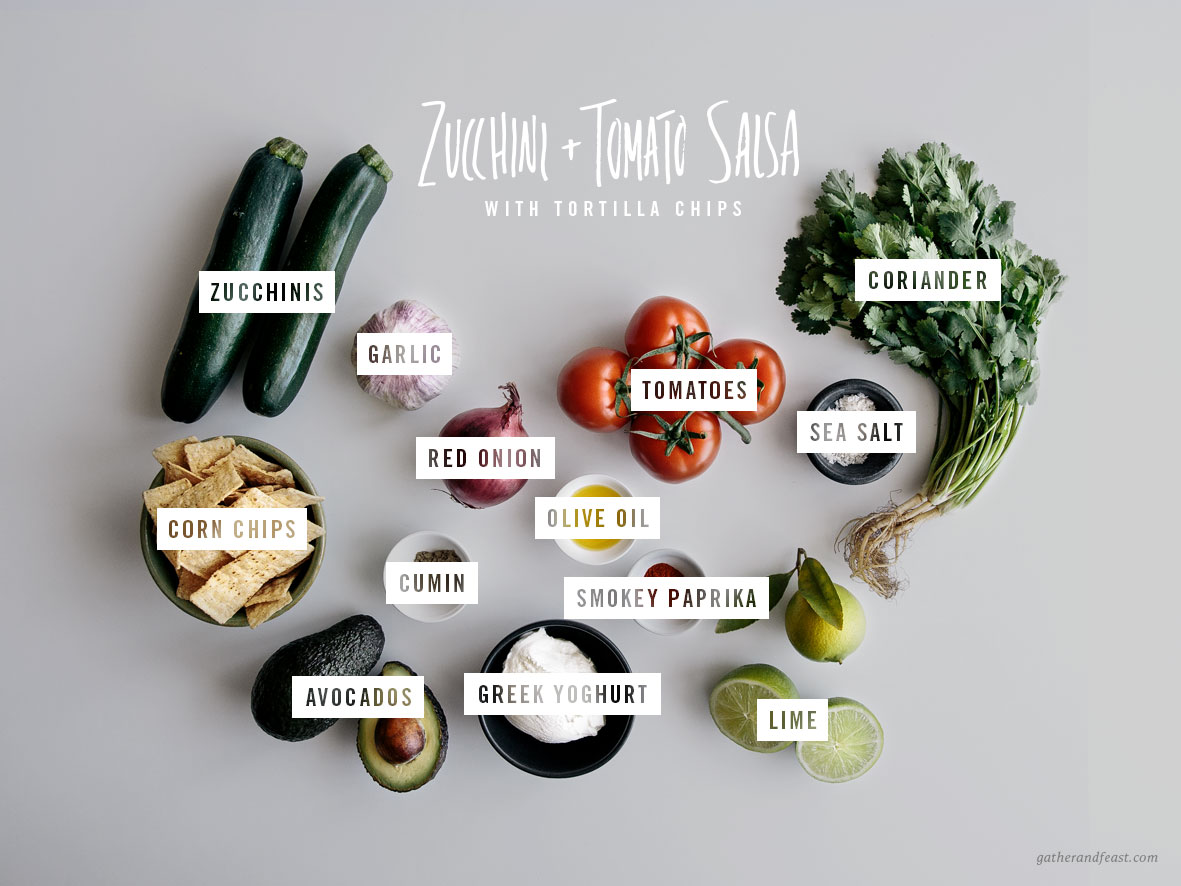 Ingredients

VEG, GF, RSF

30 mins

6 - 8
Zucchini & Tomato Salsa
1 red onion
2 cloves garlic
4 large zucchini, roughly chopped
8 large tomatoes, roughly chopped
2 tbs smokey paprika
½ tsp chilli flakes
1 tsp cumin
1 bunch coriander (including stalks)
Olive oil
Sea salt

Guacamole
4 large avocados
Juice of 1 lime
1 tbs olive oil
½ red onion, very finely chopped
½ bunch coriander, finely chopped
Sea salt
Freshly cracked pepper

Other
Corn chips (preferably organic to ensure non-GMO)
Natural greek yoghurt
Extra coriander leaves for sprinkling
Method
In a large fry pan, saute the red onion and zucchini in a glug of olive oil for a couple of minutes until soft and lightly browned.
Next add the garlic, smokey paprika, chilli flakes, cumin, and finely chopped coriander stalks and saute for a further few minutes.
Now add the roughly chopped tomatoes, coriander, a sprinkling of sea salt, and a glug of olive oil and remove the pan from the heat and set aside.
Scoop the flesh of the avocados into a medium mixing bowl and add the lime juice, olive oil, red onion, coriander, sea salt and freshly cracked black pepper and mix with a fork to combine.
Spread the tortilla chips into a serving bowl and scoop over the zucchini salsa, then the guacamole, and a generous dollop of natural yoghurt.
Finally sprinkle with coriander leaves, sea salt, freshly cracked pepper and a drizzle of olive oil.
Easy! Hola! ☺
Free Resources
Click on the links below to print or save this recipe to your device.

Print friendly recipe PDF

Tablet friendly recipe PDF