I LOVE poached fruit, especially during the cooler months of the year. Last week while I was out shopping at my local fruit market, I found some beautiful golden quinces and decided to bring them home to poach. I usually stick to poaching pears or stone fruit, but this time I thought I'd change things up!
In today's recipe I have teamed the poached quinces with a deliciously dense and nutty buckwheat banana bread. The flavours work really well together; earthy banana bread, sweet, smooth mascarpone and spiced poached quinces with a sprinkling of pistachios... so delish!
Last Monday it was Mike's birthday and we invited all the family over to celebrate (happy birthday love!!). I had some of the banana bread left over from the weekends shoot, so I decided to cut the slices into mini bite sized squares, top them with a little mascarpone, quince and a sprinkling of pistachios. They were a great little bite sized treat! Perfect for the afternoon of entertaining.
If quinces are not in season my poached pear recipe is also a great alternative.
Let me know how you go with the recipe, and feel free to leave a comment below if you have any questions.
Enjoy!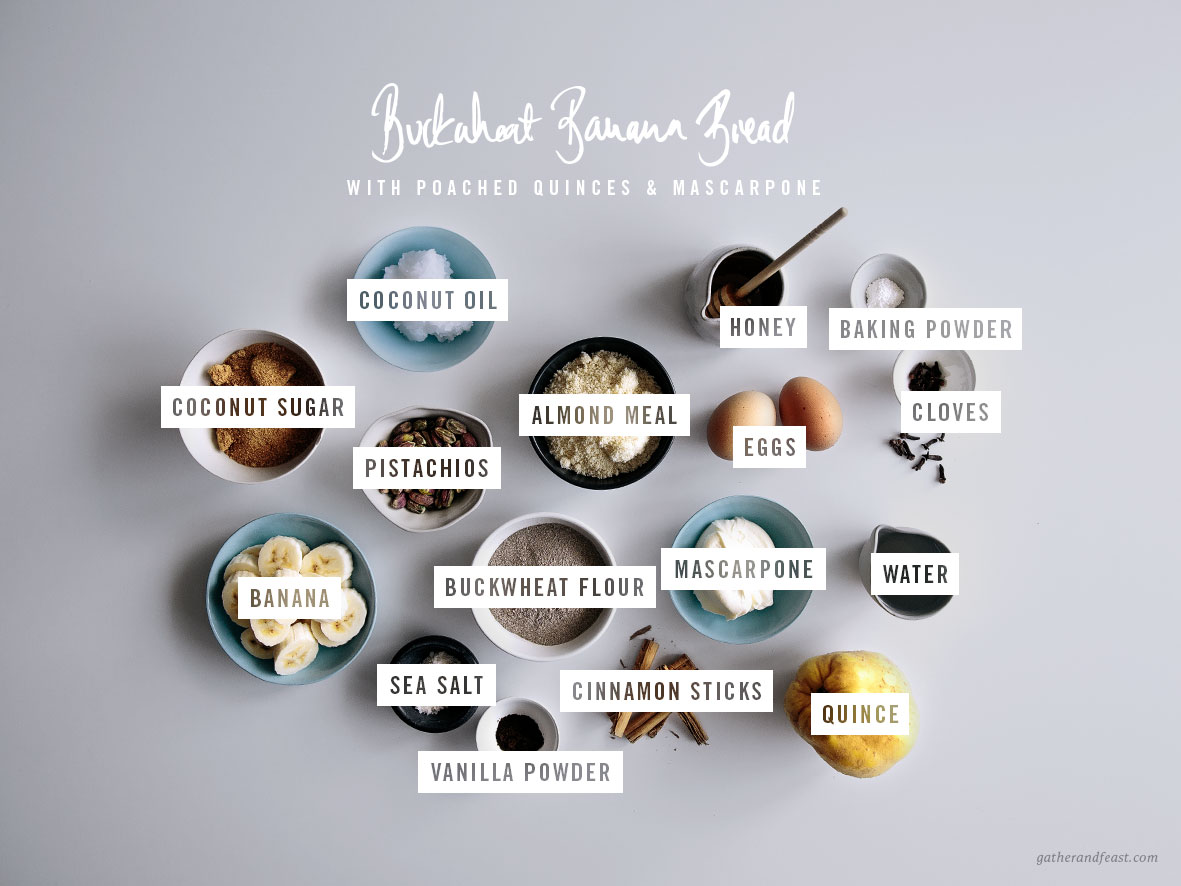 Ingredients

GF, RSF

2 hrs

8 - 10
Banana Bread
4 large ripe bananas, mashed
4 eggs
¼ cup honey
⅓ cup coconut sugar
1 tsp vanilla powder
1 tsp cinnamon
½ tsp allspice
½ cup coconut oil
1 tsp gluten free baking powder
2 cups almond meal
¼ cup buckwheat flour
Pinch of sea salt 

Poached Quinces
5 quinces, peeled, cored and cut into eighths
8 cups water
¾ cup coconut sugar (you could also use honey or raw sugar)
1 tsp vanilla powder
2 cinnamon sticks
5 cloves
1 tsp cinnamon 

Vanilla Bean Mascarpone
250g mascarpone
4 tbs coconut sugar
1 tsp vanilla powder
Pistachios for sprinkling
Method
Banana Bread
Pre-heat your oven to 170 degrees celcius.
In a large mixing bowl combine mashed bananas, eggs, honey, coconut sugar, vanilla, cinnamon, allspice and coconut oil.
Fold the baking powder, almond meal, buckwheat flour and sea salt into the mixture.
Pour the batter into a paper lined loaf tin and place into the oven for 50 minutes.
Test the loaf before removing from the oven; an inserted skewer should come out clean, if it doesn't, leave it in the oven for a further 5-10 minutes.
Once the loaf is cooked, remove from the oven and set aside to cool. 

Poached Quinces
Pour 8 cups of water into a heavy based pot, add the cinnamon sticks, cinnamon, vanilla and coconut sugar (or alternative) and stir well.
Add the quince slices into the pot of spiced water.
Place the pot onto the stove on medium-high heat and bring to the boil.
Simmer the quinces over low heat for 2-2.5 hours or until soft and bright in colour.
Remove from the heat.

Vanilla Bean Mascarpone
In a small bowl, combine the mascarpone, coconut sugar, vanilla powder and mix well. Set aside. 


Serve the banana bread sliced with a generous dollop of mascarpone, some poached quince and a sprinkling of roughly chopped pistachios. YUM! You could also cut the slices into bite sized pieces. If quinces are not in season my poached pear recipe is also a great alternative.
Free Resources
Click on the links below to print or save this recipe to your device.

Print friendly recipe PDF

Tablet friendly recipe PDF