This week's new recipe is a delicious coconut and ginger steamed chicken with herb and noodle salad. You definitely have to try this one! It's super fresh and zesty, and jam-packed full of flavour.
I was actually invited by the team at Carter Grange Homes to cook this recipe (+ others) in their beautiful Brighton East Show Home here in Melbourne using my favourite Miele appliances.
To cook the chicken I used their Miele steam oven along with some beautiful aromatics like garlic, ginger, and kaffir lime. If you don't have a steam oven simply bake the chicken in a regular oven covered with a lid or foil.
Enjoy this light and fresh salad and please let me know if you have any questions.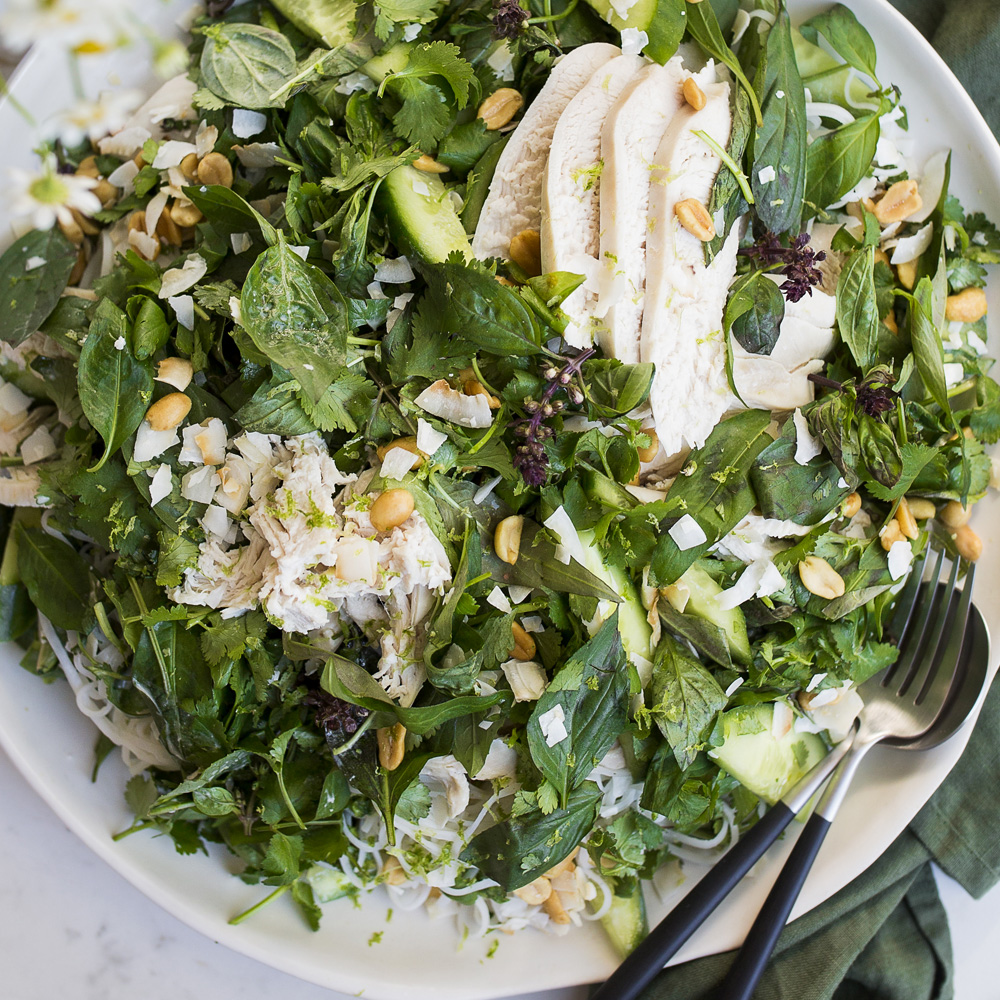 Ingredients

25 minutes preparation time + 35 minutes cooking time

4
Coconut & Ginger Steamed Chicken
270ml coconut cream
10cm piece fresh ginger, thinly sliced
3 x large kaffir lime leaves, finely shredded 3 garlic cloves, roughly sliced
2 chicken breast fillets, roughly 500g in total Pinch of sea salt

Salad
200g rice stick noodles
2 Lebanese cucumbers, finely sliced on the diagonal
1 large bunch coriander, roughly 1 cup leaves (keep the stalks for the dressing) 1 large bunch fresh Thai basil, roughly 1 cup leaves
1 large bunch fresh Vietnamese mint, roughly 3⁄4 cup leaves
Zest and juice of 1 lime
1⁄2 cup toasted coconut flakes
1⁄3 cup roasted peanuts, roughly chopped

Dressing
Coriander stalks, roughly 1 cup, very finely chopped 1 small green chili, finely chopped (add to your taste) 1 clove garlic, freshly grated or crushed
3 tablespoon rice wine vinegar
3 tablespoon fish sauce
3 tablespoon pure maple syrup
Method
Line a solid steam tray with baking paper and add the 270ml coconut cream, freshly sliced ginger, finely shredded kaffir lime leaves, and the roughly sliced garlic cloves.
Arrange the chicken over the top and sprinkle with a pinch of salt.
Steam at 85°C/185°F for 35 minutes OR bake at 180°C/350°F in a regular oven for 35 minutes.
Remove the chicken from the oven and set aside to rest.
Combine the dressing ingredients in a small jar, shake to combine, then set aside. Alternatively, you can blend the dressing ingredients to create a smoother dressing.
Cook and drain the noodles as per packet instructions then set aside in a large serving bowl.
In a large bowl combine the sliced cucumber, coriander leaves, Thai basil leaves, Vietnamese mint leaves, and the zest and juice of 1 lime.
Add roughly 2⁄3 of the coconut and peanuts then toss to combine.
Remove the chicken from the tray and strain the coconut sauce into a jug.
Pour roughly 1⁄2 cup of the coconut sauce over the noodles then toss to combine.
Arrange the noodles then add the salad.
Finely slice the chicken and add to the salad.
Sprinkle with the remaining coconut and peanuts then drizzle with the dressing.