** I also have a new Mega Berry Pavlova with Lemon Curd & Fresh Mint recipe which you also might be interested in with a step-by-step video **
These baby pavlovas (or 'little meringues' as I like to call them) are a family favourite in my household. I must have made the larger versions of these at least five times over the Christmas season. They were featured at every holiday lunch and dinner, and I still have a few left over in the fridge (not that Mike is complaining).
This recipe is an absolute breeze if you have a stand mixer. The time is all in the cooking and cooling. The great thing about meringues is that you can make them a day or two before serving and store them away in an airtight container in the pantry (not in the fridge) until you are ready to assemble and serve. You could also make this recipe into one large meringue instead of the smaller versions I have created. The same cooking time applies. 
I did actually attempt to make these with coconut sugar to try and create a paleo version of this dessert. Sadly they didn't work, like really didn't work! I tried many times, with many variations of quantities, but the moisture in the coconut sugar did not create a light crispy-chewy meringue or pavlova. It instead created a weird baked coconut sugar omelette. My lesson learnt. Let pav be pav and meringue be meringue. It's a dessert that shouldn't be messed with! ☺
If you prefer a more 'pure' original pav recipe, feel free to leave off the passionfruit curd. I just love the passionfruit flavour and also the added look of the topping. The curd ingredients also call for the egg yolks not used in the pav, so no wasted egg yolks here. Winning!
In the ingredients, you'll notice I have used a raw castor sugar (I also like to use organic), which is just a finer raw sugar that can be found in your supermarket along with the other sugars. I like to use the raw option as it adds a lovely light caramel flavour to the meringues and is also a little less processed than regular white castor sugar. 
For the toppings, feel free to use any fruit you have in season. You could create a tropical version with fresh mango, lime zest and lychees, or vanilla marinated strawberries with orange zest. Also, this recipe doesn't strictly need to be a summer dessert, poached stone fruit, spiced pears or rhubarb would also be delicious. You could even add a teaspoon of cinnamon to the meringue mixture for a beautifully spiced meringue to go with the poached fruits. Yum!  
Enjoy the recipe!

Props I used in this post:
Ingredients Bowls: Keep Resin + Bridget Bodenham
Serving Plate: Bridget Bodenham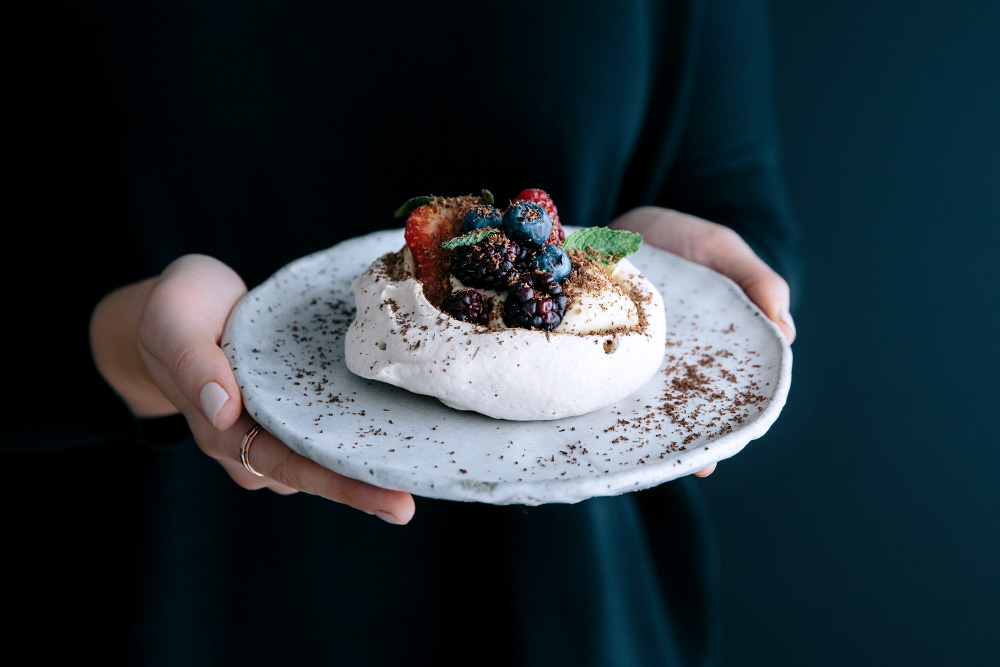 Ingredients

GF

2 hrs (plus cooling time)

10-12
Meringues
220ml egg whites (about 7 egg whites)
1½ cups raw caster sugar (fine raw sugar)
1 tsp white wine vinegar
1 tsp vanilla paste
 
Fresh strawberries, raspberries, blueberries & blackberries
Fresh mint
Dark chocolate

Vanilla Mascarpone Cream
250g mascarpone
400ml cream
1 tbs vanilla paste
1 tbs raw caster sugar (fine raw sugar)

Passionfruit Curd
7 egg yolks (from the meringue egg whites above)
1 cup raw caster sugar (fine raw sugar)
10 passionfruit, with the pulp scooped out
Zest & juice of 1 lemon
150g butter
Method
Meringues
Pre-heat your oven to 150 degrees celsius (302 fahrenheit).
In a large mixing bowl whip the egg whites until stiff (I use a stand mixer), then slowly add the sugar 1 tablespoon at a time, beating well between each tablespoon.
Mix the egg whites and sugar for a further 5 minutes until thick and glossy.
Add in the vanilla and vinegar, scrape down the sides of the bowl and beat for a further 5 minutes, or until the sugar has completely dissolved and the mixture is thick and glossy.
Scoop the meringue mixture onto paper-lined baking trays, creating a little well in the centre of each with the back of a spoon. This will help to hold the fillings in place when assembling.
Place the trays into the oven and turn the oven down to 120 degrees celsius (250 fahrenheit).
Cook the meringues for 1 hour and 45 minutes.
Once cooked, turn the oven off and leave the meringues in the oven to cool.

Passionfruit Curd
Place the egg yolks, sugar, lemon zest and juice, and passionfruit pulp into a medium saucepan and stir over medium heat until the sugar is dissolved.
Stir through the butter and then simmer while stirring for a further 5-10 minutes.
Remove from the heat and set aside to cool.
Store in an airtight container in the fridge.

To Assemble
To make the vanilla mascarpone cream, whip the cream, sugar and vanilla together until lightly whipped or soft peaks form.
Fold through the mascarpone and set aside.
Once the meringues have cooled, top with a dollop of vanilla mascarpone cream, fresh berries, a spoonful of passionfruit curd, some fresh mint leaves and freshly grated dark chocolate. Enjoy!
Free Resources
Click on the links below to print or save this recipe to your device.

Print friendly recipe PDF