"Morning, Noon & Night"
Visually beautiful and easy to follow "Morning, Noon & Night" is a collection of over 40 of my favourite recipes brought to life through stunning photography and packaged together in one easy downloadable eBook.
Be inspired by simple, original, super-tasty meals, healthy snack ideas and the odd sweet treat. Oh, and it's FREE - my gift to you! Enjoy x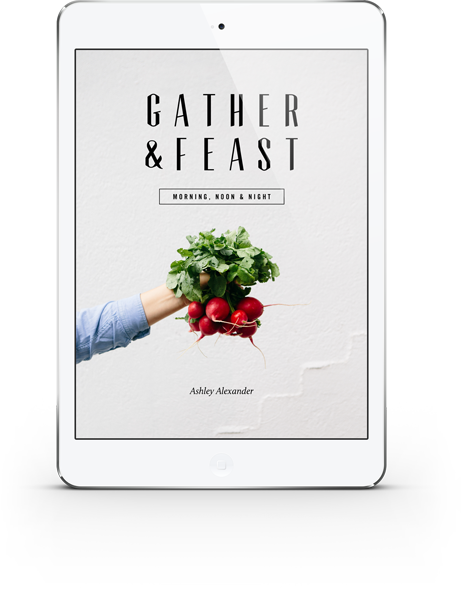 Resources
Here are some resources and other goodies to add some fun little touches to your next occasion or gathering, and they're all free! Happy downloading!
Link Love
Here is a growing list of links to helpful posts, beautiful products and sites I've discovered and love.
PHOTOGRAPHY & DESIGN
My husband Mike works in film and design and over the last year has been teaching me all there is to know about photography (thanks love!). Here's a rundown on some of the cameras, lenses and software we use to create all you see on the site.
Canon EOS 6D Digital SLR Camera - I use this camera for the majority of my food photography. It's a great full frame camera and $1500 cheaper than its popular older brother the 5D Mark III. If you're after more of an entry-level DSLR camera then check out the 70D or the 700D.
Canon EF 24-70mm f/2.8L II USM Lens - I love this lens for its sharpness, high speed and optimum range. It's my go-to lens on shoots and when travelling. If you were to invest in one quality lens this would be my recommendation. I have also used and read some great reviews on the Tamron 24-70 f/2.8 which is $800 cheaper.
Canon EF 50mm f/1.8 II Lens - This was the first lens I ever purchased and perfect for anyone starting out in photography. It's sharp, great in low light and great value at $125.
Adobe Photoshop CC - I edit all my photos using Adobe Camera Raw and Adobe Photoshop CC.
VSCO FILM | ACR Photo Filter Presets - VSCO have some great products for creatives. I often use their film pack presets 01 and 02 for postprocessing my photos.
VSCO Cam for IOS & Android - My go-to photo post processing app on my smartphone.
Afterlight for IOS & Android - Another great photo post processing app.
For some beautifully well-made, curated free fonts, check out the Lost Type Co-Op and The League of Moveable Type.