For this week's new recipe I teamed up with the guys from Baileys and created this deliciously rich and moist chocolate cake with smooth creamy cheese frosting and dusted with dark rich cocoa powder.
I tested many, many variations including a dense brownie-type cake but this 'airy' version was the winner! 
We used it for Mike's birthday + I also made an ice-cream cake with some of the leftovers by mixing the cake and frosting through vanilla ice-cream and dusting with cocoa before serving.
Feel free to make and assemble this a day ahead of time and store in the fridge.
Enjoy the recipe and of course drink responsibly. Let me know if you have any questions.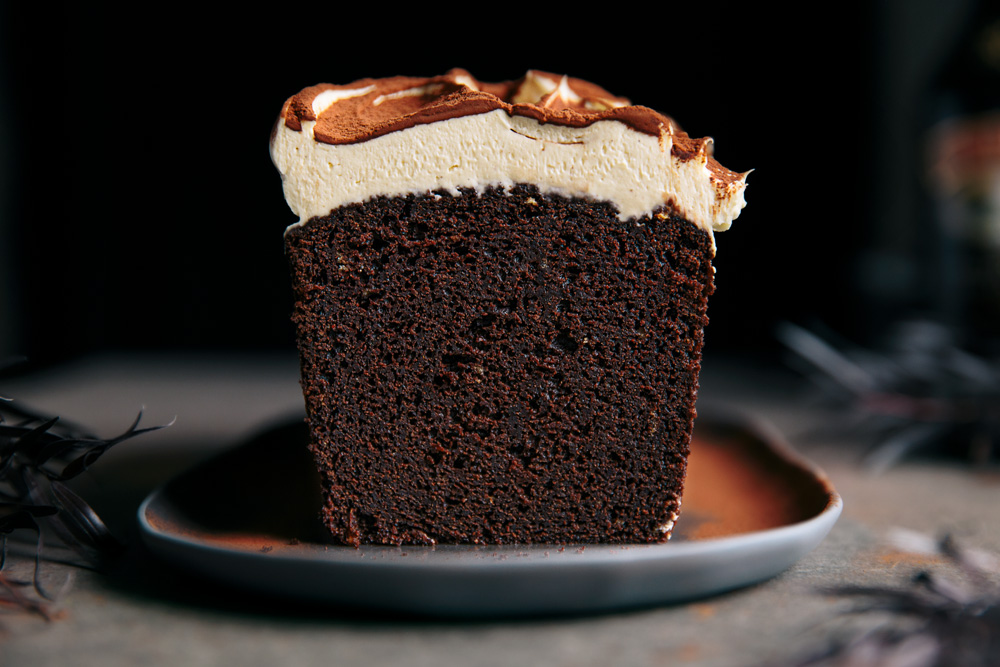 Ingredients

This recipe contains 2.51 standard drinks

1 hour (plus cooling time)

10-12
Cake
½ cup olive oil
¼ cup softened butter
1½ cups raw sugar (granulated sugar)
125ml (½ cup) Baileys Original Irish Cream
2 eggs
2 cups plain flour
2 tsp baking powder
1½ tsp bi-carb soda
1 tsp sea salt
½ cup sour cream OR unsweetened thick yoghurt
100g dark chocolate, finely chopped
½ cup dutch processed cocoa powder (dark rich cocoa)
1 tbs instant coffee powder
1 cup boiling hot water

Frosting
500g cream cheese
1 tbs vanilla paste or extract
⅓ cup icing sugar
65ml (¼ cup) Baileys Original Irish Cream
Pinch sea salt
Dark dutch processed cocoa powder for dusting
Method
Cake
Preheat your oven to 180C / 350F (fan forced).
In a large mixing bowl whisk together the olive oil, butter, sugar, and Baileys Original Irish Cream until combined.
Add the eggs and whisk until smooth.
Fold in the flour, baking powder, baking soda, sea salt, and sour cream/yoghurt.
In a separate bowl add the finely chopped dark chocolate, cocoa, instant coffee, and the boiling water, then stir to combine and until the chocolate has melted.
Fold the warm chocolate mixture into the cake batter until completely mixed through.
Now pour the mixture into a paper-lined loaf tin 31cm (12inch) long and 13cm (5inch) wide and 8cm (3inch) in depth.
Bake the cake at 180C / 350F for 40 minutes.
Remove the cake from the oven and allow to cool before removing from the tin.
Wait until the cake has completely cooled before frosting. To speed up the cooling process pop the cake into the fridge or freezer for a few hours until cool to touch.
Top the cake with the frosting and using a spoon create large 'swooshes' in the frosting.
Dust with dark cocoa and serve. Store the cake in the fridge.

Frosting
Using a stand mixer with the paddle attachment OR using hand beaters, beat the cream cheese until super smooth. 
Add the vanilla, icing sugar, pinch of salt, and beat until smooth. 
While beating the frosting gradually add the Baileys Original Irish Cream. Once incorporated beat until smooth. 
Set the frosting aside in the fridge until ready to use.