This week's new recipe is a roasted pumpkin salad with bitter radicchio, creamy blue cheese, honey spiced walnuts, and topped with fresh chives and orange zest. It's a delicious combination of textures and flavours; sweet, salty, soft, and crunchy - and also quite beautiful, those colours!!
The recipe comes together quite quickly. The longest time is spent waiting for the pumpkin to roast. If you are strapped for time you could simply chop the pumpkin into smaller pieces (1-2 inch chunks) and bake for 30-40 minutes. 
This dish is perfect as a side, served cold as a salad, or even just a light meal. It can also easily be made vegan or dairy-free with a vegan cheese alternative. I personally love bitter flavours so love radicchio, but feel free to substitute with Tuscan kale or cos lettuce.
Enjoy the recipe!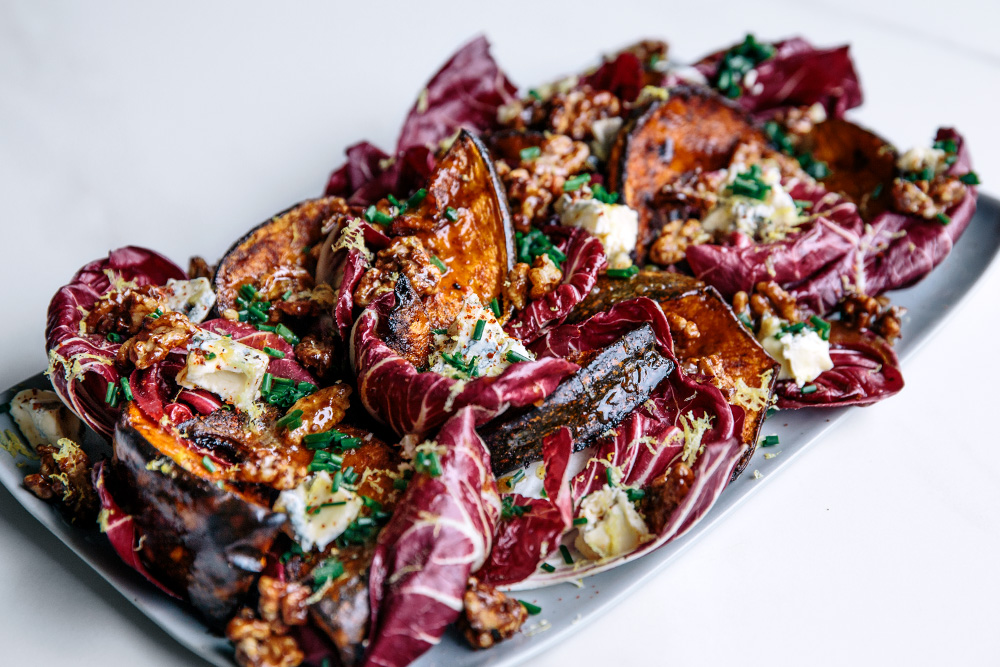 Ingredients

VEG, GF, Vegan Option

2 hours

4-6
Roasted Pumpkin
1kg Jap pumpkin (kabocha squash), cut into 10 large wedges
1 tbs smokey paprika
Extra virgin olive oil
Pinch of sea salt

Honey Toasted Walnuts
½ cup walnuts, roughly chopped
1 tbs honey
1 tsp ground cinnamon
Pinch of Aleppo pepper or chili flakes
Pinch of sea salt

Dressing
5 tbs extra virgin olive oil
1 tsp honey
Zest of ½ orange
4 tbs apple cider vinegar
½ tsp ground cinnamon
Pinch of sea salt

Salad
1 small radicchio, leaves separated
80g blue cheese or goat cheese
1 small bunch of chives, finely chopped
Zest of ½ orange and or lemon
Sea salt
Freshly cracked black pepper
Method
Preheat your oven to 180C/350F.
Arrange the pumpkin pieces onto a paper lined baking tray.
Drizzle with olive oil, sprinkle with smokey paprika and sea salt.
Using your hands massage the oil and spices into the pumpkin.
Bake for 1 hour 30 minutes.
Once cooked, remove from the oven and set aside.
In a medium-sized saucepan add 1 tbs honey, 1 tsp ground cinnamon, ½ cup walnuts, Aleppo pepper or chili flakes, and a pinch of sea salt.
Place over medium heat and allow the honey to melt, stirring continuously to coat the walnuts in the spiced honey.
Toast the nuts in the honey mixture for a few minutes and until fragrant.
Remove from the heat and place the coated nuts onto a piece of baking paper then allow to cool.
Using the same unrinsed warm saucepan add the dressing ingredients and whisk to combine.
Transfer the dressing to a jar or small bowl and set aside.
On a serving plate arrange the radicchio leaves, top with the warm pumpkin, blue or goats cheese, honey toasted walnuts, and chives.
Drizzle the dressing over the salad, top with sea salt flakes, freshly ground black pepper and fresh orange zest. Enjoy!