Light, fresh, and flavour-packed, this simple spaghetti dish is an old family favourite in our house. It's actually the first meal I cooked for my now husband when we started dating. It's still one of his favourite meals today.
A few simple but good-quality ingredients are the keys to this recipe. Try to find the ripest tomatoes you can. In saying that, if they're not as ripe as you would like the recipe does call to roast them which will help bring out their rich and sweet flavour.
You'll also need fresh basil and lots of it. I like to use a large bunch, around a few big handfuls worth. 
I also like to use a good quality sheep's milk feta cheese for its creamy and tangy flavour.
Make sure to cook the spaghetti one minute under the packet instruction. I find this helps keep the bite in the spaghetti and prevents it from overcooking as it's tossed through the sauce. 
To make this spaghetti gluten-free simply use a gluten-free spaghetti.
As always, please let me know if you make the recipe @gatherandfeast, and feel free to ask any questions. Enjoy!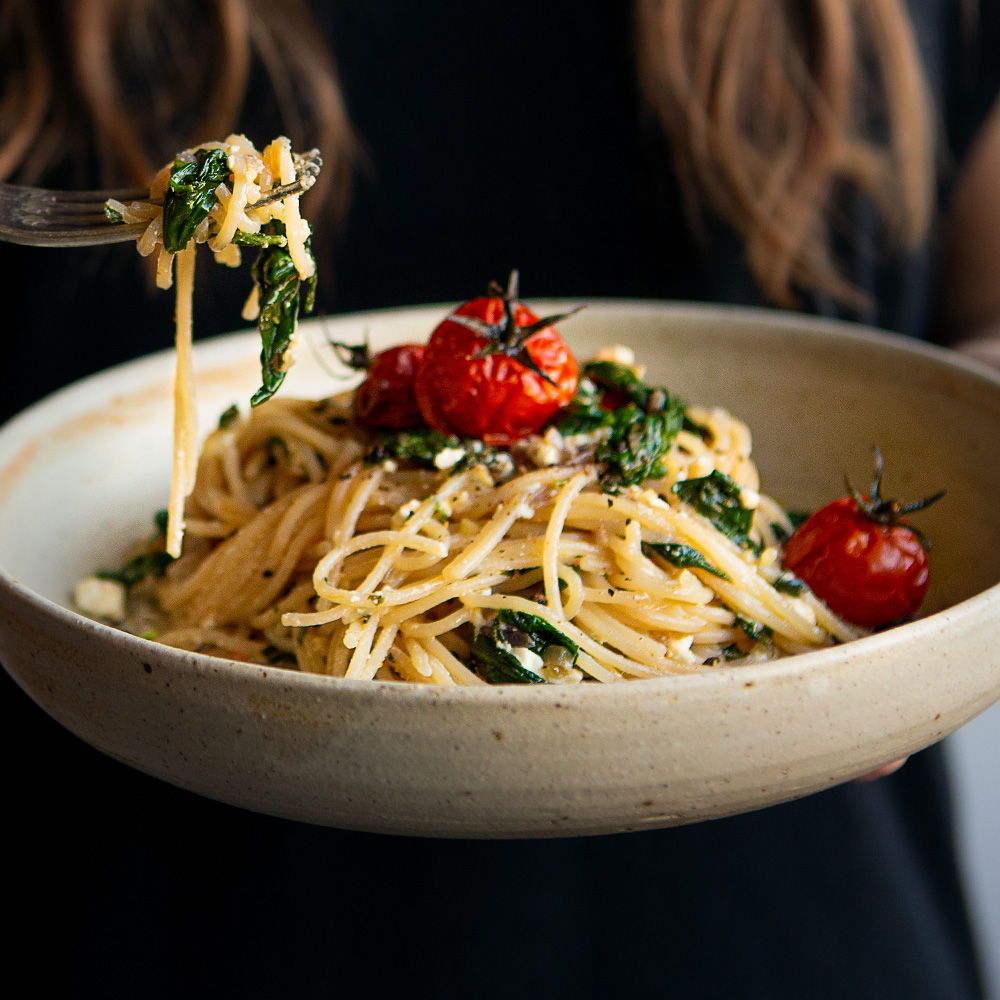 Ingredients

GF, VEG

40 minutes

4
Extra virgin olive oil
500g cherry tomatoes (2 punnets)
1 small red onion, finely chopped
4 garlic cloves, finely chopped or freshly grated
Pinch of chili flakes to your taste
A few large handfuls of fresh baby spinach
1 large bunch of fresh basil, chopped
200g greek feta, roughly crumbled
350g spaghetti
Freshly grated parmesan for serving
Sea salt
Freshly cracked pepper
Method
Pre-heat your oven to 180°C/350°F (fan forced oven).
Place the cherry tomatoes onto a baking tray and drizzle with olive oil and a sprinkling of salt and pepper.
Next, place the tomatoes in the oven for 20-30 minutes until the tomato skins start to blister and look soft.
When ready take the tomatoes out of the oven and set them aside.
While the tomatoes are cooking, cook the spaghetti in salted boiling water as per packet instructions (I like to cook 1 minute under the recommended time on the packet - I find this helps keep the bite in the spaghetti and prevents it from overcooking as it's tossed through the sauce).
While the pasta is cooking, in a large deep fry pan, sauté the red onion, garlic, and chili in a generous glug of olive oil over low heat.
Once the onion, garlic, and chili are soft, add the baby spinach, basil, and feta, and stir to combine.
Add the roasted cherry tomatoes to the pan with the basil mixture, and turn off the heat if your spaghetti isn't yet ready.
Once the spaghetti is cooked, using tongs take the spaghetti directly from the pot of boiling water and place into the pan with the basil and feta mixture. Doing this will drag a little of the pasta water in with it, helping to loosen and emulsify the sauce. 
Toss together and taste for salt and pepper.
Serve with freshly grated parmesan.