Happy Easter friends! I thought it was only fitting to post a new 'chocolatey' recipe treat this week, in celebration of this special holiday weekend.
Today's spelt chocolate fondant cake recipe is a little indulgent and calls for a good quality butter and dark chocolate. I have used a cultured butter (pepe saya) and organic dark chocolate.
Baking times for these cakes may vary depending on your oven. Try checking the cakes after 10 minutes. If they still seem a little too wobbly or uncooked, place them back into the oven for a further 2-3 minutes. I had to test this a few times with my oven and found the 10-minute mark at 220 degrees Celsius provided the perfect 'chocolatey' lava consistency in the middle of the puddings (as pictured in the images above). If you do accidentally over-cook them (which I have done a few times), don't worry, as they are still super delicious, just not as 'gooey' in the centre. 
Enjoy the recipe (I know we have been), and let me know in the comments below if you have any questions.
For those of you celebrating Easter, have the most wonderful long weekend celebrating with family and friends. I'm just about to head off up the mountain for a beautiful long hearty Good Friday lunch with family and friends.


PS: Here's a few of my other Easter recipes you may also love: 
Props I used in this post:
Serving Plates: Bridget Bodenham
Ingredients Bowl: Marmoset Found
Pudding Moulds: Maxwell & Williams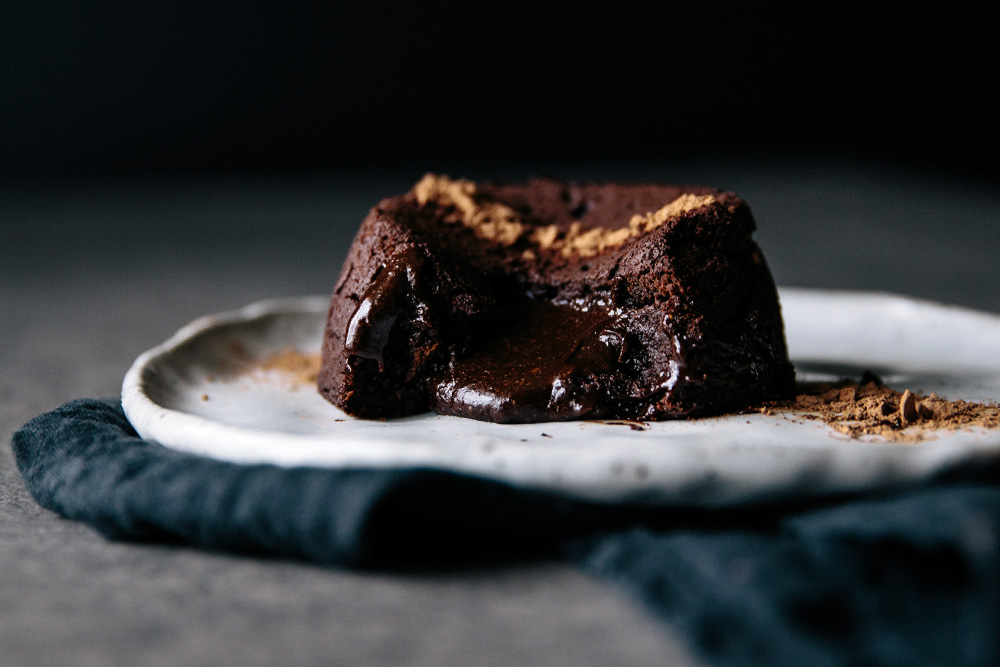 Ingredients

VEG, (GF option)

30-40 mins

6
45g good quality butter
150g coconut sugar
4 eggs
1½ tsp vanilla powder or extract
50g spelt flour (or buckwheat flour for gluten free)
1 tsp fleur de sel (sea salt)
350g good quality dark chocolate (you could also use a mix of dark & milk chocolate)
Extra butter for greasing
Cacao powder for dusting
Method
Pre-heat your oven to 220 degrees celsius (non fan forced).
Grease 6 small pudding moulds with a little butter. Then dust with a generous amount of cacao powder, coating the inside of the pudding moulds. 
Place the moulds onto a baking tray and set aside. 
Melt chocolate over low heat and set aside to cool slightly.
Mix the butter and coconut sugar together until combined and beat in the eggs one at a time. Then add the vanilla and salt.
Next fold through the flour and then the melted chocolate.
Divide the mixture into the prepared moulds.
Place the tray of filled moulds into the oven and bake for 10 minutes.
Remove from the oven and let sit for 1 minute.
Turn the cakes out onto plates and serve immediately.
Serve with fresh cream and berries. Enjoy!
Free Resources
Click on the links below to print or save this recipe to your device.

Print friendly recipe PDF