It's autumn (fall) here in Australia, my favourite season of the year! There is just something about autumn I especially love; the stunning change of colour in the trees, finding my favourite winter coats hidden away in the cupboard, and of course, preparing and enjoying delicious warming comfort food, like this week's new pudding recipe.
This Spiced Date & Caramel Vegan Self Saucing Pudding is vegan and refined sugar free, yet still super delicious! The pudding is quite sweet (from the mix of coconut sugar and dates), so I usually like to serve it with a tart coconut yoghurt. For non vegan options, try serving it with natural unsweetened greek style yoghurt or fresh cream. Delish!
If you missed my Vegan Spiced Chocolate & Orange Self Saucing Pudding recipe, be sure to check it out! It's also vegan and refined sugar free.
Enjoy!

PS: In other VERY exciting news, Mike and I are moving into our newly built house in the next week or so!! Join me over on Snapchat 'gatherandfeast' for a behind the scenes look at our moving escapades and a sneak peek at my new kitchen! Yay! 


Props I used in this post:
Serving Plates: Country Road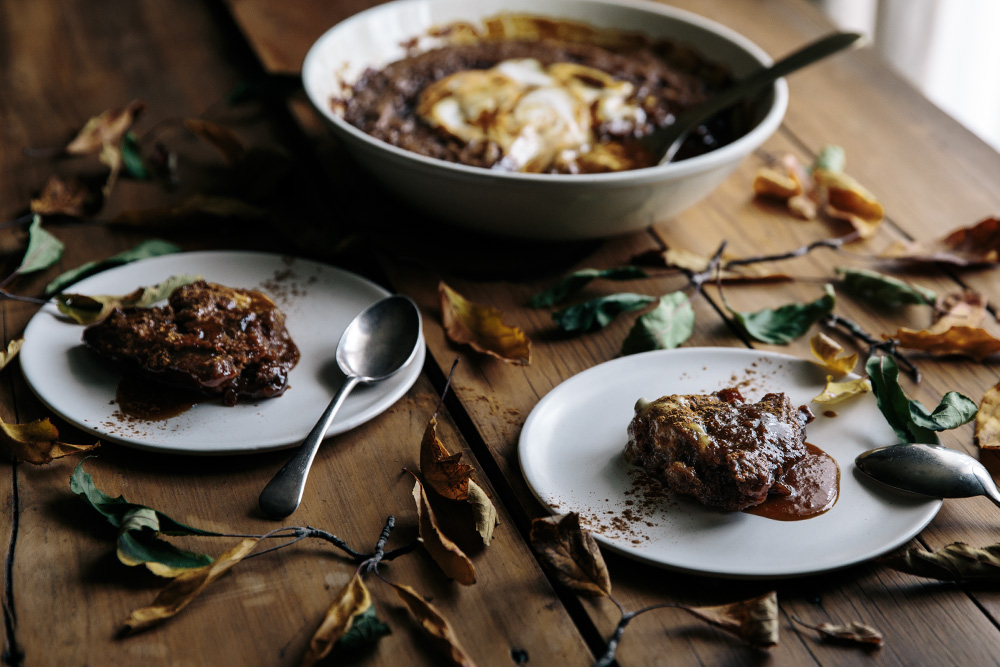 Ingredients

RSF, VGN

1 hr

8-10
90g coconut oil 
¾ cup coconut milk or almond milk 
1½ cups spelt flour
1 tsp baking powder (I use 'Bob's Red Mill' gluten free baking powder) 
½ cup coconut sugar 
150g finely chopped dates
1 tbs vanilla powder (or extract) 
1½ tbs cinnamon
½ tsp allspice 
Pinch sea salt
½ cup coconut sugar 
¼ cup pure maple syrup
¼ cup coconut milk or almond milk
1½ cups boiling water
½ tsp sea salt
Method
Pre-heat the oven to 180 degrees celcius.
Sift in the flour, baking powder, cinnamon and allspice into a large mixing bowl and stir to combine.
Melt the coconut oil and coconut milk in a small saucepan over low heat.
Add the coconut sugar and vanilla to the saucepan and stir to combine.
Next pour the warm coconut mixture into the bowl of dry ingredients along with the chopped dates and a pinch of sea salt.
Stir well to combine.
Spread the mixture evenly into a baking dish (roughly 6-8 cup capacity).
In a mixing jug combine the coconut sugar, ½ tsp sea salt, maple, coconut milk, and boiling water, and stir until the coconut sugar has dissolved.
Carefully pour the hot liquid over the pudding batter (I like to pour the liquid over the back of a spoon so it spreads evenly and doesn't create a big hole in the centre of the pudding).
Bake the pudding for 45 minutes.
Remove the pudding from the oven and let it rest for 10 minutes before serving.
Dust the pudding with a little extra cinnamon and serve warm with coconut yogurt (for non vegan, fresh cream or natural yogurt). Enjoy!
Free Resources
Click on the links below to print or save this recipe to your device.

Print friendly recipe PDF