Snack attack! It happens to the best of us, and when it does we want to make sure we are reaching for the right things. Right guys? Well, these cacao balls will be your best friends when that 3pm snack attack comes your way! Jam-packed with energy and superfood goodness these sweet morsels are great for on-the-go, by your desk at work or in your fridge at home.
These cacao balls are also SO easy to make! I usually make a batch and store them in the fridge, which will usually last me for a couple of weeks. Rolling the mixture into balls can be a little time-consuming. If you are strapped for time you could alternatively press the mixture into a baking paper-lined tray, pop it in the fridge overnight, and then slice it into squares... cacao wonder squares?!

I hope you all enjoy these as much as I do! Oh, and if you upload a photo be sure to tag @gatherandfeast, I'd love to see your creations!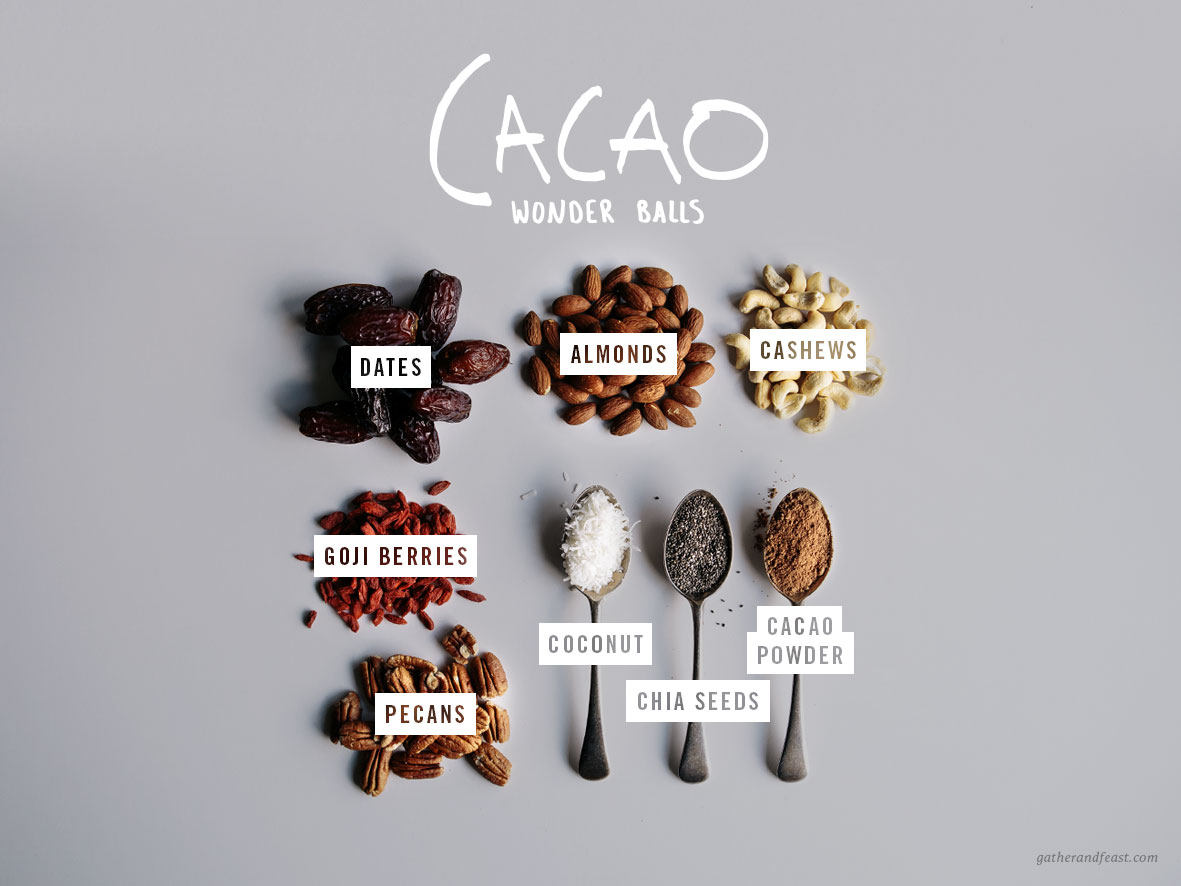 Ingredients

GF, VGN, RSF

20 mins

Makes about 28 balls
2½ cups pitted dates
1 cup natural almonds
½ a cup raw cashews
½ a cup pecans or walnuts
5 heaped tbs cacao powder
2 tbs chia seeds
⅓ cup shredded coconut
A tsp cinnamon
½ a cup goji berries
Extra cacao for rolling 
Method
Add the almonds, cashews, pecans / walnuts, coconut and chia seeds into a food processor.
Whizz until they are a rough crumb texture.
Now add in the dates, cacao and cinnamon and whizz until the dates are mixed through.
Next add in the goji berries and pulse for a few seconds until just mixed through. (The mixture should still be crumbly but will come together nicely when pressed in your hands)
Take a large tablespoon of the mixture and press and mould into a ball.
Roll in extra cacao powder or keep as they are.
Store in an airtight container in the fridge. 3pm snack attack... take that! 
Free Resources
Click on the links below to print or save this recipe to your device.

Print friendly recipe PDF

Tablet friendly recipe PDF