Autumn (fall) has just arrived in Melbourne, and with the changing of seasons comes a change in produce. I love the 'seasonal crossover'. The tastes and textures of food go from cool, crisp and fresh, to a warmer, richer, more earthier tone (or the opposite for all my international friends).
Some of my favourite autumnal foods are root vegetables. I love their versatility and 'never fail' factor. Whether a trusty addition to soups, the perfect roast side dish, or a warming ingredient to an autumn salad.
Todays Roasted Beetroot and Carrot salad recipe is a delicious combination of earthy root vegetables, peppery rocket and creamy chèvre. It's the perfect 'seasonal crossover' dish... summer salad, meets autumnal warmth. Lovely!
What's your favourite autumn / spring dish?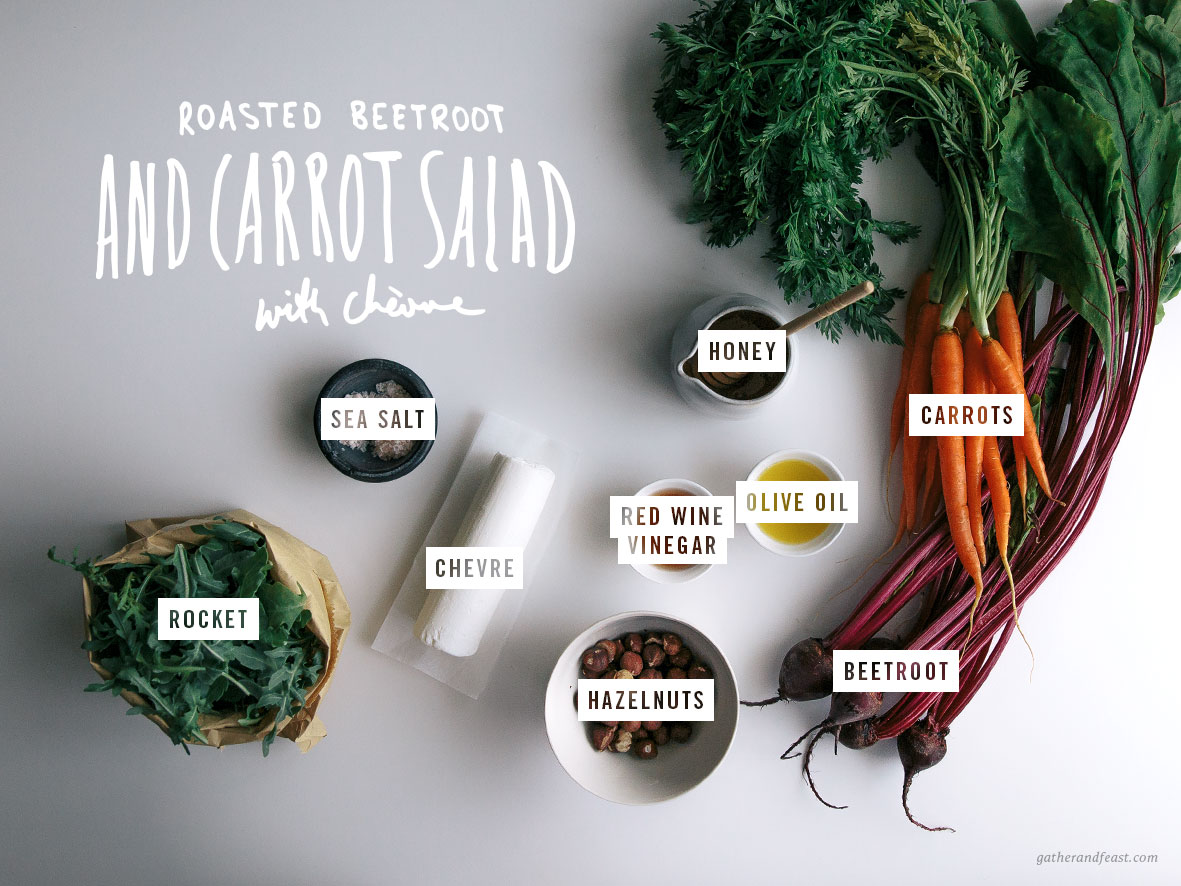 Ingredients

VEG, GF, RSF

1 hr 20 mins

4 - 6
Salad
4 large beetroot, peeled & roughly chopped into 3cm pieces
1 bunch baby carrots, peeled
100g fresh rocket
100g goats chèvre
½ cup toasted hazelnuts, roughly chopped
2 tbs olive oil
3 tbs honey
Sea salt
 
Dressing
3 tbs olive oil
4 tbs red wine vinegar
Sea salt
Freshly cracked pepper
Method
Pre-heat oven to 200 degrees celcius.
Place the beetroot pieces and baby carrots onto a paper lined baking tray, drizzle with olive oil, 1 tbs of honey and sprinkle with sea salt.
Pop the tray into the oven and bake for about 1 hour.
Once the beetroot and carrots are cooked (the carrots should be slightly golden in colour and the beetroot should be soft) remove them from the oven, drizzle with the remaining 2 tbs of honey and set aside to cool.
Mix olive oil, red wine vinegar, sea salt and freshly cracked pepper and set aside.
Arrange the rocket on a serving plate and place the beetroot and carrots on top.
Crumble over the chèvre and sprinkle with hazelnuts and sea salt.
Drizzle with dressing and serve! 
Free Resources
Click on the links below to print or save this recipe to your device.

Print friendly recipe PDF

Tablet friendly recipe PDF