If you've been following Gather & Feast for a while now you probably know that I am a big fan of basil! I just love it, and basil pesto is no exception. Pesto is great stirred through pasta, spread on crusty bread with fresh tomato and olive oil, and in chunky toasted sandwiches with tomato and buffalo mozzarella (one of our favourites). I love to make a batch of it and store it away in the fridge for those quick and easy meals during the week.
In this pesto recipe I have added a large bunch of curly kale for added taste and texture. It makes what is normally a light pesto paste a little more substantial (not to mention adding bonus healthy greens). Today I have stirred the pesto through some rustic capunti pasta and served it with an extra glug of extra virgin olive oil.
For those of you heading into the warmer months (hello all my friends on the other side of the world), this pesto recipe is also great mixed through a pasta salad, spread on bruschetta or added to a cheese and antipasto board.
Tell me, what are some of your favourite recipes you love to use pesto in?
Enjoy!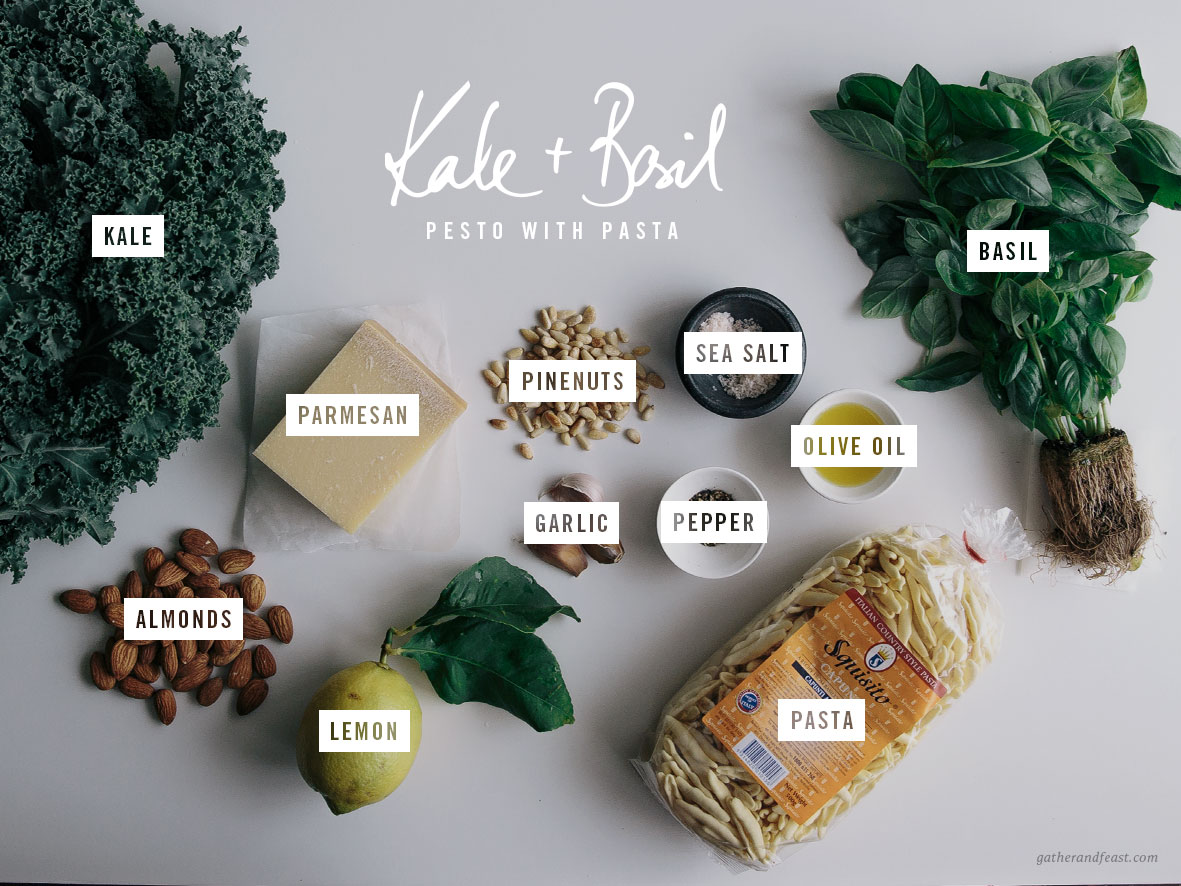 Ingredients

GF, RSF, VEG

20 mins

12
1 medium sized bunch curly kale, stalks removed and roughly chopped
1 large bunch fresh basil
¼ cup toasted pine nuts
1 cup roasted almonds
2 cloves garlic
70g parmesan, roughly chopped
⅓ cup extra virgin olive oil
Zest and juice of 1 large or 2 small lemons
Sea salt
500g of your favourite pasta (I've used capunti pasta) 
Method
Add half the kale, and the rest of the ingredients into a food processor and blend until smooth.
Add in the second half of the kale and blend again until just blended through (I like to have a few small chunks of kale in mix for texture).
Stir a few tablespoons of pesto through your favourite pasta (I've used capunti pasta) or spread on toast with fresh tomato.
Place the left over pesto into an airtight jar or container and store in the fridge for up to 1 - 2 weeks. 
Free Resources
Click on the links below to print or save this recipe to your device.

Print friendly recipe PDF

Tablet friendly recipe PDF