Here's a super quick and easy Greek-style salad packed with flavour and texture!
This salad is perfect as a BBQ side, alongside a roast chicken or some slow-cooked lamb. It also makes a great fresh and healthy lunch salad. Simply add your favourite protein, like tuna, chicken, chickpeas, or butter beans.
If you can't get your hands on fresh oregano (highly recommended as it's a delicious addition) you could also use dried. Just add roughly 1 tablespoon of the dried oregano to the dressing mixture instead. This will allow the dried leaves to soften a little.
Hope you enjoy this easy and super delicious salad. Let me know if you make it @gatheandfeast and feel free to ask any questions.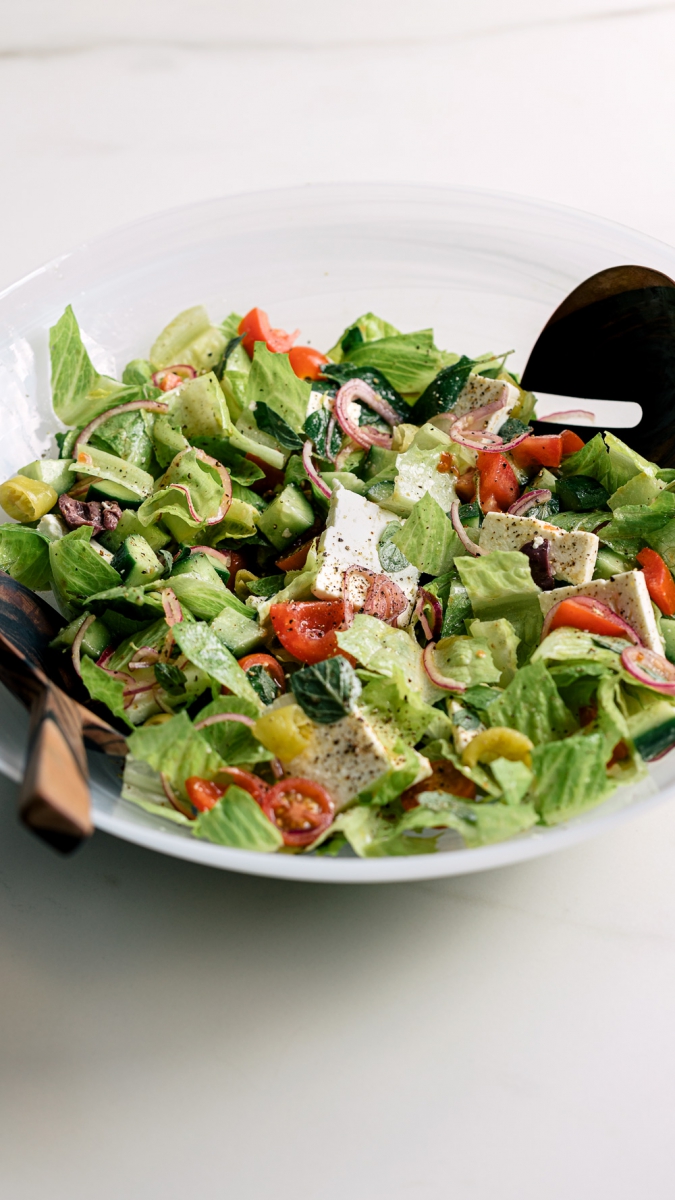 Ingredients

VEG, GF

10 minutes

4
4 tablespoons extra virgin olive oil
2 tablespoons red wine vinegar
1 teaspoon dijon mustard
1 small garlic clove, finely grated or crushed
1 cos/romaine lettuce heart, roughly chopped
2 Lebanese/Persian cucumbers, roughly chopped
4 fresh ripe tomatoes or punnet of cherry tomatoes, roughly chopped
1/2 red onion, finely sliced
8 pepperoncini peppers, roughly chopped
Large handful kalamata olives, pits removed and roughly chopped
Large handful fresh oregano leaves
150g piece greek feta, sliced into large thin slices
Salt and freshly cracked black pepper to taste
Method
In a large serving bowl whisk together the olive oil, red wine vinegar, dijon mustard, and garlic. Add salt and freshly cracked black pepper to taste.
Add the chopped lettuce, cucumbers, tomatoes, red onion, pepperoncini peppers, olives, and fresh oregano leaves and toss to combine and coat in the dressing.
Add the sliced feta and gently toss to combine.
Sprinkle with freshly cracked black pepper and serve immediately.