It has been a very exciting few months here at Gather & Feast. I had the most wonderful Christmas and New Year's Eve celebrating with friends and family, collaborated and captured a beautiful outdoor dinner gathering for the amazing Camille Styles, and I'm currently packing for a little summer holiday in Noosa, on the Sunshine Coast of Australia (woohoo!). In just a couple of weeks' time I also have the opportunity and privilege of travelling to East Timor with World Vision Australia, to see and experience the impact they are having in the communities there. I'll be sure to keep you all updated on my adventures.
Well today my friends I'm excited to share with you my Raw Vegan Carrot Cake recipe. This healthy carrot cake recipe is packed full of flavour, is SO easy to prepare and in my opinion is better than the 'real thing'. Or would this be the 'real thing'? Hmm. ☺
Enjoy!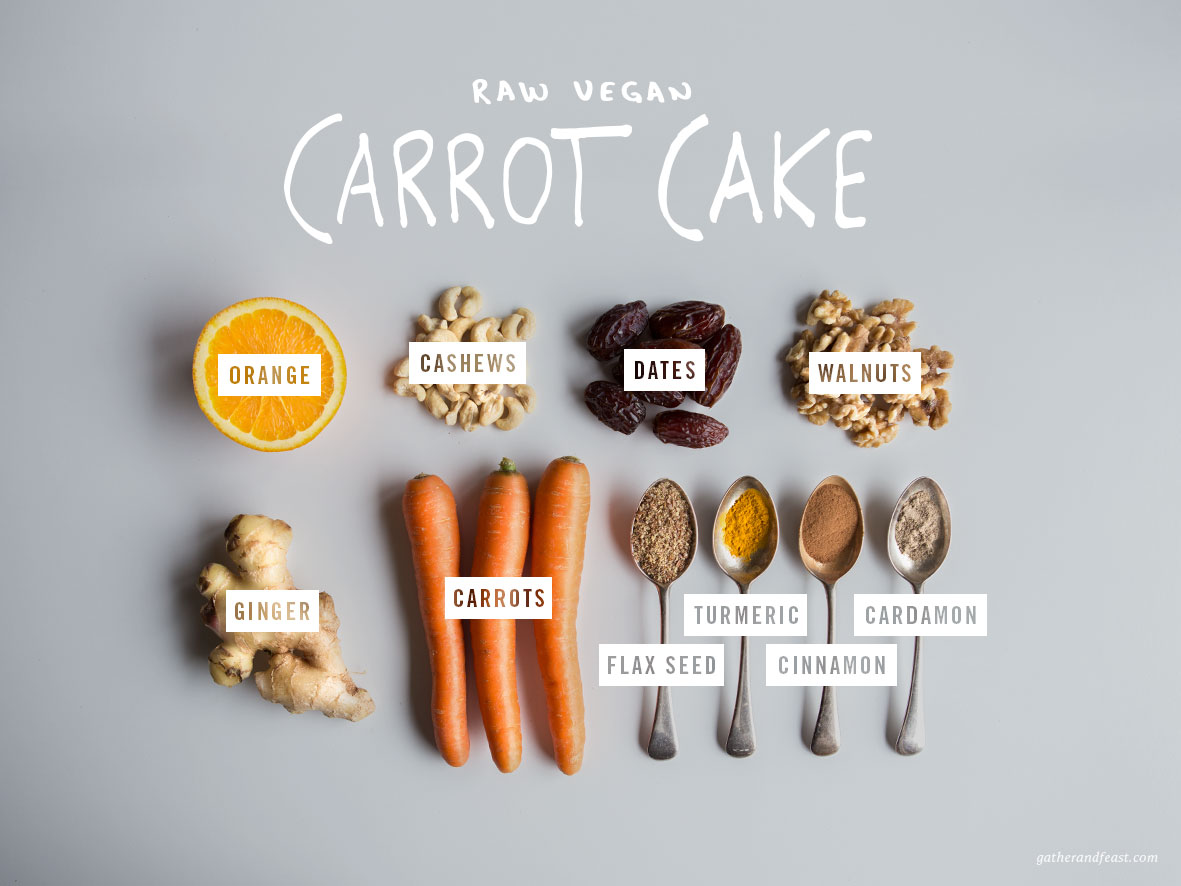 Ingredients

GF, VGN, RSF

1 hr 30 mins

12
Carrot Cake
4 carrots, grated
​2 cups walnuts
2 cups dried pitted dates
3 tbs flax seed, ground
2 tsp cinnamon
½ tsp ground cardamon
1 tsp ground turmeric
1 tsp freshly grated ginger
​Juice half an orange 
Orange & Vanilla Cashew Creme
2 cups raw cashews (soaked overnight or at least 1-2 hours if pressed for time)
Juice 1½ oranges
Zest of 1 orange
2 tsp vanilla bean paste
4 mejdool dates, pitted 
For Serving
Maple syrup
​Roughly chopped pecans 
​
Method
Carrot Cake
Blend all of the carrot cake ingredients in a food processor until smooth.
Press into a glad wrap lined 20cm round spring form tin and place in the freezer to set for about 1-2 hours.
​
Orange & Vanilla Cashew Creme
Blend all of the orange and vanilla cashew creme ingredients in a food processor until very smooth. This will take about 5 minutes. The longer you blend the smoother it gets!

Cake Assemble
Carefully take the cake out of the tin and place it on a serving plate.
Smear the cashew creme over the top and sprinkle with chopped pecans and a drizzle of pure maple syrup. Seriously. So amazing. Enjoy! 
Free Resources
Click on the links below to print or save this recipe to your device.

Print friendly recipe PDF

Tablet friendly recipe PDF